The Supreme Court is back in session. With America's highest court live-streaming oral arguments for the first time ever, the public is hearing the nine justices ask questions of historic import. For bettors, it's the first time they get to hear from the protagonists in one of the quirkier wagers on the political board: Who will be the next Supreme Court justice to leave?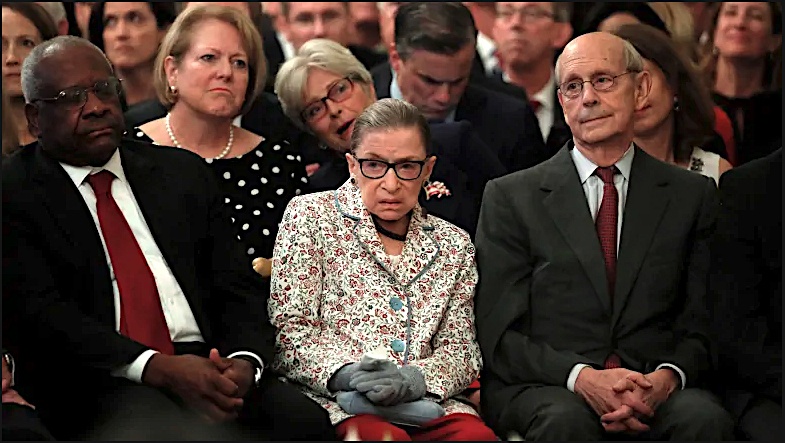 The Supreme Court entered its high season this week — the period where it begins deliberating on the 70-80 cases it hears each year.
Two sportsbooks, Bovada and MyBookie, currently offer odds on the next departing Supreme Court justice. Not surprisingly, 87-year-old Ruth Bader Ginsburg is the prohibitive favorite. She's at -350 on Bovada and -250 on MyBookie.
RBG's fellow octogenarian, Associate Justice Stephen Breyer, 81, isn't the second pick, however. That honor goes to Clarence Thomas, 71, the senior justice in terms of Court longevity. Thomas, who joined the Court in 1991 after a contentious confirmation, is +475 on Bovada and +400 on MyBookie. Of all sitting SCOTUS justices, Thomas has the most seniority and was the only appointee of George HW Bush.
---
Next Justice To Leave Supreme Court
| Justice | Age | Appointed by | Years on Court | Odds |
| --- | --- | --- | --- | --- |
| Ruth Bader Ginsburg | 87 | Clinton | 26.5 | -350 |
| Clarence Thomas | 71 | Bush I | 28.5 | +475 |
| Stephen Breyer | 81 | Clinton | 25.5 | +1200 |
| Sonia Sotomayor | 65 | Obama | 10.5 | +2000 |
| John Roberts | 65 | Bush II | 14.5 | +3000 |
| Samuel Alito | 70 | Bush II | 14 | +4000 |
| Elena Kagan | 60 | Obama | 9.5 | +4000 |
| Neil Gorsuch | 52 | Trump | 3 | +4000 |
| Brett Kavanaugh | 55 | Trump | 1.5 | +4000 |
---
source: Bovada, May 11
Breyer Value Proposition
Like Ginsburg, Breyer was a Bill Clinton appointee. He took his seat on the Court in 1994, a year after Ginsburg. Given his age, he offers perhaps the best value on the board. He's +1,200 on Bovada and +700 on MyBookie.
Ginsburg, Thomas, and Breyer are three of the four justices over age 65. The fourth is Samuel Alito (69), who joined the court in 2006 and is a long shot on both boards. He's +4000 on Bovada and +2400 on MyBookie. Barring an unforeseen scandal or tragedy, Alito isn't going anywhere anytime soon.
Neither, likely, are Associate Justices Sonia Sotomayor (+2000 on Bovada), Brett Kavanaugh (+4000), Elena Kagan (+4000), and Neil Gorsuch (+4000) or Chief Justice John Roberts (+3000).
The average tenure of a Supreme Court justice is just under 17 years. Of the nine justices, only Thomas (29), Ginsburg (27), and Breyer (26) have served longer than 17 years. Roberts, who took his center seat on the Court in late 2005 upon the death of former Chief Justice William Rehnquist, is next in tenure at nearly 15 years.
RBG Looking Strong
Breaking this down further, it's easy to see why RBG, at 87, is the odds-on favorite. She's the oldest justice by seven years, and though she has beaten a trifecta of cancers — colon, lung, and pancreatic — health concerns are sure to influence bettors.
But the liberal lioness defines the term "indefatigable." She trains twice a week with a Special Forces Army Reservist and did 20 push-ups before her 80th birthday. Earlier this month, Ginsberg took part in conference call oral arguments from a Johns Hopkins hospital bed, after she had a gallstone removed.
Another factor making Ginsburg an easy favorite: Joe Biden.
Should the Democratic nominee for President defeat Donald Trump and take the White House, it's a fairly safe bet that Ginsburg's retirement announcement wouldn't be far behind.
Ideology in the Balance
While she remains mentally sharp and one of the hardest-working justices in recent history, Ginsburg has made no secret of her unwillingness to hand Trump his third Supreme Court seat, after Neil Gorsuch in 2017 and Brett Kavanaugh in 2018. Replacing a liberal like Ginsburg with a young conservative would tip the court rightward for at least a generation.
The same arguments apply to Breyer, who is more of an ideological pragmatist than is Ginsburg. But he is a reliable liberal voice on the Court and could depart with a Biden victory.
This turns the page to Thomas. One of the most conservative justices in Supreme Court history and a voice you rarely hear during oral arguments, Thomas is the ideological counterweight to Ginsburg. That means a Biden win likely extends Thomas' Supreme Court tenure past the 30-year mark.
Thomas is currently 18th among the 114 Supreme Court Justices in tenure at 10,429 days (28.5 years). Presuming Thomas holds his seat through one Biden term, he would move to 10th place. A Biden re-election in 2024 would force Thomas to hang on for ideological reasons until at least 2028 – when he would be 78.
Eight More Years of Thomas?
Given what we've seen with Ginsburg and Breyer, and with Justices such as William Douglas (the longest-serving Justice at 36 ½ years), John Paul Stevens (34 ½ years), and Rehnquist (33 ½ years), Thomas remaining on the bench for another eight years isn't a reach.
One more factor enters into Thomas' odds. Earlier this year, Senate Majority Leader Mitch McConnell (R-KY) asked Federal judges who are considering retiring to do so before the November elections. That ensures McConnell's Republican-dominated Senate gets to replace them.
For that reason, if Thomas plans an exit, it would likely come this summer, after the current term ends and before election-year campaigning hits critical mass.