There's a new favorite to win the 2020 presidential election. For the first time since election odds were posted, bookmakers at sites like Bovada, Ladbrokes, and Betfair see former vice president Joe Biden as the top pick to win the White House over incumbent president Donald Trump. The two shared even odds just four days ago.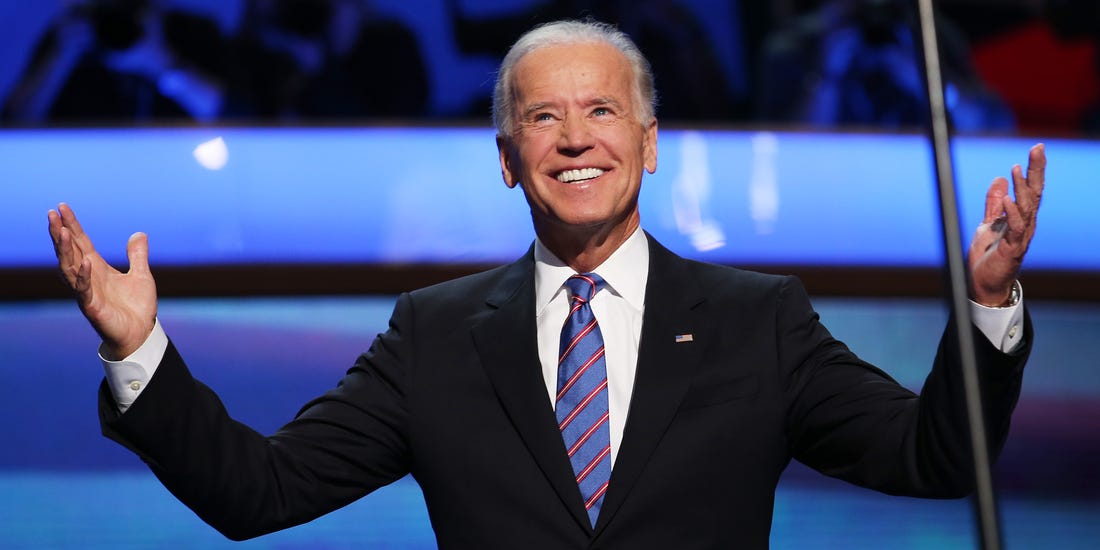 Trump's odds to win re-election have steadily declined as the coronavirus outbreak has worsened and the number of confirmed cases has spiked across the US. There are now 4,226 reported cases, with 75 deaths nationwide, according to the Centers for Disease Control. Trump's odds before the crisis were -180, which was his best mark in two years. That, however, eroded in just three weeks.
Election Odds          Feb. 27       March 16
Donald Trump                            -180                          Even
Joe Biden                                  +2000                        -105
Bernie Sanders                         +275                          +3000
Mike Pence                               +12500                      +3000
Hillary Clinton                           +8000                        +5000
Tulsi Gabbard                           +50000                      +20000
source: Bovada
The other startling news with regard to the election odds is the decline of Bernie Sanders and the emergence of two people who aren't even running for the highest office in the land. After early successes, Sanders has suffered some huge primary losses, most notably on Super Tuesday and in Michigan.
The Vermont senator was seen as Trump's main challenger less than a month ago, and now has the same odds as Trump's vice president, Mike Pence, who isn't in the running for the top office. Hillary Clinton, who lost to Trump in the 2016 election, is also not running, but has seen her election odds go from +8000 on Feb. 27 to +5000 today.
Capitalizing on Current Events
In Sunday's Democratic debate between Biden and Sanders, Biden was quick to lambaste Trump for his slow reaction to the coronavirus crisis. He pointed out that Trump refused testing kits from the World Health Organization, and took other missteps that led to the outbreak becoming a potential catastrophe.
"The present system cannot handle the surge that is likely to come, so we should already be sitting down and planning where we're going to put these temporary hospitals," Biden said. "We can do that. We did that … We've been through this before."
Biden's boost from Sunday's debate performance is part of the reason why he is now the favorite to win the 2020 election. Many pundits said his performance may have won him the nomination. The odds certainly back that up, as he is now a -1000 favorite to run against Trump in November.
Democratic Nomination Odds       Feb. 25            March 16
| | | |
| --- | --- | --- |
| Joe Biden |                  +1000 |   -1000 |
| Bernie Sanders |                  -130 |   +1500 |
| Hillary Clinton |                  +2800 |   +1400 |
| Michelle Obama |                  +15000 |   +4000 |
| Tulsi Gabbard |                  +50000 |   +20000 |
source: Bovada
Sanders is the only candidate of the five to see his odds drop in the last three weeks. He is now the third pick to win the Democratic nomination, behind Clinton. Despite his huge reversal, Sanders has vowed to carry on his campaign.
Biden Rebounds from Early Struggles
Biden has seen his odds skyrocket since declaring himself a candidate on April 25, 2019. When he first announced he was seeking the presidency, he was at +450. Things looked bleak for Biden after he finished fourth in Iowa on Feb. 3, then fifth in New Hampshire a week later. No candidate in 40 years finished that low in both of those contests, and come back to win the democratic nomination.
Biden, however, remained eternally optimistic. Even before he officially lost in New Hampshire, Biden held a campaign rally in South Carolina where he predicted that momentum was swinging his way.
"It ain't over man," Biden told a crowd of supporters. "We're just getting started."
Since that declaration, Biden won South Carolina, then the big victory on Super Tuesday in March. He followed that performance with a key victory in Michigan a week later.
Biden has the chance to virtually wrap up the nomination on Tuesday. Three states — Arizona, Illinois, and Florida — hold primaries with a total of 441 delegates at stake. Biden has 898 of 1,191 delegates needed to be victorious.