Jeremy Stephens and Yair Rodriguez got into a shoving match on Sunday, just one day after their main event clash at UFC Fight Night 159 main event ended as a no contest seconds into the bout.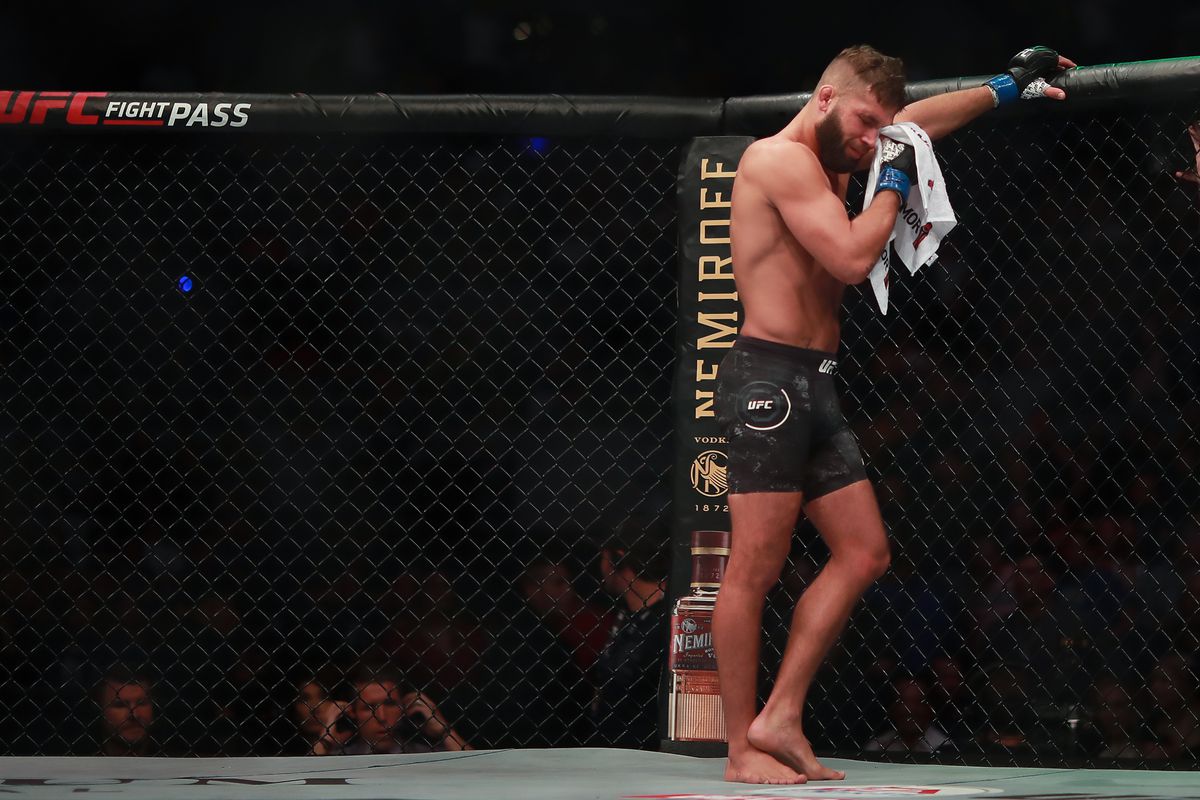 What had been expected to be an exciting top-10 featherweight contest involving one of Mexico's brightest MMA stars was cut short after 15 seconds, when Rodriguez accidentally poked Stephens in the eye.
Rodriguez Verbally Pokes at Stephens in Hotel
That brought an immediate pause to the fight, with referee Herb Dean giving Stephens five minutes to recover. Unfortunately, Stephens couldn't even open his eye, causing the ringside physician and Dean to stop the fight after the recovery period ended.
That meant that bout went down as a no contest, and resulting in fans showering the Octagon with water bottles and other debris.
According to a report by ESPN, however, the story didn't end there. On Sunday, Stephens and Rodriguez had a scuffle at the JW Marriott hotel where all of the fighters from the card were staying.
The two men essentially agree on the basic facts, with Rodriguez telling ESPN that he approached Stephens to ask how the eye was. Rodriguez claims Stephens said the eye was fine, to which he responded by asking why it wasn't okay during the fight – a comment that quickly escalated the situation.
"I thought he was trying to be a gentleman," Stephens said on Ariel Helwani's MMA Show on Monday. "And he starts talking shit to me. I was like, bro, I'm not from a karate school, I'm from the street. I'm here to fight. I'm here to kill you. Right away, my mentality is back the f— up. So, I shoved him."
Rodriguez confirmed to ESPN that Stephens had pushed him, and said he also had some parting words for his opponent.
"I just told him, you will live the rest of your life with that in your head," Rodriguez said. "If you could continue and didn't. Shame on you."
According to Stephens, doctors told him that he had scratches and bruises on both eyes, with the left eye – the one he couldn't open – hurting worse. However, there should be no permanent damage, he said. ESPN's Marc Raimondi reported on Monday that Stephens has a 180-day medical suspension for a corneal abrasion, but that an ophthalmologist can clear him to fight at any time.
Cormier Willing to Fight Miocic Again
Also on Monday, Daniel Cormier told Helwani that he would be willing to return to the UFC for one more fight before retiring, though only for one particular opponent: Stipe Miocic.
Cormier lost to Miocic via fourth-round knockout at UFC 241 in August, a victory that earned Miocic the UFC heavyweight title. That was a reversal of their first fight in 2018, where Cormier won by first-round KO. Cormier is now looking for one last bout to finish off a trilogy with the current heavyweight champion.
Cormier has said on multiple occasions that he regrets how he fought strategically in their rematch, something he'd like a chance to correct in a possible third meeting.
"I'm really not trying to take anything away from Miocic and his corner," Cormier told Helwani. "I just lost. But I felt I could have done a lot of things better."