When it comes to sports NFTs, there are two names dominating the discussion right now: NBA Top Shot and Topps. Those who follow soccer know Sorare has also made a splash, and teams like the Golden State Warriors are beginning to enter the space as well. But in the United States, Top Shot and the Topps MLB offerings are earning most of the buzz when it comes to digital sports collectibles.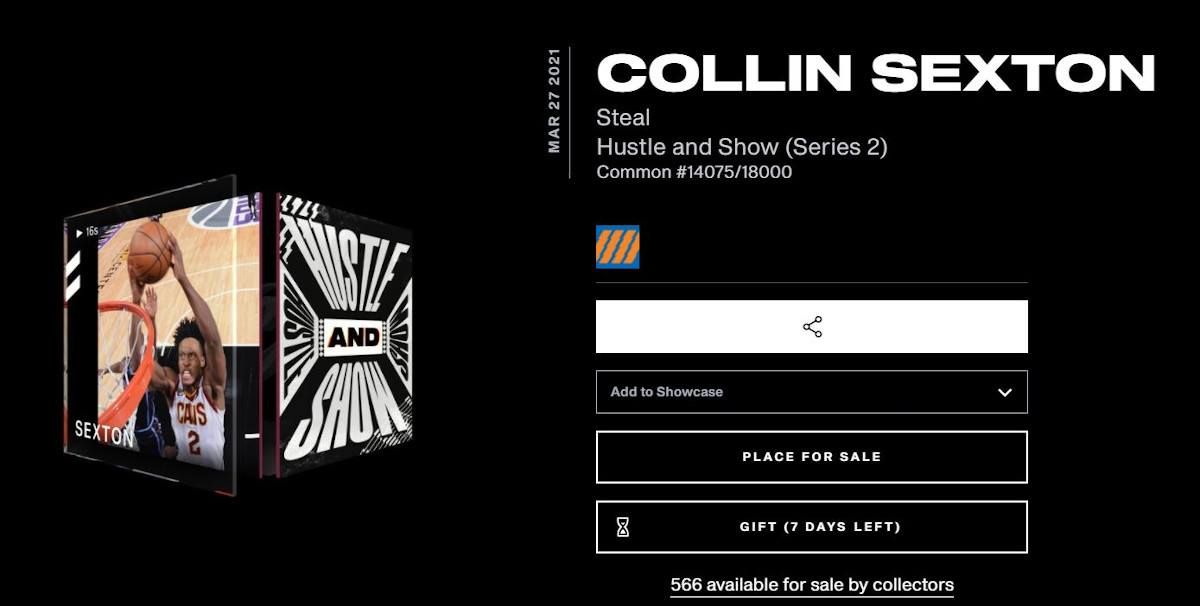 The two NFT collections may have some surface-level similarities, but they offer very different experiences for collectors and investors. Here's a look at how these two brands stack up today.
Top Shot rules the market

When it comes to market share, there's no competition: NBA Top Shot dominates the competition. As of Monday afternoon, Top Shot had generated $2.67 million in sales over the first three days of May, according to data at Cryptoslam.io. Meanwhile, Topps MLB saw just $365,000 in sales.
From #TakeNote …

Stifle Tower, Rudyyyyy Goooooberttttt 🙅🏻‍♂️🙅🏻‍♂️ pic.twitter.com/thebHXS2SH

— NBA Top Shot (@nbatopshot) May 3, 2021
That number has been dropping for Topps in recent days as well. The platform generated just over $1.5 million on its launch date, a number that fell precipitously over the next few days. Early last week, sales climbed again, peaking at just over $1.3 million on Tuesday, April 27 as prices also spiked for single cards and sealed packs.
Since then, sales numbers have come down each day. On May 1 – the last day of complete data on Cryptoslam – users sold just under $230,000 in Topps MLB NFTs. On the same day, Top Shot generated more than $2 million in sales. Prices for many of the Topps collectibles have fallen dramatically over the past week as well.
---
Sports NFTs – Tale of the Tape (May 2021 Data as of May 3, via CryptoSlam.io)
NBA Top Shot
Topps MLB
Sorare
Total Sales
$2,031,991
$229,463
$251,987
Unique Buyers
12,153
1,054
671
Average Sale
$47.17
$34.28
$214.09
---
That's not necessarily bad news for Topps. While NBA Top Shot launched in July 2020, it didn't manage to do $1 million in monthly sales until January. By February, that monthly figure topped $224 million, though it fell all the way to $82.3 million in April.
Two different visions of sports NFTs
One place where NBA Top Shot far outstrips the Topps offering is in user experience. A new user can visit the Top Shot website, sign up for an account, buy and sell moments from the marketplace, and browse their own collection all in one site. They can also make all their purchases directly in dollars – no cryptocurrency required, even though the Flow blockchain powers the product.
Users can purchase packs of Topps MLB NFTs on the product website as well, but the cards themselves live in each user's Wax wallet. NFTs are bought and sold on third-party websites such as AtomicHub.io, and purchases are made in WAX. While the lengthy delay in withdrawals has frustrated some NBA Top Shot users, people without experience with cryptocurrencies may not be able to figure out how to buy or sell Topps digital collectibles at all.
Getting a marketplace tutorial from @Topps Director of Blockchain @kurcide and opening my first burn pack! I'll give away an NFT too! @ToppsDigital @WAX_io https://t.co/HVrv8TbGCF

— Jeff Eisenband (@JeffEisenband) May 3, 2021
There are other obvious differences as well. NBA Top Shot uses video moments, while Topps offers up static cards. Topps sold its first series of NFTs on a first-come, first-served basis that proved chaotic, while Top Shot has switched to a queuing system that is fair, if sometimes frustrating, to those who get unlucky with their random placements.
In short, the two products offer very different visions of what sports NFTs should look like, and that will remain the case even as each continues to evolve. Those won't be the only two approaches, either: Sorare offers a game underlying the collectibles, for instance. With more leagues sure to jump into the NFT space in the months and years to come, it remains to be seen if one approach will become standard, if there's room for a variety of products – or if NFTs will prove to be nothing more than a fad that fades away.