WBC and IBF welterweight champion Errol Spence Jr. will come into his title unification bout against WBA champion Yordenis Ugas as a heavy favorite on Saturday. But the undefeated Spence wants more than just a win: he's seeking to show fans that he can deliver entertainment and knockouts against some of the world's best boxers.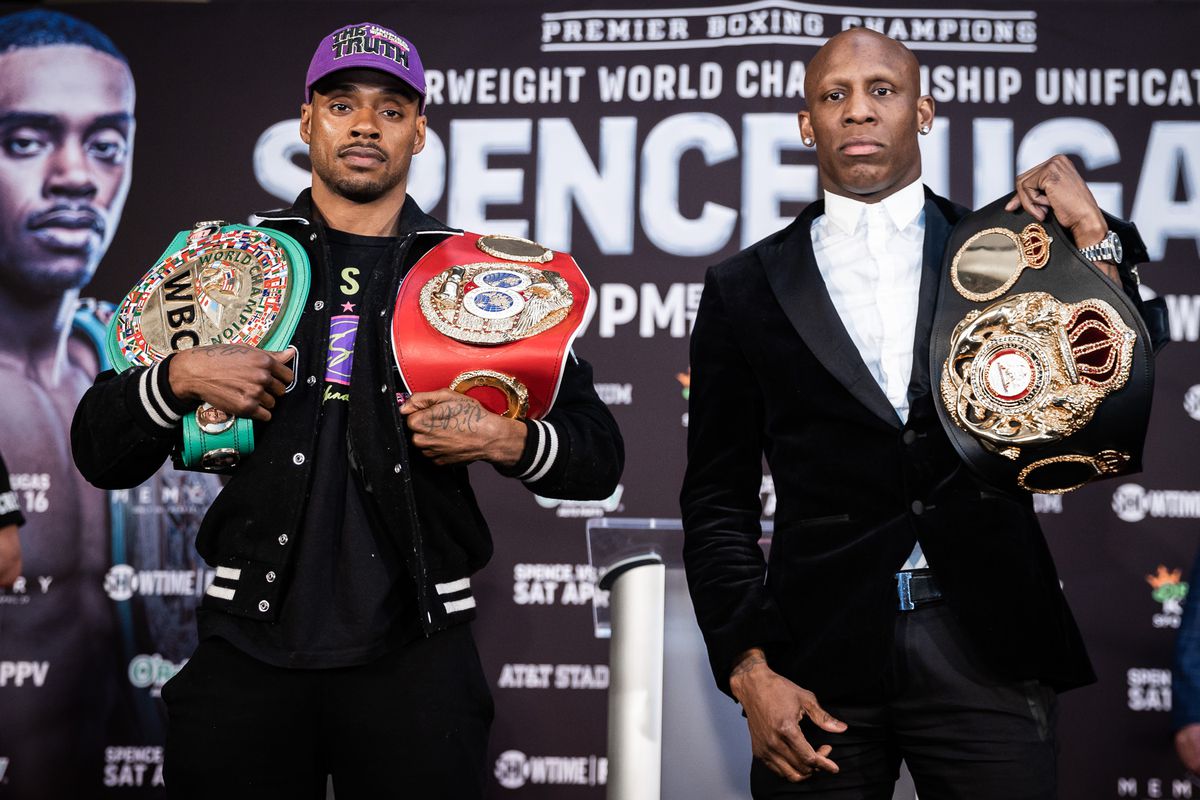 Spence comes into the fight at AT&T Stadium in Arlington, Texas as a -550 favorite over Ugas (+400), according to DraftKings Sportsbook.
Spence promises action against Ugas
Yet Spence (27-0, 21 KOs) is only a +225 pick to win by KO or TKO, while he's -150 to win by decision. Spence hasn't knocked out an opponent since felling Carlos Ocampo Manriquez in the first round back in 2018. Since then, he has earned big wins against Mikey Garcia, Shawn Porter, and Danny Garcia, but all by decision.
That has Spence aiming to entertain the crowd on Saturday. While he stopped short of guaranteeing a knockout, he made it clear that he thinks the fight could end early.
"This fight might not go the distance," Spence told reporters. "Ugas is a tough fighter. He's a guy that embraces the fight and wanting to go toe-to-toe…I'm the type of guy that if I have to go toe-to-toe, I will. If I have to stay there and fight, I will. If we get in the clinch and start fighting, I don't think it's going 12 rounds."
Ugas (27-4, 12 KOs) isn't concerned with how the fight ends. Coming off a unanimous decision win over Manny Pacquiao last August, the Cuban is eager to embrace the underdog role, and says he's ready for the challenge of fighting Spence on Saturday.
"Spence can say whatever he wants," Ugas told Yahoo Sports. "I'll fight the way I always do, exchanging blows and coming forward. I've always been an underdog, six years ago and now, so I'm used to it. Spence is the rightful favorite as a unified champion in his home city, but I came here to pull off the upset."
Styles could lead to knockout finish
Spence fully expects to win this fight, and has made it clear that he's going for an early finish, even if it's not a guarantee.
"If I get it, I get it. If I don't, I don't," Spence said. "I know 100 percent I'm getting the victory, but I definitely want to knock him out."
If Ugas does indeed continue coming forward, as is his style, then someone might well go down on Saturday. But Ugas says that the difference in how he and Spence are talking might portend trouble for the favorite.
"Spence promises a knockout," Ugas said at the final pre-fight press conference. "I promise a win."