Manny Pacquiao hasn't stepped into a boxing ring in more than two years, but the Filipino legend still enters his fight on Saturday in Las Vegas against Yordenis Ugas as the favorite to regain the WBA welterweight title.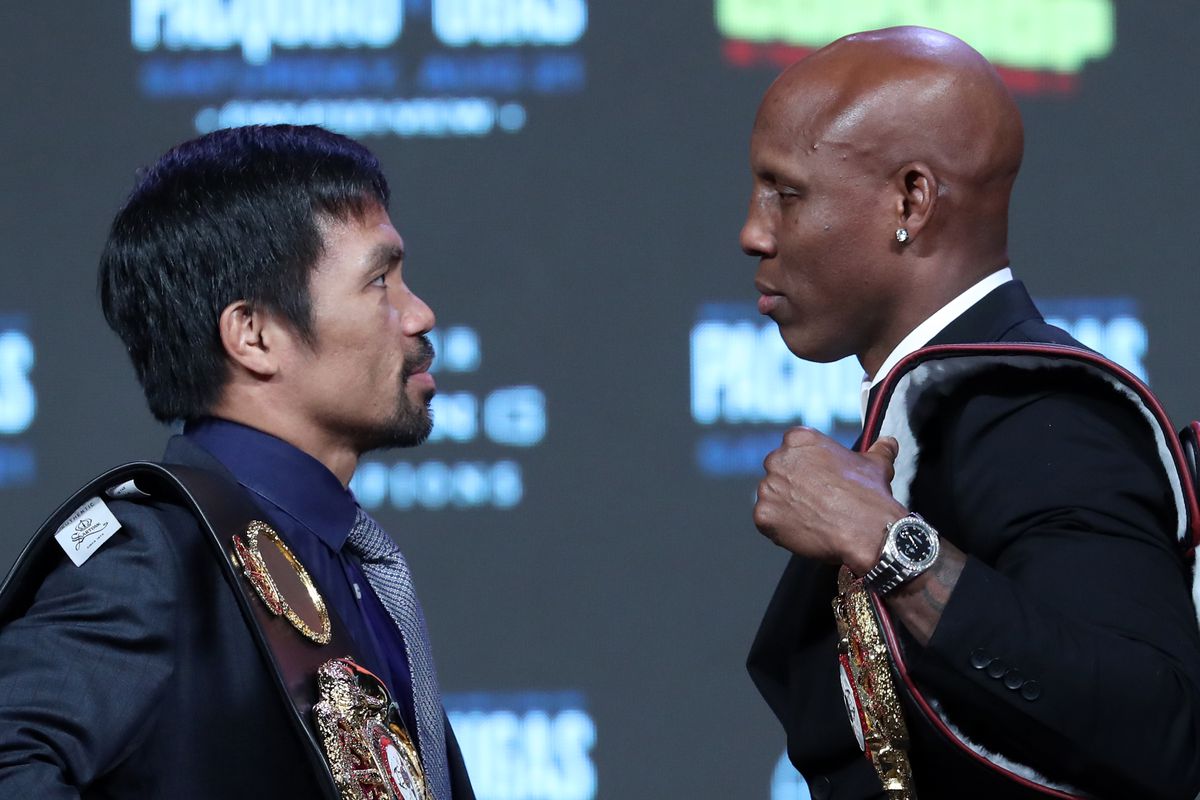 Ugas stepped in at the last moment to replace WBC and IBF champion Errol Spence Jr. after the undefeated American suffered a left eye injury and dropped out on Tuesday.
Pacquiao wants WBA belt back from Ugas
The WBA vacated its championship due to Pacquaio's inactivity. Ugas then won the belt by beating Abel Ramos last year. So while this fight doesn't carry the name value of a tilt with Spence, there is a sense of poetic justice in this matchup as well.
"Ugas is a champion because they gave him my belt," Pacquiao told reporters. "I'm so excited for this championship fight and I don't care if I'm the challenger or champion coming into it. We'll see who is the champion."
Ugas (26-4, 12 KOs) has established himself as one of the top welterweights in the world. But he has never fought anyone with the status of Pacquiao, one of the greatest fighters of all time. That presents a challenge for Ugas, but also an opportunity.
"Fighting Manny Pacquiao is very significant to me. It means the world to me," Ugas told reporters. "I'm not fighting for the money, I'm fighting for my legacy, and for my country. This is the most important fight of my life."
The 42-year-old Pacquiao has remained a capable fighter even in the latest stages of his career. He has won five of his last six fights since his iconic – but disappointing – loss to Floyd Mayweather Jr. in 2015, with the only defeat being a controversial decision he dropped to Jeff Horn. Pacquiao could well be at the very end of his career, as he is a Filipino Senator and has expressed an interest in continuing his political career, perhaps even running for president of the country.
Both fighters confident despite late change
Despite that, Pacquiao comes into the fight as a solid -380 favorite over Ugas (+295), according to DraftKings Sportsbook. That number makes sense, considering Pacquiao's resume and the fact that he has shown no signs of slowing down at his advanced age.
---
Pacquiao vs. Ugas Odds (via DraftKings Sportsbook)
Manny Pacquiao: -380
Yordenis Ugas: +295
Method of Victory
Pacquiao by KO/TKO/DQ: +160
Ugas by KO/TKO/DQ: +1100
Pacquiao by Decision: +115
Ugas by Decision: +400
Draw: +2000
---
But there are reasons to believe that Ugas can win the fight. For one, he is right-handed, while Spence is a southpaw. Even Pacquiao admits that the change presents a challenge.
"The only danger for this fight is the change in stance," he said. "I always consider myself a bipartisan boxer. I am happy to fight either right-handed or southpaw fighters. Its no problem for me at all to switch the styles I'm going to face."
And while taking a fight on short notice can be challenging for both fighters, Ugas says he's prepared for Saturday's bout.
"I've been in this position taking a short notice fight before, although obviously never against a fighter the caliber of Pacquiao," Ugas told reporters. "I have prepared for 12 hard rounds. If this is Pacquiao's final fight, then he's going to be up against a guy who brought his best and is a world class fighter."