Alireza Firouzja lost his final two games on Tuesday to fall into a five-way tie for sixth place and miss out on the Skilling Open quarterfinals on tiebreaks, despite winning six games in the round-robin.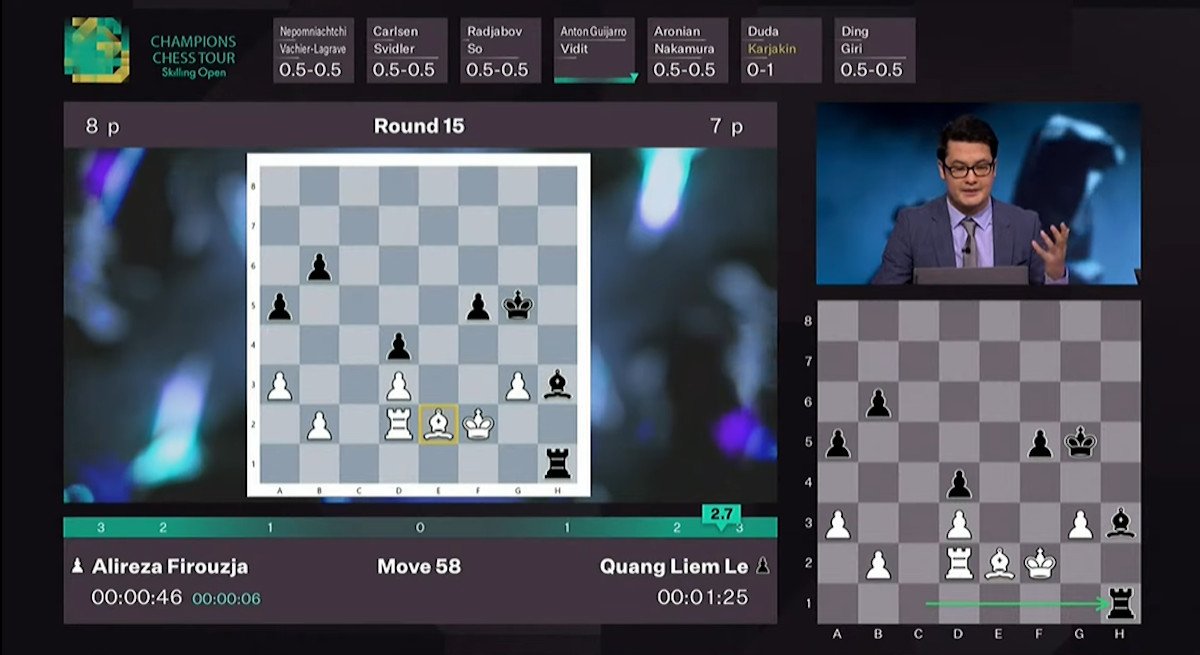 Both Firouzja and Le Quang Liem missed out on qualification on eight points, the same score that proved to be just enough for Teimour Radjabov, Maxime Vachier-Lagrave, and Anish Giri.
Firouzja Suffers Heartbreaking Elimination
Firouzja started the final day of round-robin play at the Skilling Open on fire. He scored consecutive wins over Ding Liren, Anish Giri, and Sergey Karjakin, moving him into a share of the lead with just two rounds to play. But consecutive losses to Hikaru Nakamura and Le left the Iranian prodigy in a precarious position.
Firouzja is out despite a brilliant day!
Tania Sachev said it best: "If Alireza Firouzja does not make it to the Final 8 after that spectacular performance I will lose all faith in everything!" https://t.co/nh621BCq02 #c24live #ChessChamps #SkillingOpen pic.twitter.com/XiilcLgOQr

— chess24.com (@chess24com) November 24, 2020
His wasn't the only collapse on Tuesday. Ding Liren fell from second place at the start of the day to out of the knockout stages. Meanwhile, Anish Giri barely held on to qualify for the quarterfinals after holding the tournament lead after both Day 1 and Day 2, something he referenced with a bit of political parody on Twitter.
WE WILL STILL WIN, BUT FRANKLY THEY SHOULD HAVE STOPPED THE COUNT AFTER DAY TWO. #ChessChamps

— Anish Giri (@anishgiri) November 24, 2020
There was less drama at the top of the table, where Magnus Carlsen and Hikaru Nakamura shared the lead on nine points. The two tournament favorites cruised through the round-robin and are now set up to face each other in the Skilling Open final, if they can both get that far.
"Being the winner of the round-robin doesn't really matter that much," Carlsen said after Tuesday's play. "I certainly don't feel like a winner, because I don't think I played particularly well. But it was enough, so that's what matters."
Nakamura expressed relief over getting through to the quarterfinals.
"It was a crazy day," Nakamura said. "I think everybody had a chance to qualify. It's been wild … I thought my play was very up and down."
Carlsen Faces Giri in Skilling Open Quarterfinals
The Skilling Open quarterfinals begin immediately on Wednesday. The eight remaining players will compete over two days in two, four-game rapid matches. If those two matches are split 1-1, players will then face off in a two-game blitz tiebreaker. If that still doesn't settle the score, an Armageddon game will advance someone to the semifinals.
Carlsen will take on Giri in what could be the highlight match of the quarterfinal round. Carlsen comes in as a massive -2000 favorite to advance to the semifinals over Giri (+725), according to online bookmaker Bwin. Regardless of the outcome, fans will get to enjoy another round of friendly banter between the two rivals who also met up in the finals of the Chessable Masters in July.
---
Skilling Open Quarterfinals Odds (via Bwin)
Magnus Carlsen: -2000
Anish Giri: +725
Hikaru Nakamura: -250
Maxime Vachier-Lagrave: +180
Wesley So: -182
Teimour Radjabov: +130
Levon Aronian: +100
Ian Nepomniachtchi: -134
---
No. 2 seed Nakamura (-250) gets a tough test in the form of French grandmaster Vachier-Lagrave (+180). Meanwhile, Wesley So (-182) battles Teimour Radjabov (+130), while Levon Aronian (+100) faces Ian Nepomniachtchi (-134).
Carlsen remains a -118 pick to win the Skilling Open. Nakamura (+400) is a clear second choice, while Nepomniachtchi (+800), Vachier-Lagrave (+1000) and So (+1000) are also considered strong contenders.