Valentina Shevchenko had no trouble defending her UFC women's flyweight title on Saturday, defeating Liz Carmouche by unanimous decision in the main event of UFC Fight Night 156 in Montevideo, Uruguay.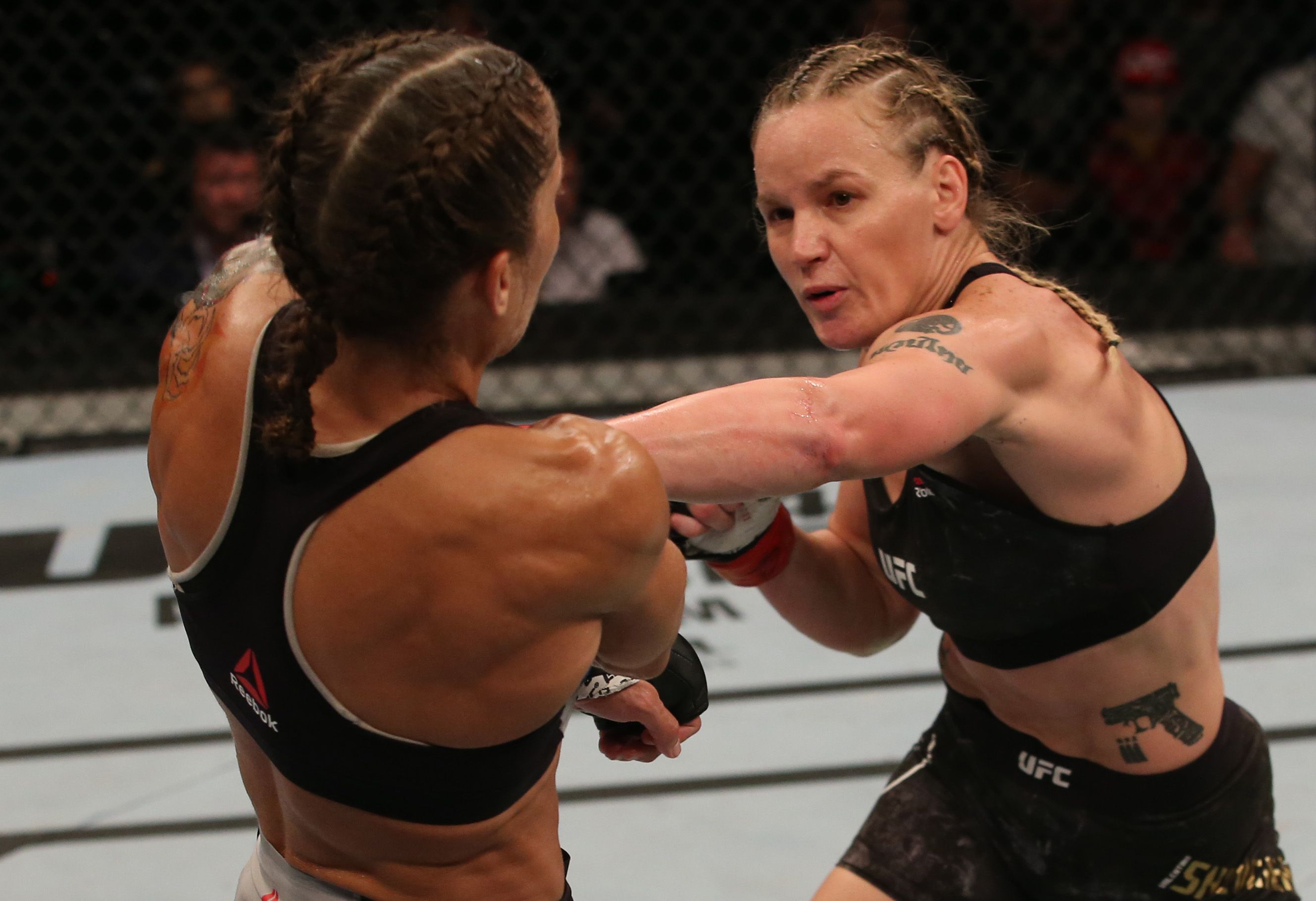 Shevchenko won 50-45 on all three cards, and was never in any danger of losing the five-round fight.
Shevchenko: Winning More Important Than Style
The style of the bout wasn't exactly crowd-pleasing, with long stretches of relative inactivity. That was to plan for Shevchenko (17-3), who relied on her stifling defense to frustrate Carmouche (13-7) before finding her own opportunities to land enough offense to get the clear decision. There were few hard shots landed in the fight, with Shevchenko landing 42 significant strikes to Carmouche's 18.
Whether or not people were happy with how she approached the fight, though, Shevchenko said she was most concern with making sure she walked away with a win.
"First of all, of course I'm happy with my victory. I'm very happy to have the belt here and not somewhere else," Shevchenko said in her post-fight press conference. "I think if all fans, people will start to watch more carefully the fight, they will see very beautiful technique and timing and speed and this is all about martial arts. Not only about crazy exchanges, you can be hit or you can lose much more because as I said, you have the belt or you don't."
On Monday, Shevchenko also responded to comments made by UFC men's flyweight and bantamweight champion Henry Cejudo, who said last month that he would be willing to fight her or Amanda Nunes to get his hands on even more championship belts. While saying that she thinks Cejudo was just joking, she did also issue a warning that such a fight – which wouldn't be entirely unprecedented in MMA, but certainly wouldn't be sanctioned by the UFC – wouldn't be a walkover.
"I don't know because he is very insistent in this," Shevchenko said on Ariel Helwani's MMA Show. "But I say, be careful what you wish. Never, I am not afraid of anything."
Allan Tests Positive After UFC Sacramento
According to a report by MMA Fighting, John Allan tested positive for the banned substance tamoxifen during in-competition testing. Allan defeated Mike Rodriguez during UFC Fight Night 155 on July 13 in Sacramento during the final bout of the preliminary card. It was Allan's first fight in the UFC.
Allan (14-5), who hails from Curitiba, Brazil, is facing a suspension from the US Anti-Doping Agency, as well as a suspension from the UFC, a fine, and the loss of his victory over Rodriguez.
Iaquinta vs. Hooker Set for Melbourne
Dan Hooker (18-8) will fight Al Iaquinta (14-5-1) at UFC 243 on Oct. 5 in Melbourne, Australia, according to a report by ESPN. The report stated that while the fight had been verbally agreed to, the official signing of the fight will take place in the coming days.
Hooker is coming off a first-round knockout of James Vick at UFC on ESPN 4 on July 20. After that win, he issued an open challenge to anyone in the lightweight division to fight on the Melbourne card in the hopes of being able to fight alongside his training partner Israel Adesanya, who will take on Robert Whittaker for the unified middleweight title in the main event.
Hooker is currently the No. 14 ranked contender in the UFC's lightweight division, while Iaquinta is ranked sixth.