You have your cross country Pick 4s and Pick 5s, which demand you pick winners from different tracks around the country. But the latest betting novelty for horseplayers takes the Cross Country Pick 5, boosts its class, and takes it international.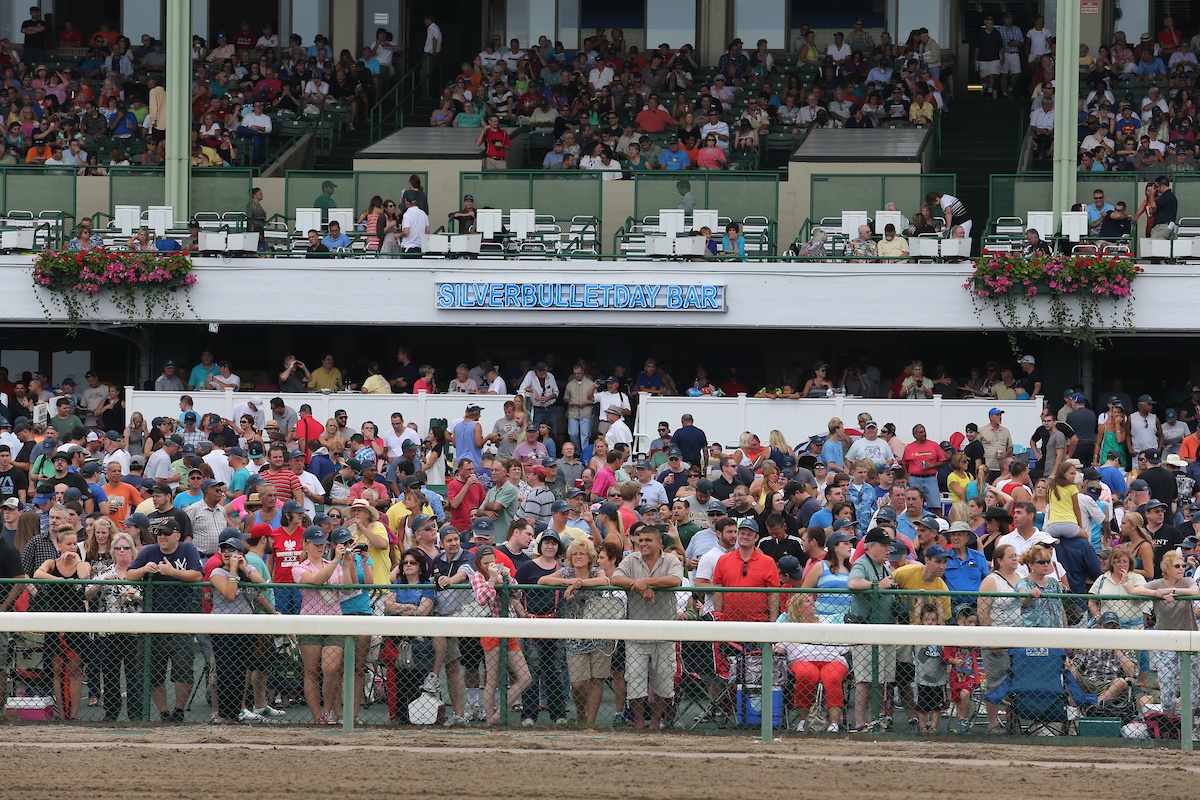 Saturday's Cross Country Pick 5 gives bettors a swing at an international Pick 5 that includes all graded stakes races from three standout racetracks. The Cross Country Pick 5 features five graded stakes from three tracks and two countries: Monmouth Park in New Jersey, Woodbine outside Toronto, Ontario, Canada, and Saratoga in New York.
They take place Saturday over a 96-minute window from 1:40 p.m. PT to 3:16 p.m. PT.
The New York Racing Association (NYRA) oversees the Cross Country Pick 5, which comes with a standard $.50 base bet and a 15% takeout. The Pick 5s all come with a mandatory payout.
NYRA said it will continue offering its Cross Country Pick 5s every Saturday throughout the year. But this Saturday's offering won't be easy to top.
---
Cross Country Pick 5 — Saturday, July 18 (All times Pacific)
Leg 1 – Monmouth, Race 10: Grade 3 Monmouth Park (1:40 pm)
Leg 2 – Monmouth, Race 11: Grade 1 United Nations (2:12 pm)
Leg 3 – Woodbine, Race 9: Grade 2 Royal North (2:28 pm)
Leg 4 – Monmouth Race 12: Grade 1 Haskell (2:48 pm)
Leg 5 – Saratoga, Race 10: Grade 1 Coaching Club American Oaks (3:16 pm)
---
The entries begin with the Grade 3 Monmouth Cup for 3-year-olds and up, one of the key races on the Haskell Stakes undercard. The 1 1/8-mile Monmouth Cup features Joevia, who finished third at the 2019 Belmont Stakes after breaking his maiden at Monmouth the previous July, and Global Campaign, who won the 2019 Peter Pan at Saratoga.
Why Not Put the United Nations in an International Pick 5?
Monmouth also gets Leg 2, the Grade 1 United Nations. This 1 3/8-mile turf race offers one of the best fields of the day on any track. Bettors are forced to choose from a nine-horse field that includes Current, Standard Deviation, Pavet, and Arklow — the only Grade 1 winner in the field, but one coming back on six days rest.
From there, the Cross Country Pick 5 shifts to Canada's Woodbine for the Grade 2 Royal North. Choices in the six-furlong race begin with defending champion Summer Sunday, who was named Canada's champion female sprinter last year.
Then, it's back to Monmouth for the day's most anticipated race, the Grade 1 Haskell Stakes. The $1 million race is a Kentucky Derby prep, offering 100-40-20-10 qualifying points to the first four finishers. It also doubles as a Breeders' Cup "Win and You're In" challenge event for the Breeders' Cup Classic.
Sophomore Standouts Finish Up the Pick 5
Bob Baffert's Authentic is your 4/5 morning line favorite in the 1 1/8-mile race. Pushing him are Todd Pletcher's Dr Post, along with Ny Traffic. Dr Post finished second to Tiz the Law at last month's Belmont Stakes.
Wrapping up the Cross Country Pick 5 is the Grade 1 American Oaks at Saratoga. The 1 ¼-mile race for 3-year-old fillies is a key prep for the Kentucky Oaks, offering 100-40-20-10 Oaks qualifying points to the top four finishers. Top choices include multiple graded stakes winner Tonalist's Shape, who is 6-for-7, along with Baffert's Crystal Ball. She broke her maiden by 6 ¼ lengths at Santa Anita last month.