There were no fans in the stands at Saratoga for opening weekend, and few fans in the stands at Monmouth Park on Haskell weekend. But both tracks notched increased handles year-over-year from 2019.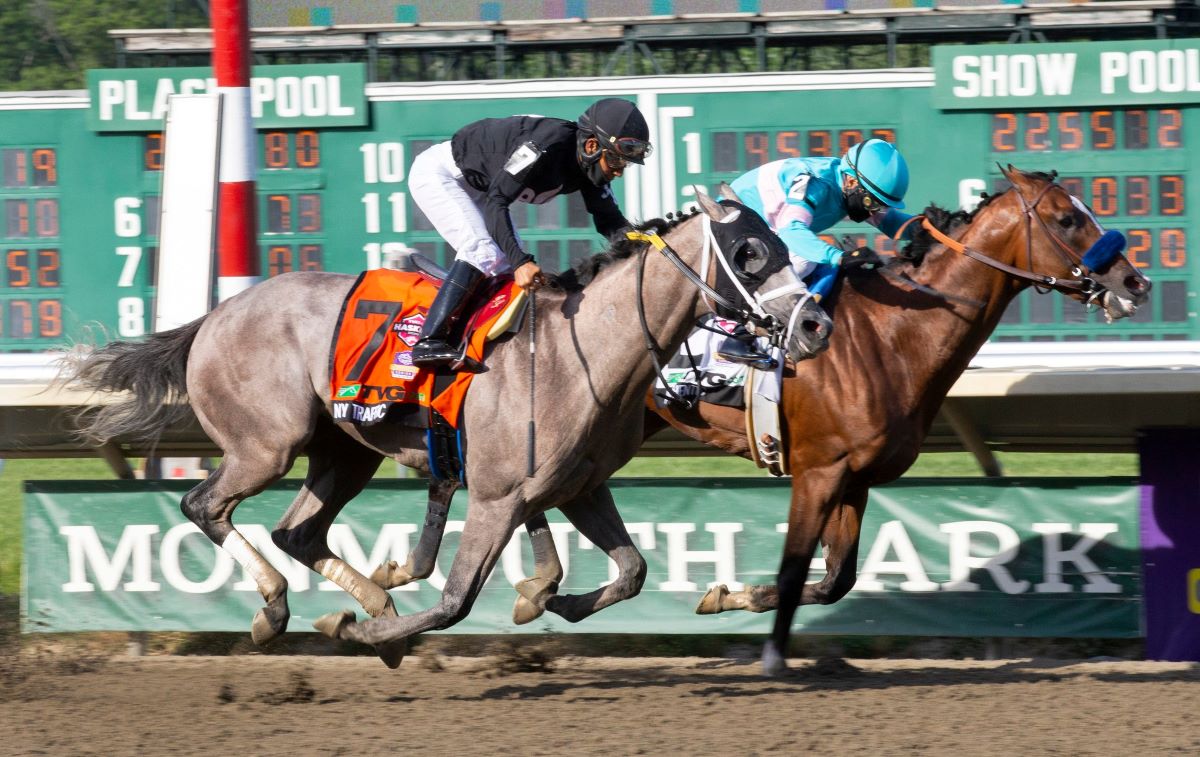 Saratoga's opening weekend all-sources handle came in at $80,325,660, up 9.4% from 2019's $73,441,101. The historic upstate New York track is running without fans this year due to the coronavirus.
Monmouth Park set a handle track record for a non-Breeders' Cup day when horseplayers wagered $20,479,392 on Saturday. That bettered the previous non-Breeders' Cup record of $20,024,509, wagered in August 2015, when Triple Crown winner American Pharoah won the Haskell in his first race back after winning the Belmont Stakes.
Saturday marked only the second $20 million daily handle at Monmouth Park in the track's 75-year history. Putting that number into further perspective, Monmouth Park put more than 65,000 fans into the Jersey shore track five years ago.
On Saturday, there were fewer than 4,000, as Monmouth Park limited ticket sales. But bettors had their pick of a sterling, 14-race card. The Grade 1 Haskell was one of five graded stakes on that card, giving Monmouth the best card in North America on Saturday.
"The reality is that this will go down in history as one of the most challenging yet gratifying Haskell Days in history," said John Heims, Monmouth Park's racing secretary and director of racing, in a release.
Haskell Saturday Brings a Roller-Coaster Ride of Races
Saturday's Monmouth card featured upsets like Aquaphobia, who paid $23.40, winning the Grade 1 United Nations, and 4/1 Horologist winning her fifth consecutive race at Monmouth Park in the Grade 3 Molly Pitcher.
But topping that card was the Haskell and its wild ending. Authentic's neck victory over a fast-charging Ny Traffic, who was three lengths behind Authentic with an eighth of a mile remaining, gave trainer Bob Baffert his ninth Haskell.
At the same time, it gave Baffert, assistant trainer Jimmy Barnes, jockey Mike Smith, and the rest of Authentic's connections plenty to ponder. Yes, Authentic went gate-to-wire, but the 3/5 favorite was extremely lucky the wire came where it did because his abrupt shift into cruise control made the race far more interesting than it should have been. Another 20 yards and Ny Traffic has his first Grade 1 win.
"He was playing in the stretch, I'm telling you," Baffert said after the race. "I told Mike (Smith), 'You have to stay after him. Because he looks … you got to keep him busy.' I can tell he wasn't laying it down. He was just playing out there."
Saratoga Reveals Another Derby Contender
Saratoga, meanwhile, benefited from its own strong cards, which included Country Grammer taking the Grade 3 Peter Pan on Opening Day. That put Country Grammer on the Kentucky Derby map with 50 points. If the race were today instead of Sept. 5, Country Grammer would be in the gate.
Saturday's highlight was Paris Lights capturing the American Oaks in a nail-biter over Baffert's Crystal Ball. That earned Paris Lights 100 Kentucky Oaks qualifying points and the No. 4 spot on the Kentucky Oaks points ladder, even though she isn't Oaks nominated.
From a financial standpoint, this opening weekend came as welcome news to the New York Racing Association, which funds the majority of its purses with wagering.