No one puts Saquon Barkley on the bench. That's the message the New York Giants' star running back is sending to fans and media pundits who think he's already lost a step in just his second season in the league.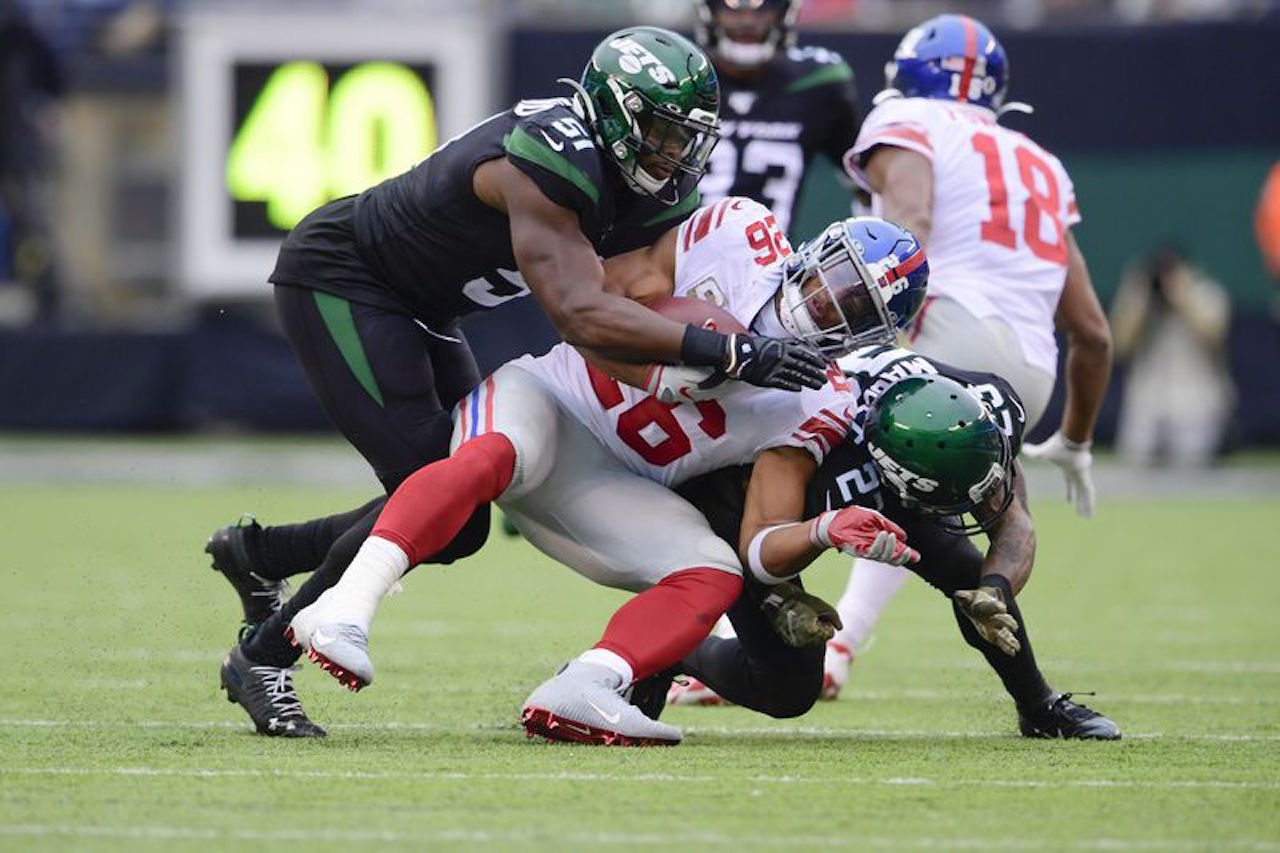 While Barkley isn't having the kind of dominant year he did last season, it's not for a lack of heart.
Last Sunday Barkley had a dismal performance against the rival New York Jets where he gained just one yard on 13 carries. After the game, pundits speculated that Giants coach Pat Shurmur would shut Barkley down for the final six games.
"Absolutely not," Shurmur said.
Barkley was a little more verbose on the subject, telling reporters that sitting for the rest of the season isn't an idea that he will entertain.
"The mindset of sitting me out and resting me for the rest of the season is beyond me," Barkley said. "I do not agree with it. It won't happen. I'm going to keep going until I can't go no more. That's the player I, am and I'm going to do it for my teammates."
Injuries Taking Their Toll
Barkley missed three games earlier in the season with a high-ankle sprain. He returned Oct. 20 against Arizona, and rushed for 72 yards on 18 carries in the Giants' 27-21 loss.
In last week's contest against the Jets, Barkley appeared to hurt his shoulder. He reportedly was in the X-ray room after the loss, but on Monday, Shurmur said it was nothing serious.
"He's feeling much better,'' Shurmur said. "He's fine.''
Whether he's at 100 percent or not, Barkley's injuries aren't the only reason he struggled against the Jets. Surprisingly, the LOLJets have the No. 2 run defense in the NFL. Couple that with the fact the Giants were using second-and-third-string players on their offensive line because of injuries, and Barkley's lack of production becomes a little more understandable. Not acceptable for Giants fans, but understandable.
Right tackle Nick Gates made his first start for the Giants offensive line, and was part of a rag-tag group that allowed six sacks against the Jets.
"We're young. We don't have a lot of experience," Gates said. "I'll still look at my playbook and watch some film. I'll be in my playbook a little more than I would have been."
Stats Don't Lie
The Giants' struggling offensive line and Barkley's injuries are taking a toll on the big back's numbers. In just about every category you can measure, Barkley is on pace to finish worse than he did in his rookie year.
Yards gained is the first category that jumps out. Barkley had 1,307 yards last year. Through Week 10 of this season, he has 402. In 2018 he had seven, 100-plus yard games. This year, he has two.
His average yards per rush have gone down from five yards to four. He had 11 touchdowns last year, compared to two in 2019. Barkley isn't making excuses, though.
"I don't like the fact that I was able to have one yard against the Jets, a great team, respect to them. I feel like when you see me get in open space, I still was making people miss. To say that I'm not healthy, that's just an excuse. Everyone is banged up, everyone is going through something, and I'm not going to let that be an excuse for why I'm not having a successful season. The reason I'm not having a successful season is because I'm not making enough plays for my team."