Veterans like Green Bay receiver Davante Adams and rookies such as new York Giants running back Saquon Barkley should provide a nice mix for offensive prop bets. The two are favorites to score the most touchdowns this season for their position.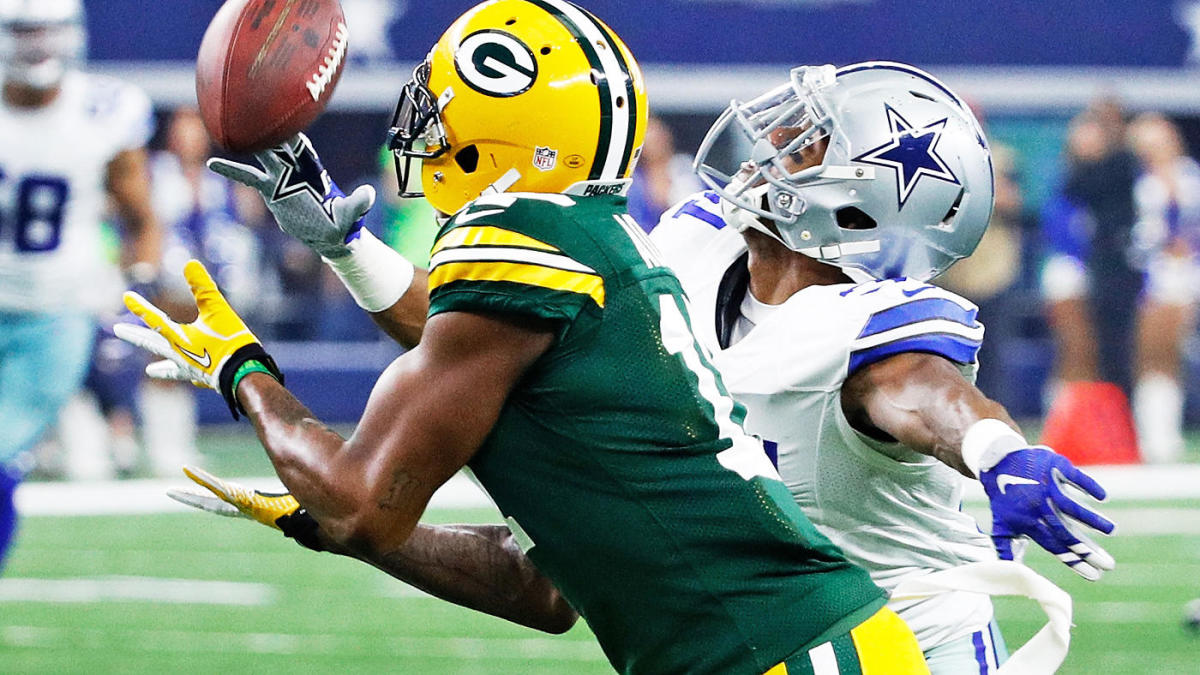 Ironically neither one led the league last year, but oddsmakers believe they will be tops this season. Other players, though, like Houston's DeAndre Hopkins, and Dallas' Ezekiel Elliott are expected to challenge them.
We take a look at the odds for most touchdowns, and most yards, for both positions, and provide some insight.
Oddsmakers Not Down with Antonio Brown
Despite leading the league in touchdowns last year with 15, sportsbooks are not sold that Raiders wide receiver will repeat. Bovada has him at 18/1, though Ladbrokes gives him a better chance at 8/1. That is still behind favorite, Green Bay's Davante Adams, who is at 6/1 at Ladbrokes and 10/1 at Bovada.
The hesitation with Brown is well founded. There have been several red flags during training camp. The first is reports that he was showing up late to meetings, and when he was there, wasn't paying attention. More seriously, he got frostbite on his feet from failing to wear protective shoes while in a cryotherapy machine.
Odds for Most Receiving Touchdowns

Player                           Team             2018 TDs     Bovada   Ladbrokes

Davante Adams            Packers            13               9/1            6/1

DeAndre Hopkins         Texans              11              10/1          13/2

Travis Kelce                  Chiefs               10              14/1           8/1

Odell Beckham Jr.         Browns              6               15/1          12/1

JuJu Smith-Schuster     Steelers             7               16/1          14/1
Though he insists he will be ready for the regular season, Brown hasn't played in the team's two preseason games, and no solid timetable has been listed for his return.
Known quantities, like Adams and Travis Kelce of the Chiefs are much safer plays. Both have quarterbacks who like to throw the ball. Kelce caught 20 percent of quarterback Patrick Mahomes 50 touchdown passes.
Taking a chance on Schuster might reward bettors. He was the No. 2 receiver behind Brown last year in Pittsburgh. Now he is No. 1 and could easily double his production.
Julio Jones Good Bet for Yards Leader
Atlanta Falcons veteran wide receiver Julio Jones has been solid in piling up receiving yards. Since 2014, his lowest total was 1,409 yards. He has led the league in that category in 2015, and last year.
Jones could easily repeat as yards leader with the change in offensive coordinators. Gone is Steve Sarkisian, and the new man is fired Tampa Bay head coach Dirk Koetter.
Odds for Most Receiving Yards

Player                        Team              2018 Yards  Bovada      Ladbrokes

Julio Jones                 Falcons             1,677           4/1               5/1

DeAndre Hopkins      Texans               1,572           7/1              11/2

Michael Thomas        Saints                1,405           10/1             7/1

Odell Beckham Jr.      Browns             1,052           12/1             10/1

JuJu Smith-Schuster  Steelers            1,426           14/1              8/1
Falcons quarterback Matt Ryan had some of his most productive years when Koetter was offensive coordinator with the team from 2012-2014. Jones should be the beneficiary of the new OC as well.
Another player to look at is Saints' Michael Thomas. Thomas just signed the biggest contract at his position. Head coach Sean Payton might want to utilize him even more than they did last year to justify the expenditure.
Stay Away From Risky Gurley, Elliott
Sometimes favorites aren't the best bets, and that is certainly the case for the most rushing touchdowns category. Bovada has Dallas running back Ezekiel Elliott as the favorite at 8/1, while Ladbrokes has Los Angeles Rams' Todd Gurley at 5/1.
Both running backs enter 2019 with problems that could limit their productivity. Gurley has been practicing on a limited basis as coach Sean McVay wants him to rest up his tender left knee, a problem that stretched back to the Super Bowl.
Odds for Most Rushing Touchdowns

Player                    Team             2018 TDs    Bovada        Ladbrokes

Ezekiel Elliott         Cowboys             6               8/1                8/1

Saquon Barkley     Giants                11              8/1                6/1

Todd Gurley           Rams                 17             12/1               5/1

Derrick Henry        Titans                 12             12/1              25/1

Nick Chubb            Browns               8              14/1              25/1
Elliott is the midst of a contract holdout, and has been missing in action from training camp. Cowboys owner Jerry Jones insists the running back will be in camp before the start of the season, but will that give him enough time to get game-ready. He might be starting at a disadvantage that will prove to be too hard to overcome.
Saquon Barkley might be the best bet for this category. The Giants second-year player is going to be a main focal point of the offense, especially inside the red zone. New York is a bad team, but Barkley should get his opportunities to score, especially with an improved offensive line.
Barkley Giant Among Rushers
Barkley had a huge rookie year for the Giants, rushing for 1,307 yards, second only to Dallas' Elliott. He could even have a better year with New York.
There probably won't be any indications of his progress in the preseason, though. Giants coach Pat Shumur held him out of the first preseason game against the Jets, and hinted he might not play Friday against the Bears.
"He's a valuable player, so we'll just have to see as time goes on if he's going to play in these games," Shurmur said. "I just want to be smart. I want to do what's best. I think as we go through it, you see the good work he's getting in practice. We just want to continue to do that."
Odds for Most Rushing Yards

Player                              Team          2018 Yds.    Bovada     Ladbrokes

Ezekiel Elliott                   Cowboys     1,434           3/1                8/1

Saquon Barkley               Giants         1,307            9/2               6/1

Todd Gurley                     Rams          1,251           15/1              5/1

Derrick Henry                  Titans          1,059           15/1             25/1

Le'Veon Bell                    Jets              N/A             16/1             16/1
A longshot to consider is Tennessee's Derrick Henry. Henry came on strong at the end of last season, and new offensive coordinator Arthur Smith has said the back will be a main part of the offense.