Deebo got the bag. A big one. Deebo Samuel, one of the most dangerous and explosive offensive weapons in the NFL, signed a three-year contract extension with the San Francisco 49ers worth upward of $73.5 million.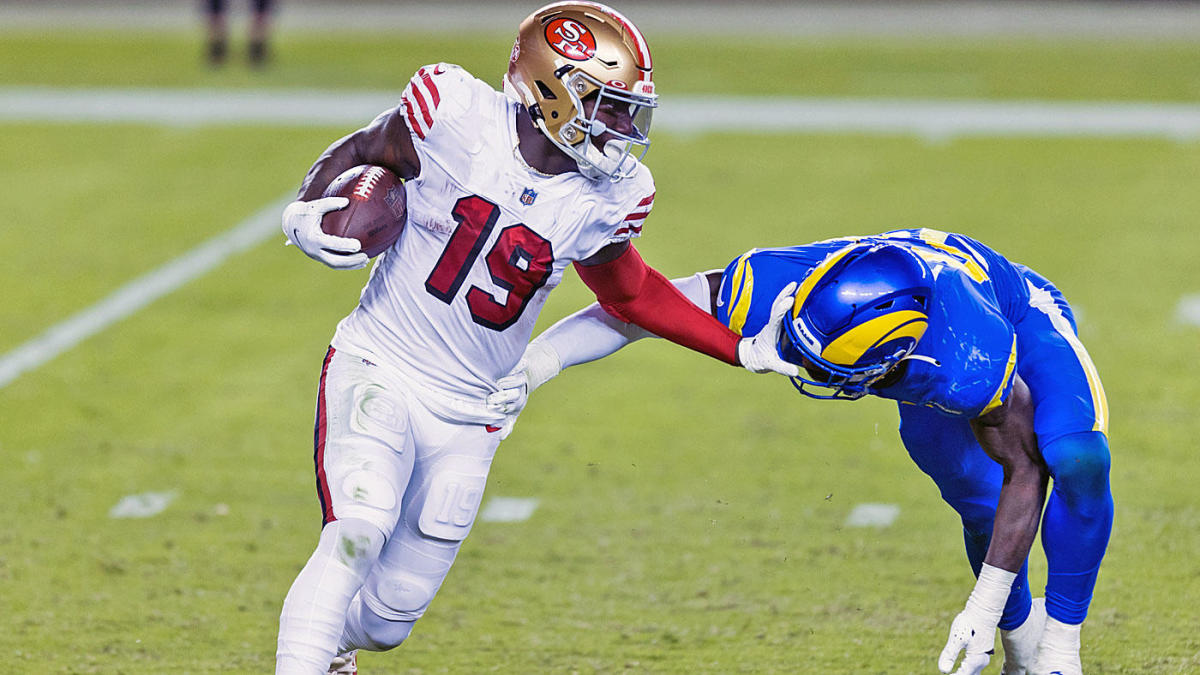 Samuel demanded a trade back in April before getting exactly what he wanted with a lucrative contract extension and a guaranteed payday. The new contract includes a whopping $58.1 million in guaranteed money.
Samuel is a freak of nature who proved his versatility in Kyle Shanahan's offense as a rare multipositional player. Since the 49ers selected Samuel with a late second-round pick in the 2019 NFL Draft, he leads the NFL, averaging 9.8 yards after the catch. Simply put, get the ball to Samuel, and you'll move the chains with a first down.
The 49ers lost to the LA Rams — an NFC West division rival — in the NFC championship game. Heading into the season, the 49ers are +1600 odds to win Super Bowl 57, and +750 odds to win the NFC championship. In divisional betting, the 49ers are +150 odds to win the NFC West, just behind the LA Rams at +125.
Jimmy G to Deebo Samuel for a 79 yard TD! #49ers pic.twitter.com/FlmpVxJB32

— Coach Yac 🗣 (@Coach_Yac) September 12, 2021
Deebo: Human Flex
Samuel proved his worth last season playing both wide receiver and running back in the newly coined "wide back" hybrid position. With the 49ers thin on running backs due to injuries and COVID-19, Samuel lined up in the backfield. He excelled despite the fact that running back isn't his natural position.
Offensive coordinator Mike McDaniel — who's now the head coach of the Miami Dolphins — loves to think outside the box and lobbied to insert Samuel into the backfield earlier in the season. Shanahan was skeptical, but when the 49ers ran out of running backs, they had no choice but to start Samuel at running back.
Samuel rushed 59 times for 365 yards and eight touchdowns, averaging an eye-popping 6.2 yards per carry. In 16 games this season, Samuel tallied 1,770 yards of total offense, including 1,405 receiving yards for fifth-best in the NFL. He led all wide receivers, averaging 18.2 yards per catch.
Samuel caught six touchdown receptions and rushed for eight more for 14 total scores in 16 games. He also completed a 24-yard touchdown pass on a trick play.
Wide receivers continue to get paid with record-smashing salaries. It's the roaring 2020s, where wideouts are at a premium in the pass-first, trigger-happy NFL. After signing a new contract with the 49ers, Samuel becomes the seventh wide receiver to earn at least $24 million per season. That list includes Davante Adams, Tyreek Hill, Cooper Kupp, "Scary" Terry McLaurin, and Stefon Diggs. Last season, DeAndre Hopkins was the lone wide receiver to earn $24 million a season.
Deebo Samuel bullies Marcus Peters and comes down with a 33-yard TD on 4th down.

(via @NFL)pic.twitter.com/sttL6r5Stt

— Ari Meirov (@MySportsUpdate) December 1, 2019