The Buffalo Bills made Stefon Diggs the NFL's second-highest-paid wide receiver with a lucrative extension worth $104 million over four years, including a whopping $70 million in guaranteed salary.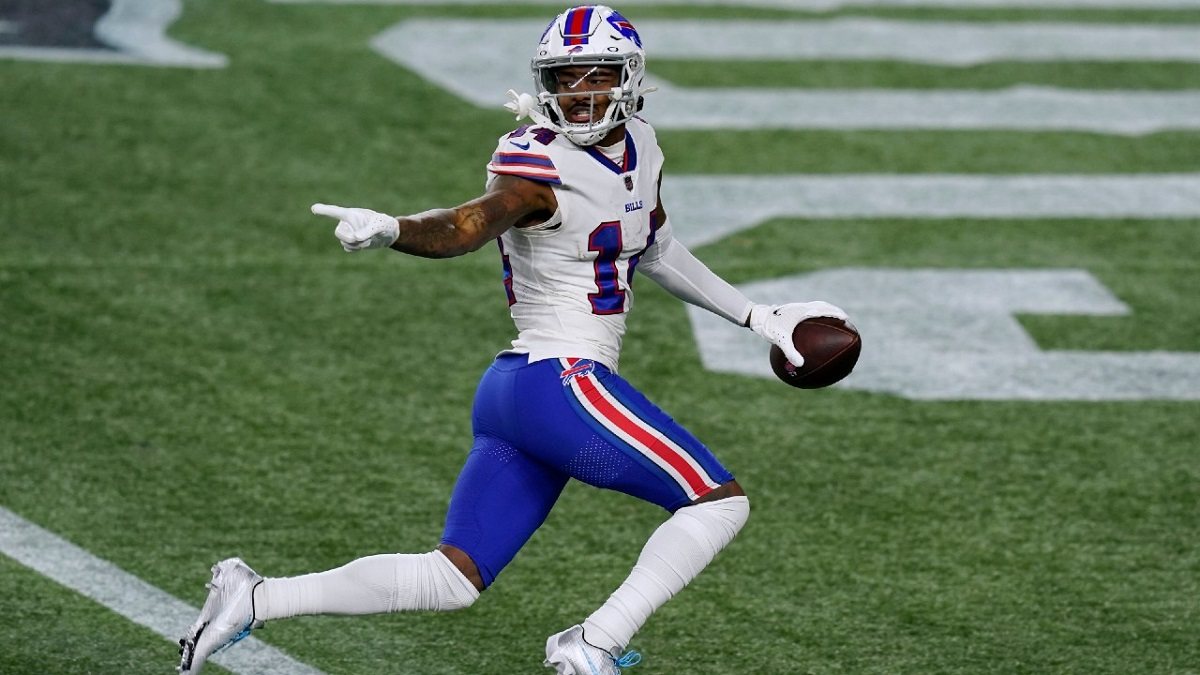 The Bills wanted to lock up Diggs through 2028 after he became a favorite target for quarterback Josh Allen. Only Tyreek Hill from the Miami Dolphins earned a higher guarantee and overall salary than Diggs.
The Bills are the consensus betting favorite to win Super Bowl 57 at +650 odds, according to DraftKings.
The Kansas City Chiefs defeated the Bills in overtime in the AFC Divisional Round, which was dubbed the "greatest playoff game" in modern NFL history. The Chiefs advanced to the AFC Championship after a controversial victory when they scored a touchdown on the only possession in overtime to win the game. The NFL has since modified its overtime rules for postseason games and now both teams will get at least one possession apiece after the Bills were shortchanged against the Chiefs.
Diggs gets the bag
The Minnesota Vikings selected Diggs out of Maryland with a fifth-round pick in the 2015 NFL Draft. He showed flashes of greatness as a rookie with 52 receptions and four touchdowns in 13 games.
In 2018, Diggs caught 102 passes for 1,021 yards and nine touchdowns. However, he grew frustrated with quarterback Kirk Cousins because he wanted more touches. In 2019, Diggs notched just 63 receptions and six touchdowns. It was obvious that Cousins froze out Diggs, so he demanded a trade.
The Vikings traded Diggs to the Bills for four drafts picks, including a first-round pick in 2020. It's safe to say that the Bills came out on top of that trade. In just two seasons with the Bills, Diggs earned All-Pro honors, posting the best two seasons of his career.
In 2020, Diggs played 16 games and caught 127 receptions for 1,535 yards and eight touchdowns. Last season, Diggs played all 17 games for the Bills. He caught 103 passes for 1,225 yards and a career-high 10 touchdowns.
In the last four seasons, Diggs passed the 1,000-yard receiving mark. He tallied 100-plus receptions three times in that same span.
In the 2019 postseason, Diggs appeared in three playoff games with the Bills. He caught 20 passes for 311 yards and two touchdowns.
Diggs was mostly a decoy this past postseason with the Bills. He caught just six passes for 67 yards and zero touchdowns in two postseason games. Many members of Bills Mafia believed they could've beaten the Chiefs if Diggs played a bigger role in the offense.
Now that the Bills have given Diggs a well-deserved raise, they can focus on finally winning the city of Buffalo its first-ever Super Bowl.
Josh Allen ➡️ Stefon Diggs ➡️ TD

(via @NFL)pic.twitter.com/gAb4mmbzAF

— ESPN (@espn) November 26, 2021