The Minnesota Vikings agreed to trade disgruntled WR Stefon Diggs to the Buffalo Bills for four draft picks, including a first-rounder in 2020. Welcome to the Bills Mafia, Mr. Diggs.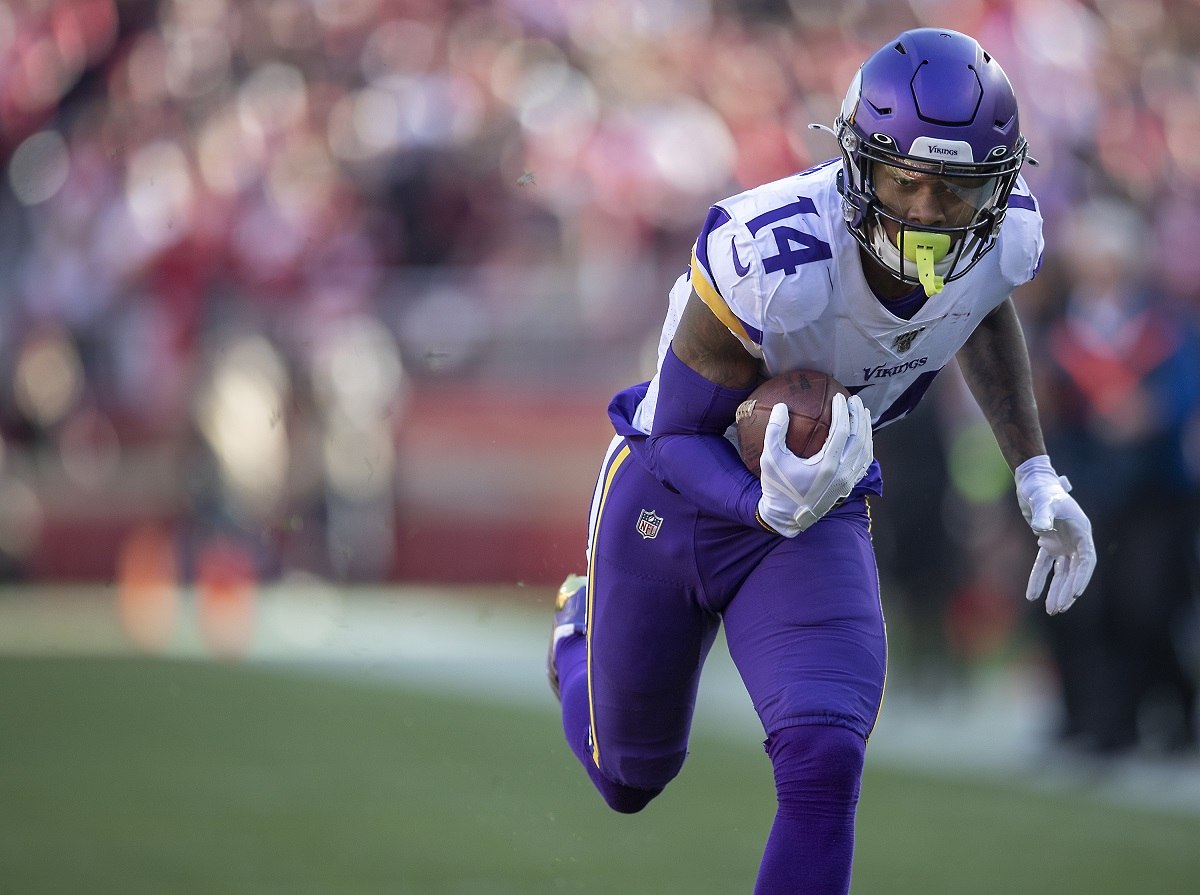 The Bills will spend a significant amount of draft capital on a top-tier wideout. In 2020, the Bills give up a first-round, fifth-round, and sixth-round pick. In 2021, the Bills also cough up a fourth-rounder.
The Vikings will send Diggs and a 2020 seventh-round pick to the Bills to complete the deal.
Diggs will be paired with quarterback Josh Allen, which should make him a little happier considering he did not mesh well with Vikings QB Kirk Cousins. Allen threw 20 touchdowns last season.
Diggs rang up more than 1,000 receiving yards in each of the last two seasons with the Minnesota Vikings with Cousins under center.
Last season, Diggs appeared in 15 games and caught 63 passes for 1,130 yards and six touchdowns. In 2018, Diggs posted a career season with 102 receptions for 1,021 yards and nine touchdowns.
In two playoff games last season, Diggs caught four passes for 76 total yards and only one touchdown.
The Vikings initially acquired Diggs with a fifth-round pick out of Maryland in 2015.
Rough Season in Vikings Land
Stefon Diggs, 26, had a tumultuous, hot/cold relationship with the Vikings during the 2019 season. The Vikings had two #1 wideouts with Adam Thielen and Diggs. Thielen played only 10 games due to injuries and finished with only 30 receptions and six touchdowns.
The Vikes also had one of the top running backs in the NFL with Dalvin Cook. With only one ball to go around, Diggs wasn't happy about having to share.
The Vikings fined Diggs at least $200,000 when he refused to show up to practice and team meetings following an ugly loss in Week 4 to the Chicago Bears.
At that point, the trade rumors began to swirl in Minnesota. However, Diggs remained with the team for the rest of the season. Two weeks later, he hauled in seven receptions for 167 yards and three touchdowns against the Philadelphia Eagles.
After the season ended, Diggs added fuel to the fire with his social media usage. Diggs unleashed a flurry of cryptic tweets such as "it's time for a new beginning," and he posted/deleted pictures on Instagram with him working out in a different team's athletic gear.
His social media shade felt more like a high school girl trying to make her boyfriend jealous by posting fire-hot bathroom selfies in her IG story.
Diggs will be in his second year of a five-year contract worth $72 million.
Boost/Drop in Super Bowl Odds
A trade involving a top-end WR like Diggs is enough to move the needle in NFL Super Bowl futures for both the Vikings and Bills.
According to a recent update by William Hill, the Buffalo Bills saw their 2021 Super Bowl title odds improve from 40-1 to 25-1.
On the flip side, the Minnesota Vikings saw their Super Bowl odds drop from 20-1 to 22-1.
The Vikings still have Thielen, so long as he remains healthy. They also have Bisi Johnson, who is ready to step into the #2 WR role. Johnson caught 31 passes as a rookie and hauled in three touchdowns.
The defending champion Kansas City Chiefs are the consensus favorites to win the 2021 Super Bowl at 6/1 odds. The Baltimore Ravens are second on the futures board at 7/1 odds to win the Super Bowl.