Former UFC bantamweight champion Ronda Rousey has signed a full-time contract with WWE, a new direction for the mixed-martial artist that was announced simultaneously with her surprise appearance at the end of Sunday's Royal Rumble pay-per-view event.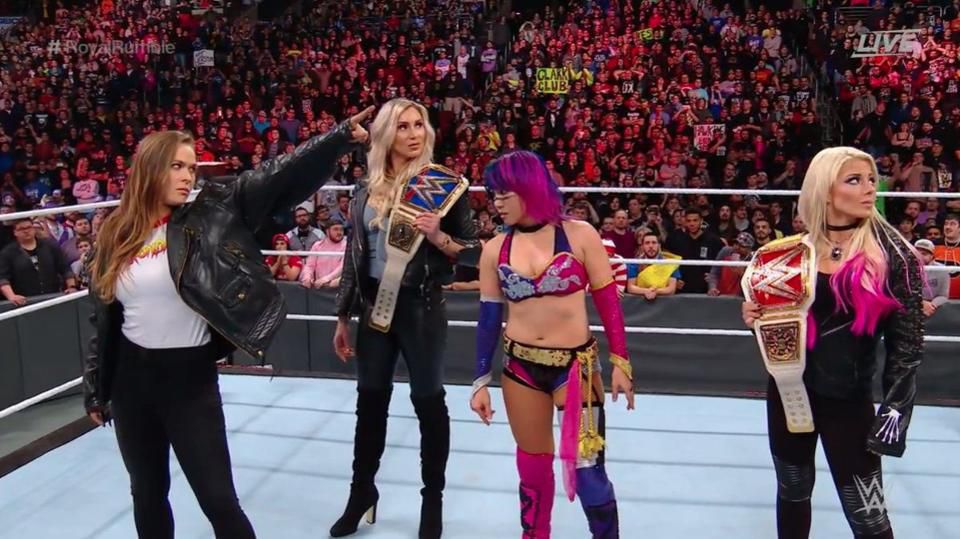 Rousey didn't speak and didn't wrestle, but instead appeared at the conclusion of the first ever Women's Royal Rumble. A surprise appearance had been rumored heading into the event, with Rousey even being among the betting favorites to win the Women's Rumble.
Instead, it was Asuka who became the first ever winner of the 30-woman match. But as she stood in the ring with the two WWE women's champions she could choose to face for their titles – Smackdown's Charlotte and Raw's Alexa Bliss – Rousey showed up and pointed at the WrestleMania sign, suggesting she planned to be a part of the title picture as well.
Acting Moves
Rousey didn't make an appearance on Monday Night Raw, though that was to be expected. She is currently in Colombia filming the movie Mile 22, a movie starring Mark Wahlberg, Lauren Cohan, and John Malkovich, about a top-secret American intelligence unit.
Rousey likely won't appear on any of WWE's televised programs until at least late February, after her shooting schedule ends.
That would still give her plenty of time to hype a WrestleMania appearance. The WWE's signature pay-per-view is scheduled for April 8.
According to Rousey, her choice to move to wrestling was about figuring out what would make her happy.
"When I first met with Triple H, I told him, 'There are other things I can do with my time that'll make way more money, but I won't enjoy nearly as much,'" Rousey told ESPN's Ramona Shelburne. "I want to wrestle, and I want to be part of this company, and I want the people that love this sport to accept me and respect me as being part of the sport."
Paul "Triple H" Levesque, who serves as the WWE's executive vice president of talent, live events and creative, said that the move to bring Rousey into the company happened organically over time.
"It's something that she's really wanted to do the whole time," he told For The Win. "On our end, you hear that a lot, it's usually just people saying something. She was dead serious the whole time."
Royal Rumblings
While Rousey will probably bring an influx of attention to the WWE, not everyone was happy with how the moment was handled. Nia Jax, one of the wrestlers who participated in the historic Women's Royal Rumble, tweeted that she felt the attention on the company's latest signing might overshadow what had been accomplished on Sunday.
"Cool she's here," Jax wrote while retweeting a message from the official WWE Twitter account that called the Ronda Rousey appearance 'the moment you've ALL been talking about.' "I guess 30 women making history can just be forgotten."
It will take a lot for Rousey's wrestling career to match up to what she accomplished in MMA. She won her first 12 MMA bouts in dominating fashion, including six victories in the UFC, with the combined length of the last three fights coming in at just over a minute.
However, Rousey suffered a stunning knockout loss to Holly Holm in November 2015. A year later, she lost again to Amanda Nunes in a first round TKO, and has not fought since.