A training record for Phil D'Amato, a breakout riding season for Juan Hernandez, and a memorable first stakes win for the incomparable Flightline highlighted Santa Anita Park's 2021-22 Winter/Spring Meet. The iconic Southern California track finished its 76-day meet Sunday with an 11-race card featuring three stakes races.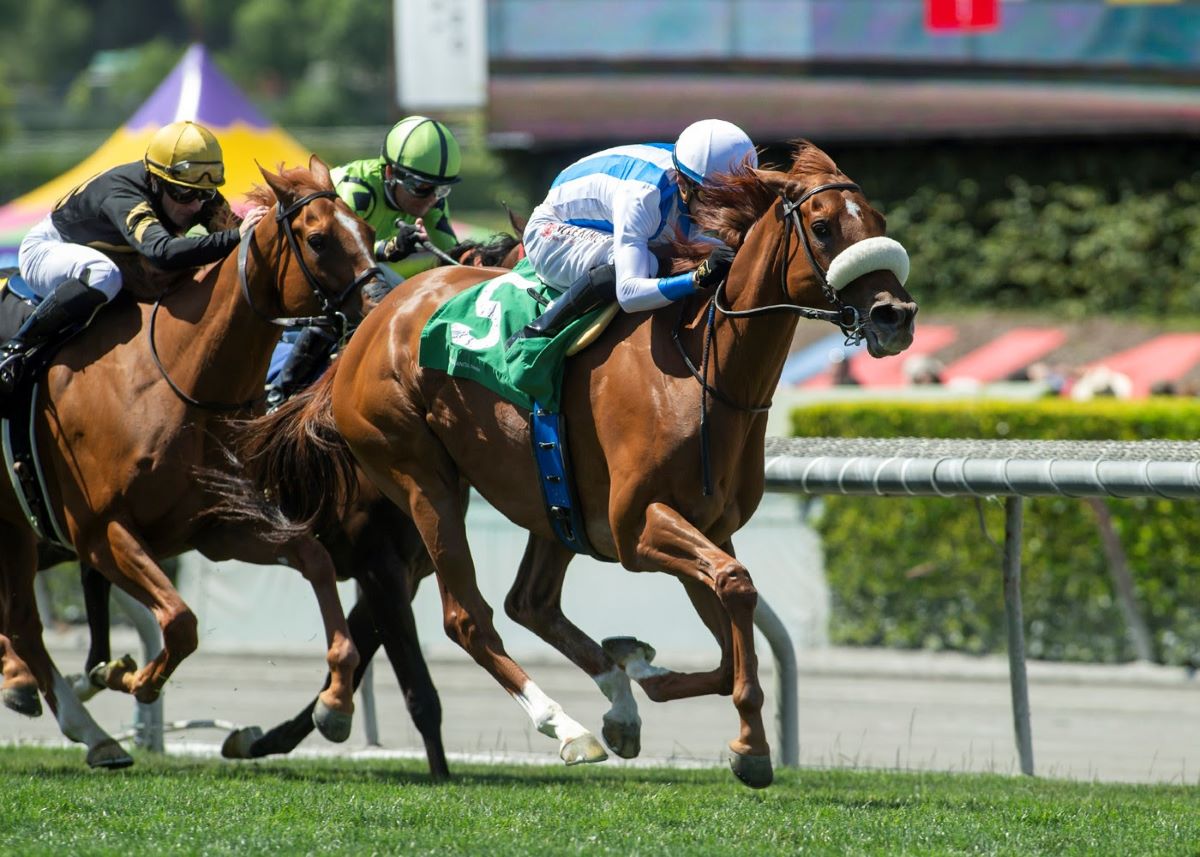 One of those stakes, the Pretty Perfect, produced Neige Blanche's third stakes victory of the meet. The 5-year-old French-bred mare won two 1 ½-mile Grade 3s, including the Astra in July and the Santa Barbara in May. She threw in a third in the Grade 3 Santa Ana in March.
And yet, Neige Blanche didn't win the most stakes races. That honor went to Brickyard Ride, who won four consecutive stakes races from January to April. After winning three Black-Type stakes, Brickyard Ride capped his streak with a 2 ½-length score in the April 30 Grade 3 Kona Gold. The 5-year-old Cal-bred's streak ended with a fifth in the May 29 Grade 2 Triple Bend.
But those weren't the most talked-about equine performances of the season. Nor was Taiba's Santa Anita Derby victory, nor Express Train's Santa Anita Handicap victory, the first for trainer John Sadler. No, it was another Sadler horse, Flightline, who grabbed most of the attention with his incredible 11 ½-length dissection of the Grade 1 Malibu Stakes on opening day. His first stakes victory came with a 118 Beyer Speed Figure, the highest recorded by a North American horse in 2021.
Hernandez makes the most of his opportunity
Flavien Prat was aboard Flightline for that Malibu Stakes victory. He would have likely breezed to another riding title had he not decamped for Kentucky and New York in early April. He led Hernandez, 72-53 on April 3. But Hernandez took advantage of Prat's departure to nearly double his win total from April 3 to June 19. He won 104 races, including a meet-best 24 stakes.
"For a jockey, I think it's like a dream come true to be [the] leading rider here at Santa Anita," Hernandez told the track's Mike Willman.
On the training front, D'Amato was tied with Doug O'Neill at 31 wins on April 2. He too went on the proverbial run, winning two April 9 stakes races that propelled him to a stellar final two months. D'Amato won a meet-record 63 races, with 57 of those on the turf and 16 in stakes events.
"We've got a great turf program here at Santa Anita. An excellent turf course here," D'Amato said. "I think second to none. The key is to find horses who like fast ground. We've got a great team in Ireland that does that and we've had successful years."
Santa Anita went out with strong closing-day handle
Jedd, Mark, and Tim Cohen's Red Baron's Barn and Rancho Temescal captured the owner's title, winning 22 races.
At the betting window/platform, Santa Anita enjoyed a 2% bump in average daily handle over 2021. The track came in with a total all-sources handle of $778.5 million. Helping that was a strong closing day all-sources handle of $17.1 million. That was 17% better than 2021's closing day.
"It's very gratifying to finish up the way we did today," Santa Anita's Senior Vice President and General Manager Nate Newby said. "With a mandatory payout, the 20-cent Rainbow Pick Six handled $3.8 million today, for a total pool of $4.1 million. Additionally, we were up 12.2% in all-sources handle today."