Standout sprinter Brickyard Ride has taken his connections on quite a journey this year, one continuing Sunday when he goes for his fifth consecutive stakes victory in the Grade 2 Triple Bend Stakes at Santa Anita Park.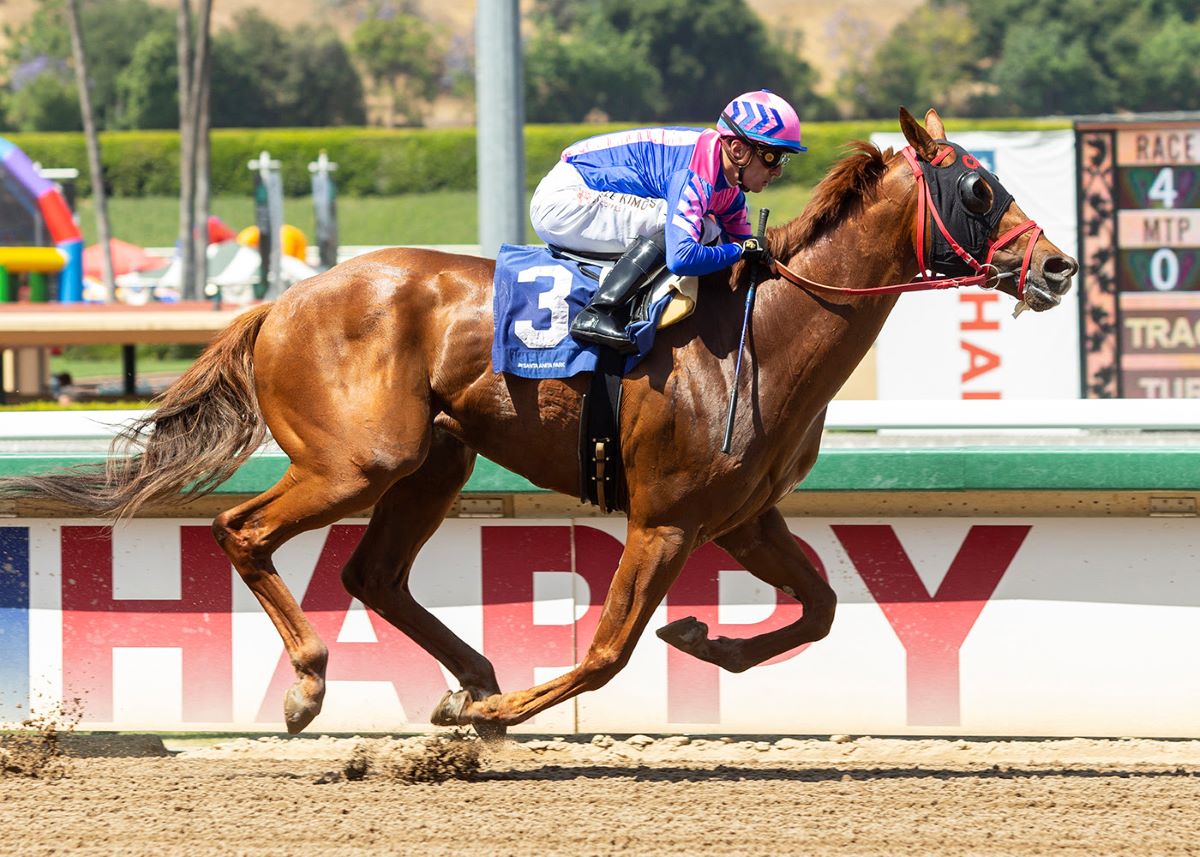 The 5-year-old son of Clubhouse Ride is on pace to win 12 stakes races this year. Yes, that's hyperbolic, given the schedule of a modern Thoroughbred, but Brickyard Ride comes into the seven-furlong Triple Bend having won a stakes race every month of 2022.
He opened with a 1 3/4-length score in the Black-Type Cal Cup Sprint against fellow Cal-breds in January. Brickyard Ride followed that with a 7 1/2-length dissection of the Black-Type Tiznow Stakes in February.
Then, came his 1 1/2-length victory in the Black-Type Sensational Star, where Brickyard Ride beat up further on his fellow Cal-breds. And, just when you thought he was limited to bullying Cal-breds in Black-Type-level stakes, Brickyard Ride won April's Grade 3 Kona Gold Stakes.
Brickyard Ride hasn't trailed in a 2022 race
That 2 1/4-length win came in his customary gate-to-wire fashion. So customary that Brickyard Ride has been first at every call in his last four races. It came with a 98 Beyer Speed Figure, and at 2/5, it came at odds-on for the third consecutive race.
"He's pretty fast," trainer Craig Lewis said after his charge rolled out splits of 21.95, 44.10, and 1:08.45 in the Kona Gold. "(Jockey) Juan (Hernandez) said he wanted to take it easy on him, but he wouldn't let him. So, you saw the results and they ran fast. He was geared down, so no telling. He just keeps getting better and better."
The Triple Bend serves as a watershed of sorts for how good Brickyard Ride is. Speed-wise, there is no issue. He's averaged a 106.5 Equibase Speed Figure in those four stakes scores.
Is the Triple Bend a graded bridge too far?
But class-wise is a different matter. The last time Brickyard Ride ran a Grade 2 came in last August's Pat O'Brien Stakes at Del Mar. It didn't go well, starting with him running off before the start. After he was reloaded into the gate, he sprung out and seized the lead.
That is until he — in the words of the Equibase chart — "lost command at the five-sixteenths pole." He went from first to seventh, then tired further in the stretch, finishing last in the nine-horse field, 21 1/2 lengths behind Ginobli.
Brickyard Ride does have a Grade 2 win on his CV, however: the San Carlos last March at Santa Anita. That and the Kona Gold are his only graded stakes victories among his 12 career wins. He was set for this year's San Carlos, but scratched the day of the race due to weather and a bad post position. The horse is 12-1-2 in those 22 starts, good for $740,977 in earnings.