Four players remain in contention in the championship bracket heading into the PogChamps 3 semifinals, which will take place on Friday and Saturday.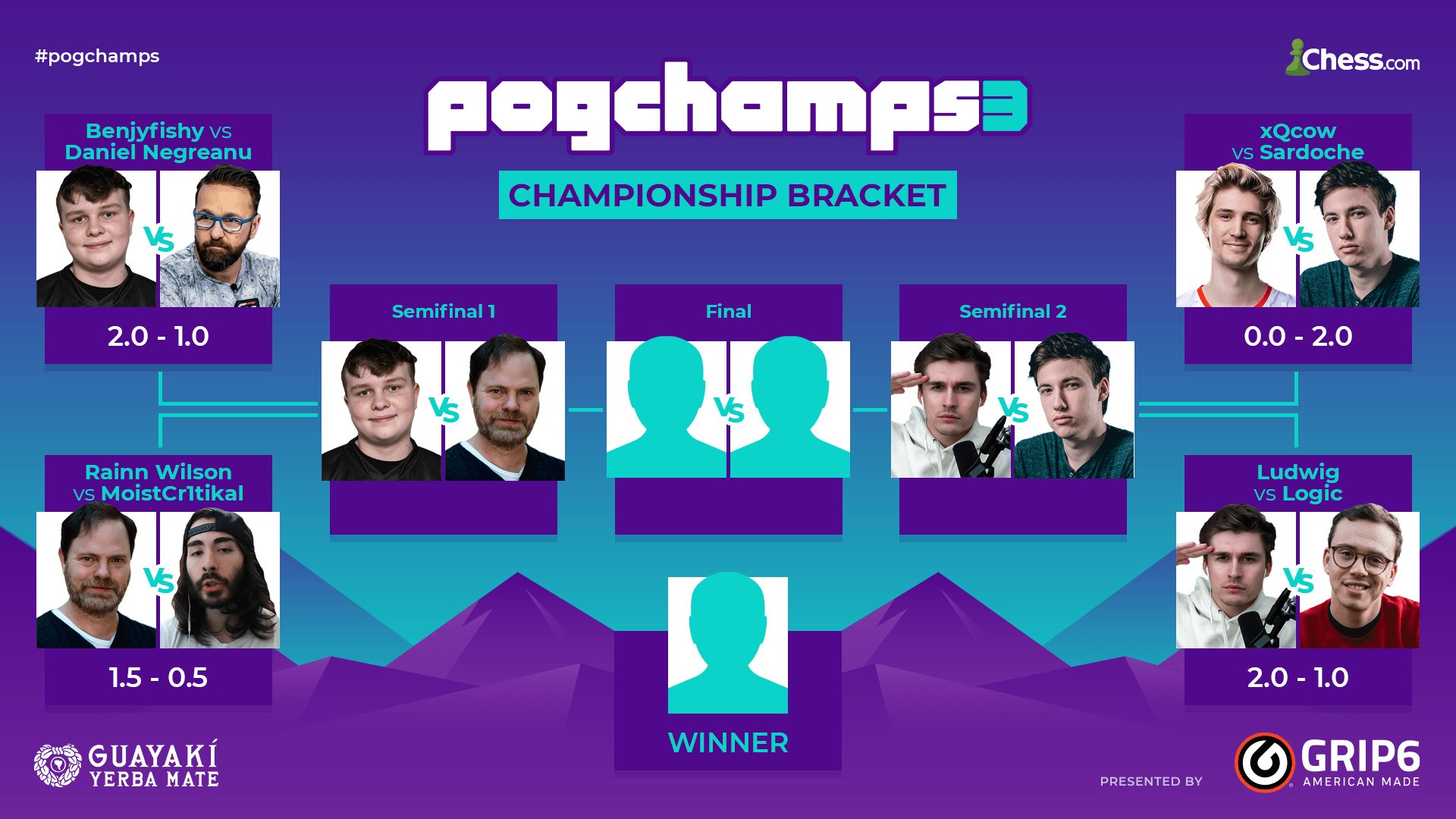 Ludwig will battle Sardoche in the first semifinal, while Rainn Wilson will battle BenjyFishy for the other spot in the PogChamps 3 final.
Two tiebreakers highlight PogChamps 3 quarterfinals
The PogChamps quarterfinals proved to be highly competitive, with two matches going to tiebreakers and just one ending in a sweep.
Sardoche posted the most one-sided victory in the very first quarterfinal matchup. Taking on PogChamps veteran xQc, Sardouche easily won the first game before falling behind by a piece early with White in the second. But the French League of Legends player launched a kingside attack that led to a checkmate in just 29 moves to finish off the match 2-0.
In the next quarterfinal, poker superstar Daniel Negreanu took on Benjyfishy in a back-and-forth affair. Negreanu looked to take control early, winning a long game with Black after an untimely rook trade by Benjyfishy ruined a drawn position. But the Fortnite streamer fought back, winning Game 2 in just 26 moves to knot the match at one game apiece.
♔ Mate in 1! He doesn't see it! 1 second left! 🤯@benjyfishy and @RealKidPoker with one of the wildest finishes in #PogChamps3 so far. pic.twitter.com/pIK4Lf0yBI

— Chess.com (@chesscom) February 23, 2021
That set up a blitz tiebreaker, with Benjyfishy taking White. After a solid opening, Benjyfishy gained a decisive material advantage, entering the endgame up a piece and a pawn. Time became the deciding factor, as the two began blitzing out moves in hopes of winning on time. In the end, Benjyfishy earned a deserved win, flagging Negreanu with just one second left on his own clock in a completely winning position.
Actor Rainn Wilson emerged as one of the favorites to win PogChamps 3 during the preliminary rounds, though his inconsistency suggested that opponents would find chances to trip him up. That nearly happened in Wilson's quarterfinal matchup against MoistCr1tikal.
Ludwig survives after hanging checkmate
Wilson easily won the first game after MoistCr1tikal blundered a full queen, an advantage that the star of The Office never relinquished. But MoistCr1tikal played much better in Game 2, winning a piece early and nearly finishing off his opponent with a kingside attack. Blunders struck again, and when the dust settled, the two players found themselves in a very simple opposite-colored bishop endgame. With no progress possible, they agreed to a draw, giving Wilson a 1.5-0.5 win.
"I can't believe I just did that…oh no!!" – @MoistCr1TiKaL as he leaves his queen hanging vs @rainnwilson. #PogChamps3 pic.twitter.com/drFg54GSUr

— Chess.com (@chesscom) February 24, 2021
Last but not least, PogChamps fan-favorite Ludwig took on rapper Logic in perhaps the most anticipated matchup of the quarterfinals. Ludwig won a piece early in the first game, but blundered into a mate-in-one that Logic found to take a quick 1-0 lead in the match. Logic once again blundered early in the second game, and this time, Ludwig took advantage, winning more material to gain a winning position and even up the match at 1-1.
This sequence had the eval bar moving like a slide whistle! @Logic301 has mate, doesn't see it, gets checkmated by @LudwigAhgren! 🤯 #PogChamps3 pic.twitter.com/fvJGDluA1P

— Chess.com (@chesscom) February 25, 2021
That led to a thrilling blitz tiebreaker. Ludwig found a winning attack, but took his foot off the gas, allowing Logic back into the game. On the 18th move, Ludwig once again blundered into a checkmating pattern, but Logic missed his opportunity. Just three moves later, it was Ludwig who ended the game with a sudden checkmate.
PogChamps 3 will wrap up on Sunday with both the consolation and championship finals. In the consolation bracket semifinals, MrBeast will face off against Michelle Khare, while Pokimane will take on the winner of the Tubbo vs. CodeMike quarterfinal.