After a week of group stage play, eight competitors have advanced to the championship bracket of the PogChamps 3 online chess tournament.
Benjyfishy, xQc, Rainn Wilson, and Ludwig won their respective pools to lead the way into the knockout stage of the tournament, which begins on Tuesday.
Top Players Easily Advance to Championship Bracket
Each group produced a clear top two, leaving little doubt as to who deserved to be in the championship bracket. Both Benjyfishy and xQc scored a perfect nine points to top their respective pools, while Wilson and Ludwig went undefeated, but needed Armageddon tiebreakers in some of their victories.
Sardouche, Daniel Negreanu, Logic, and MoistCr1tikal easily advanced as the second-place finishers in each pool, all winning two matches during the round-robin phase.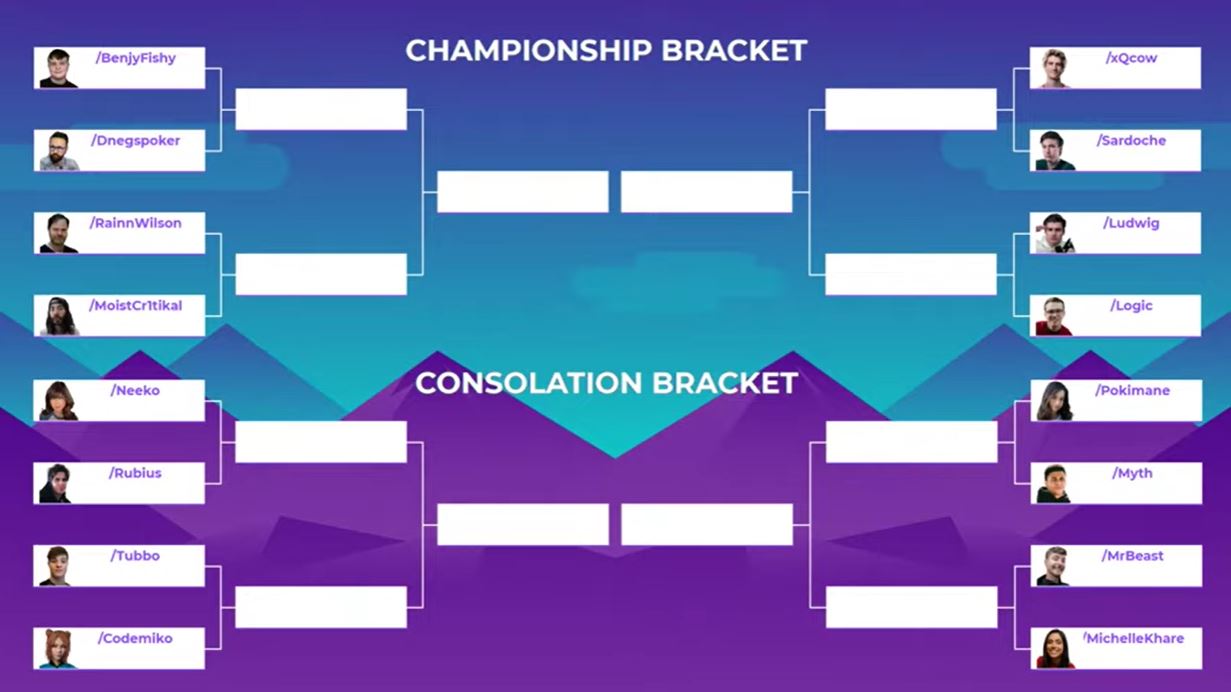 In what may have been the single most anticipated round-robin matchup of PogChamps 3, Ludwig and MoistCr1tikal faced off in the final match of the group stage. After both players won their White games, Ludwig won again with White in the must-win Armageddon tiebreaker to take the match and advance out of Group D as the winner.
Ludwig and all of the group winners won a $2,000 prize for their efforts. The championship bracket participants will now battle for a $60,000 prize pool, with $20,000 going to the eventual winner. Picking a favorite is difficult: while Wilson has shown perhaps the highest level of chess knowledge, he has also been inconsistent at times, requiring tiebreakers in two of his matches after blundering away advantages during the standard two-game rapid portion.
After a full week of INCREDIBLE competition, this is where the results stand in #PogChamps3, presented by @GRIP6_ .

The action will continue Tuesday, February 23rd @ 12PM PST with one match in the consolation bracket and two in the champions quarterfinals. pic.twitter.com/oq7FGQHIFk

— Chess.com (@chesscom) February 22, 2021
Meanwhile, the remaining eight players will head to the PogChamps 3 consolation bracket to compete for $32,000 in prize money, including $7,000 for the eventual winner. Neeko, Pokimane, Tubbo, and Mr. Beast each won a match to finish third in their groups, and stand as the most likely players to make noise in the consolation knockout rounds. Myth, Rubius, Michelle Khare, and CodeMiko are each still looking for their first PogChamps wins.
Grandmasters Debate: Is PogChamps Good for Chess?
The PogChamps 3 quarterfinals begin Tuesday and run through Thursday. Both brackets wrap up with the finals on Sunday, Feb. 28.
PogChamps 3 has drawn large audiences on Twitch and other platforms, with Sunday's slate of matches drawing 115,000 concurrent viewers at its peak. But not everyone in the chess world has been completely supportive of the event.
Grandmaster Yan Nepomniachtchi took to Twitter to say that he is concerned that the amateur tournament is taking attention away from professional chess.
With all respect towards @chesscom and amount of work they put into promoting chess, #PogChamps3 as a popcorn stuff is replacing and displacing any real chess content and this is just terrifying. #sad

— Yan Nepomniachtchi (@lachesisq) February 21, 2021
"With all respect towards [Chess.com] and amount of work they put into promoting chess, PogChamps3 as a popcorn stuff is replacing and displacing any real chess content and this is just terrifying," Nepomniachtchi wrote.
But other top players came to the defense of the tournament, including both Magnus Carlsen and Hikaru Nakamura, saying that PogChamps 3 is good for chess.
I do think the event is doing a great job in brining chess to more people, I'd never stoop as low as to watch it myself though. If I did watch, I'd probably be rooting for Ludwig https://t.co/l9QQQkc8uH

— Magnus Carlsen (@MagnusCarlsen) February 22, 2021
"I do think the event is doing a great job in bringing chess to more people," Carlsen wrote on Twitter. "I'd never stoop as low as to watch it myself though. If I did watch, I'd probably be rooting for Ludwig."