You won't see the top two horses from Saturday's Preakness Stakes in Queens, New York, next month, as trainer Chad Brown said Preakness winner Early Voting won't run the June 11 Belmont Stakes.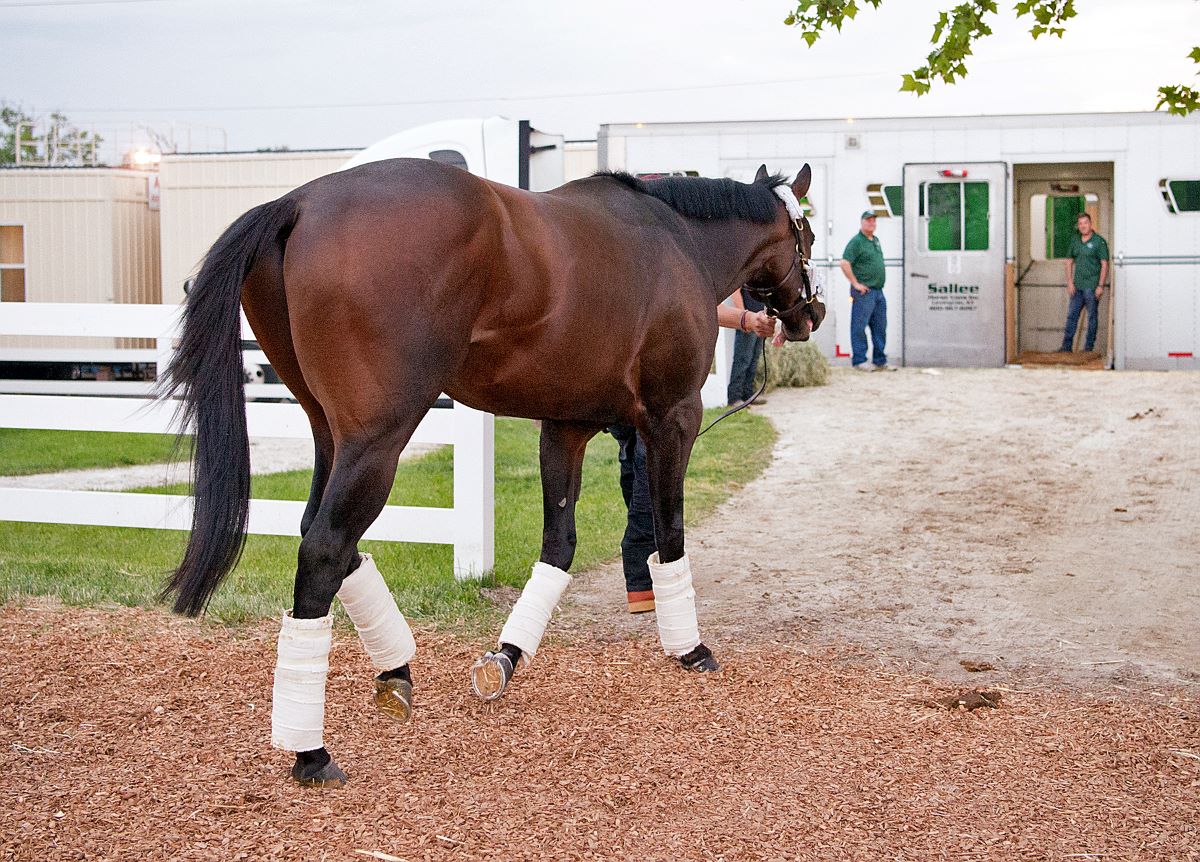 Nor will Kentucky Derby and Preakness runner-up Epicenter. But Creative Minister, the third-place Preakness finisher, is likely headed to Belmont Park for the final jewel to the Triple Crown.
Brown told the Daily Racing Form that Early Voting is likely headed to the Aug. 27 Grade 1 Travers Stakes at Saratoga. He'll use either the Grade 2 Jim Dandy at Saratoga or the Grade 1 Haskell Stakes at Monmouth Park as a July prep.
"He's only run four times and he's done everything we asked him to do," Brown told the Maryland Jockey Club, adding that Early Voting came out of his victorious 1 3/16-mile trek well. "He breaks good from the gate. He makes his own trips. He carries his speed a route of ground (and) he's a fighter in the stretch."
Brown shelving Zandon as well
Brown also told BloodHorse that Zandon, the Kentucky Derby's third-place finisher, won't run the Belmont either. The Blue Grass Stakes winner is also headed to either the Jim Dandy or Haskell and the Travers.
As for Epicenter, owner Ron Winchell said the Preakness runner-up isn't likely for the Belmont. He told the MJC the two-week break between the Derby and Preakness didn't work for his colt.
"I would say that's a stretch at the moment," Winchell said about the Belmont. "He had six weeks between the Louisiana Derby and the Derby, and that did him well. I think there might have been five weeks between the Risen Star and the Louisiana Derby, and that did him well. Just looking at how he came back fresh, that seems to be the recipe at the moment."
Epicenter 'looked a little flat' in Preakness
Winchell made this observation after Epicenter didn't make his run until the last eighth of a mile. That's uncharacteristic for a colt with stellar pressing speed. But he was pinched back in the early race traffic, winding up eighth in the early stages. Meanwhile, Early Voting stayed close to early pace-setter Armagnac and seized the race in the stretch.
"I don't think he benefited from the two weeks," Winchell said. "He looked a little flat. The quarter going in 24-and-1 and he's way back after that. He didn't seem like the same horse. That's just what I'm seeing on the surface."
This marked Winchell and trainer Steve Asmussen's second consecutive Preakness runner-up. The pair finished second behind Rombauer with pace-setter Midnight Bourbon last year. Winchell is now 0-for-4 with two seconds and a third.
"It's a little tough getting second two years in a row," he said. Like I said before, these Triple Crown races are ever-eluding for us."
Creative Minister made his owners money
Contrary to his fellow Preakness board occupants, Creative Minister is headed to Belmont Park. He's headed there $181,500 richer, which covered his connections' $150,000 supplemental fee to the Triple Crown.
"He's out of a Tapit mare and Tapits love the Belmont," trainer Kenny McPeek said. "That's the plan. I just think he'll like the added ground, as long as he handles the surface up there."
That McPeek sends Creative Minister to two of the three Triple Crown races missed everyone's crystal ball, including McPeek's. He trained three graded stakes winners with Smile Happy, Tiz the Bomb, and Rattle N Roll. The first two ran in the Derby, but are waiting for the summer to run again.
Preakness set Creative Minister up for Belmont
Creative Minister didn't run until early March. He went 2-1-0 in his first three races, winning an allowance on the Derby undercard with authority. This prompted Creative Minister's owners to ante up that supplemental fee for the Preakness.
"In the classic 3-year-old races, if you've got a good 3-year-old that's doing well, there's nothing to be shy about," McPeek said. "Although I wouldn't have told you in January and February that this is the colt that I would be bringing, between Smile Happy, Rattle N Roll and Tiz the Bomb and even Dash Attack. This horse kind of reminds me of (2002 Belmont Stakes 70/1 winner) Sarava. He was a horse so under the radar."
According to the New York Racing Association racing office, Creative Minister is one of six probables for the Belmont. He joins Barber Road, Golden Glider, Mo Donegal, Rich Strike and We the People.