After Epicenter finished second in the Kentucky Derby, trainer Steve Asmussen was stunned. After Epicenter finished second in Saturday's Preakness Stakes, Asmussen was more than surprised.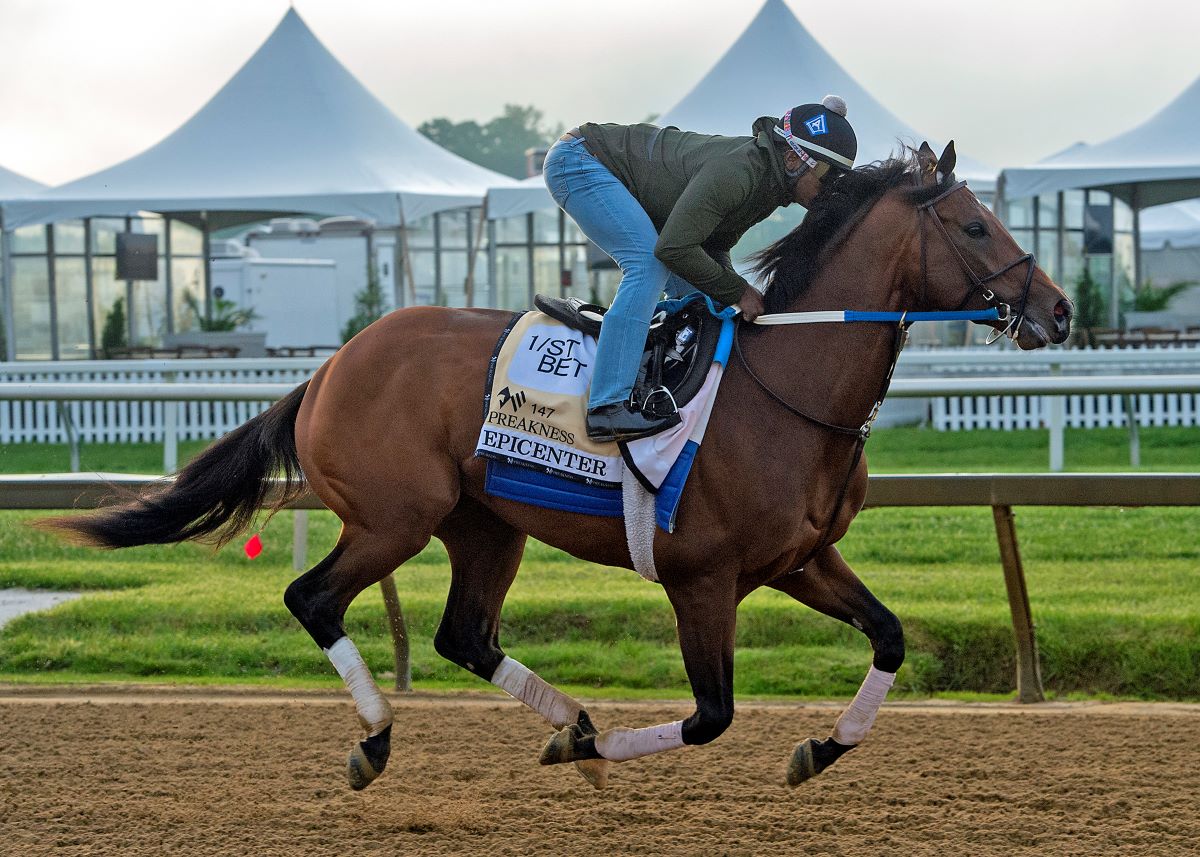 He was upset. Upset that his 6/5 favorite – who came into the 147th Preakness Stakes as the best all-around horse in the field – was a Triple Crown bridesmaid again.
Upset that Joel Rosario, last year's Eclipse Award winner as the best jockey in North America, kept Epicenter under wraps during a slow opening quarter-mile and half-mile. That bothered Asmussen as much – if not more – than 80/1 Rich Strike stealing the Derby from his standout colt in the last 50 yards.
"Disappointed, you know what I mean," Asmussen said after the race. "Where he was early, and they go 24-and-1 (seconds for the first quarter-mile), he just left him way too much to do. You've got to leave the gate. They go 24-and-1. If you don't leave the gates, you get one option. First time by, and you saw where he was, he just had too much to overcome to be right at a length at the wire – giving too much away.
"I was past surprised. I was disappointed. You've got to leave the gates to have any position whatsoever. When they throw up 24-and-1, and you're that far back with a horse that obviously has pace, (you) just gave him too much to do."
Where was Epicenter? More than seven back
As Armagnac, the longest shot in the field at 18/1, set those early fractions of 24.32 and 47.44, Epicenter slogged along in eighth. He was 7 ¼ lengths back at the quarter pole, 7 ½ at the half-mile pole. This uncharacteristic scenario ran contrary to Asmussen's pre-race directions to Rosario.
Those were these:
"Try to be away from there cleanly and let them adjust around him. He didn't get away cleanly, then he just buried him from there," Asmussen said.
Epicenter was 4 ¼ lengths back at the three-quarters pole. By the top of the stretch, he was third, four lengths behind Early Voting, who seized the lead from Armagnac at that point. Even as Early Voting went outside, then cut in – possibly signaling fatigue – Epicenter could get no closer than the 1 ¼-length margin of defeat.
Rosario wants a mulligan
"The break was OK," Rosario said. "It looked like everybody wanted to get into position right away. I had to go to another plan, which was to be inside the whole race. He was fine with it, but if I had another opportunity, I wouldn't have been inside. It's not what I wanted, but he dealt with it, and we were making up ground. I stayed inside the whole time.
"Turning for home, I just couldn't get to the winner. The winner got the jump on me out of the gate. Being inside, I had to wait for someone to move. I wanted to take him to the outside, but couldn't. And that cost us."
Epicenter's talent comes from not only his considerable speed; he owned the only three-digit Beyer Speed Figure (102) in the nine-horse Preakness field, but his versatility. He can – and has — won from the front, pressing the pace and stalking. This should have been his race for the taking.
Two Triple Crown seconds — and still no Grade 1
Instead, arguably the most talented 3-year-old in the country has bookend runners-up in Triple Crown races. And he remains without a Grade 1 win.
Meanwhile, Secret Oath, the 5/1 second choice, wound up fourth. The Kentucky Oaks winner, trying to be the seventh filly – and second in three years – to win the Preakness, got caught up in that slow early pace. Seeking space, jockey Luis Saez took her wide on the backstretch and into the far turn, which left the tank empty down the stretch.
"The fractions being slow like that, it was hard to run down," trainer D. Wayne Lukas said. "She flattened out a little bit in the last eighth, trying to do it. She made a big, sweeping run (but) it wasn't her day."
Saez said it was a brutal trip.
"She broke the way she was supposed to, but everyone was all over the place," he said. "At the half-mile pole, she made her move, but when we came to the top of the stretch, the winner just kept going. It was a tough race."