The options before Secret Oath – newly minted Kentucky Oaks winner Secret Oath – are plentiful and profitable. And Hall of Fame trainer D. Wayne Lukas said the Preakness Stakes remains one of those options.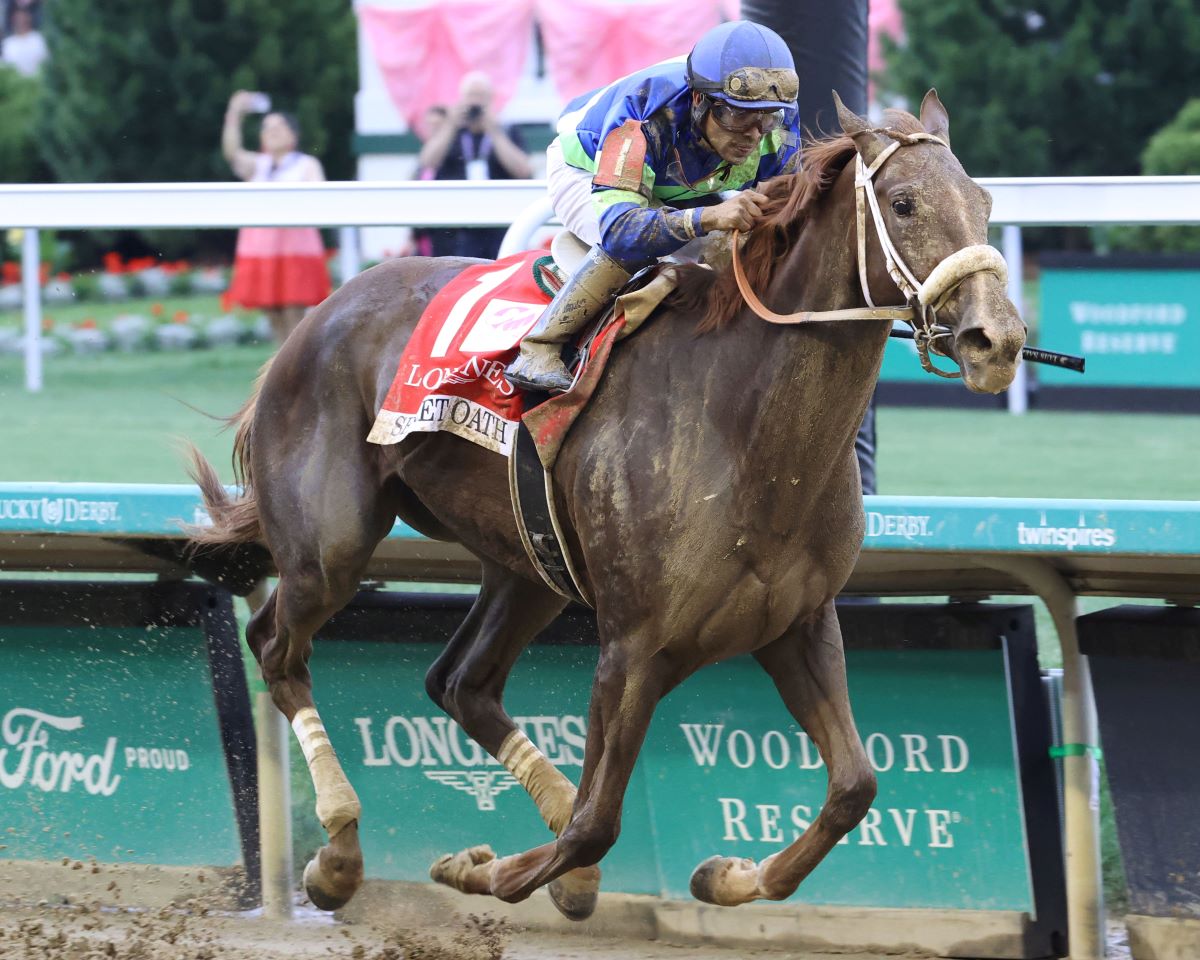 "I'm going to let a few days go by and then I'll get with (owner) Rob Mitchell," the 86-year-old Lukas told Churchill Downs' Kevin Kerstein. "I'll let him have an opinion. The Preakness is an option, but so is the Black-Eyed Susan. The big difference is a million dollars and a Grade 1. Would be nice to get her a second Grade 1."
Secret Oath got her first Grade 1 Friday, taking a wide trip around the final turn and romping home to win the Kentucky Oaks by two lengths. The 4/1 co-third choice, Secret Oath gave Lukas his record-tying fifth Oaks title and jockey Luis Saez his first.
"She did it pretty easy. I remember at half a mile, I saw everybody in the lead pretty far," Saez said after the race. "And two jumps (and) I was right there. So I was like 'Wow, she's going to win easy.'"
Saez turned in a virtuoso ride
Secret Oath made it look easier than it was. She was in eighth, five length back at the three-quarter pole. Saez took her five wide going into the far turn, vaulting her past pace-setter Yuugirl and Echo Zulu. She took the lead in mid-stretch and held off a surging Nest by those two lengths.
"She ran a picture-perfect race, a beautiful trip," Lukas said Saturday. "It kind of went the way we had mapped it out. When Luis moved into position down the backstretch, I told Laurie (Lukas' wife) that we were going to be OK."
Secret Oath's fourth win in five starts vaulted her earnings just shy of $1.3 million. It validated the decision owners Rob and Stacy Mitchell made to pull her out of the September 2020 Keeneland Sale and keep the homebred home on their Briland Farm.
Secret Oath defines 'homebred'
"Every foal that we have ever raised was born on our farm," Rob Mitchell said. "I have nothing against the syndicates. I think the syndicates are good for horse racing, but we have never bought a racehorse, ever. Every horse we've raised was born on our farm. We bought some broodmares, raised their fillies and their fillies. I still have Secret Oath's dam and grandmother on our farm."
Lukas said that Secret Oath, who finished third in the Grade 1 Arkansas Derby against the boys as the favorite, "looks very good" coming out of her race.
So does Churchill Downs' bottom line. The Louisville track welcomed 100,188 fans into Churchill Downs for Oaks Friday. That produced a record $74.6 million in handle, a 37% jump from 2021 and a 24% bump from 2019's previous mark. The Oaks $24.3 million handle jumped 40% from 2021 and 25% from the previous mark in 2019.