All 16 players in Pogchamps have played their first matches, and favorites are already emerging in the second edition of the online chess tournament.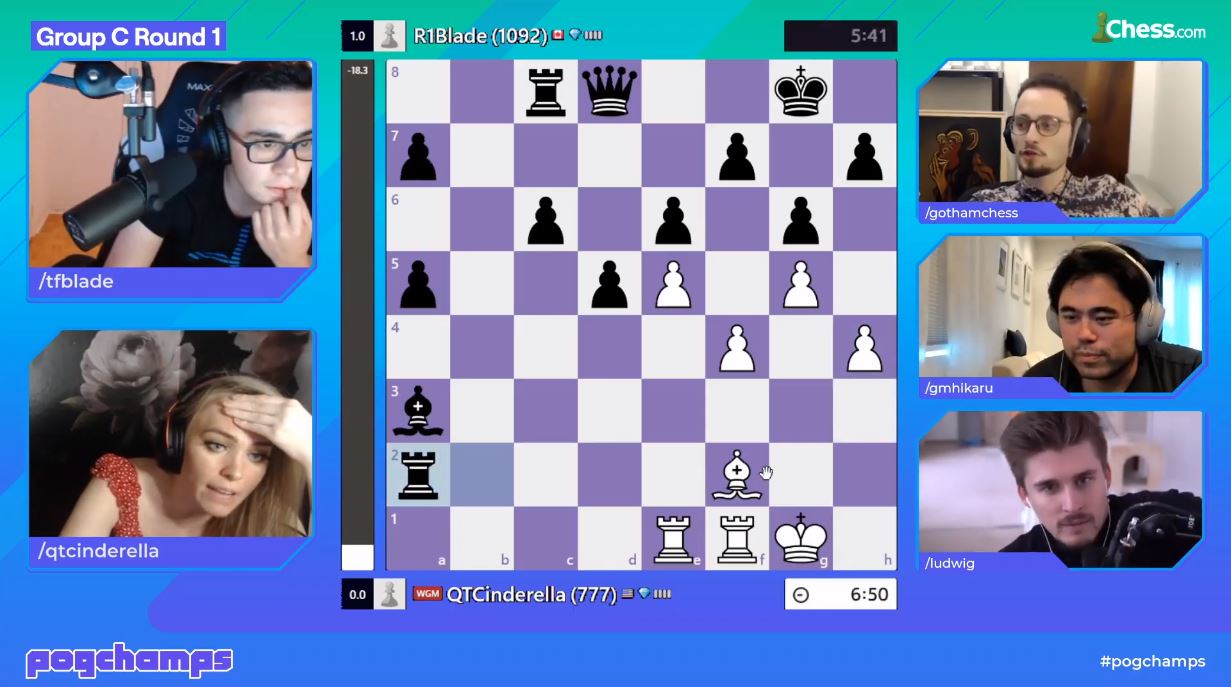 Twitch streamers competed in two-game mini-matches, combining competitiveness, drama, and sheer entertainment throughout the weekend.
Group A: Pogchamps Veteran Forsen Takes Early Lead
Pogchamps 2 opened with a highly competitive match between Cizzorz and Gripex90. Both are among the strongest players in the tournament, and proved it in a battle that went to an Armageddon tiebreak. The higher-rated Gripex90 convincingly took the final game to score two points, while Cizzorz claimed one.
Returning Pogchamps favorite Forsen will also be in the mix to advance out of Group A, but faced a tougher-than-expected challenge from CallMeCarson. While Forsen did get the 2-0 win to grab a full three points, CallMeCarson impressed in defeat, and could easily be a contender to win the Consolation Bracket later in the tournament.
Group B: Itshafu Refutes Gambit to Beat Pakman
Political commentator David Pakman came into Pogchamps booked up on the Stafford Gambit – a risky line for Black that nonetheless performs well in blitz games, as it leads to many quick wins if White doesn't know how to refute it.
But Itshafu happened to have played against the exact same line online the night before their match, and thus knew exactly what to play to get a winning advantage. Pakman reached a completely winning position in Game 2, but lost control under time pressure, handing Itshafu a 2-0 win.
. @dpakman is completely winning in the endgame but can't close it out! @itshafu takes it home ftw! 🤯🤯🤯#Pogchamps pic.twitter.com/feuVCu52Fg

— Chess.com (@chesscom) August 21, 2020
In the other Group B matchup, Easywithaces posted two solid wins over xQc to earn the full three points in his first match. However, xQc said he still felt better about his game than he did during the first Pogchamps tournament.
"I feel pretty good. I didn't feel like he got me," xQc said afterward. "If I had crafted my skill and had spent more time on these small details, it would have mattered."
Group C: ZexRow Gets the Best of Dogdog
Based on ratings, Dogdog entered his first match against ZexRow as a significant favorite. But ZexRow quickly showed that he was better than expected, winning the first game of the match with Black. Dogdog struck back in Game 2, but played too slowly in the Armageddon game. Zexrow picked up two points for a win in the tiebreaker, while Dogdog earned one for getting that far.
Meanwhile, TFBlade proved to be too much for QTCinderella, who shared her stunned disbelief upon hanging her queen in the second game.
♛ @qtcinderella becomes the physical embodiment of hanging your queen. ♛ #Pogchamps pic.twitter.com/OFHvAi4oKn

— Chess.com (@chesscom) August 23, 2020
TFBlade ultimately won 2-0, picking up three points for his efforts.
Group D: Wagamama Too Strong for The Mountain
Hafthor Julius Bjornsson who played The Mountain on HBO's "Game of Thrones" and won the World's Strongest Man title, streams under the name Hafthorjulius and has some chess chops. But Wagamama came into Pogchamps with one of the highest ratings in the field. While Hafthorjulius had chances in Game 1, he played too quickly when Wagamama was in time trouble, ultimately giving away any hope of winning. Wagamama slickly checkmated Hafthorjulius in 23 moves to win the second game and take the match.
---
Pogchamps Standings (Group Stage)
| | | | |
| --- | --- | --- | --- |
| Group A | Group B | Group C | Group D |
| Forsen (3 points) | Itshafu (3) | TFBlade (3) | Wagamama (3) |
| Gripex90 (2) | Easywithaces (3) | Zexrow (2) | Connoreats (3) |
| Cizzorz (1) | Davidpakman (0) | Dogdog (1) | Hafthorjulius (0) |
| CallmeCarson (0) | xQc (0) | QTCinderella (0) | AustinShow (0) |
---
Two of the lowest-rated players in the field faced off when ConnorEatsPants battled AustinShow. The matchup of two relatively new players led to exciting, back-and-forth action, but Connor was able to hold on for a 2-0 win.
Round-robin play continues through Aug. 31 after which, Pogchamps will move on to its Championship and Consolation Brackets, which will wrap up on Sept. 6.