Sixteen popular online celebrities will take to the 64 squares beginning on Sunday as they battle for $100,000 in prize money in PogChamps 4, the latest edition of the popular Twitch streaming chess tournament.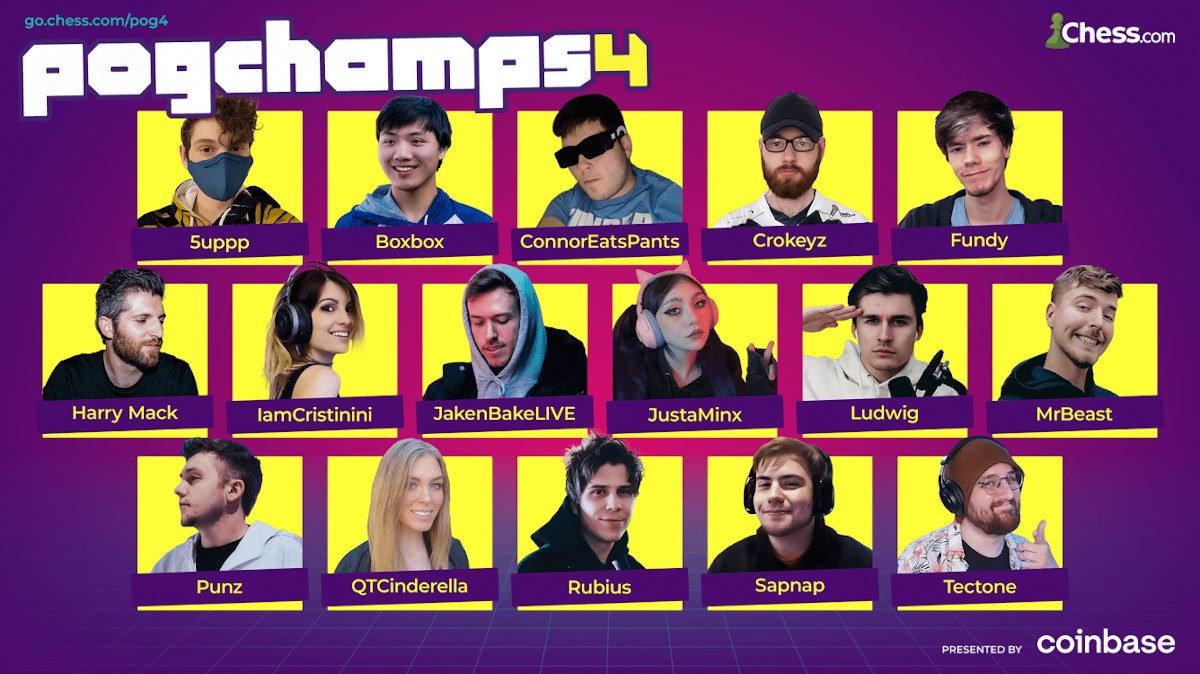 Several returning players are joined by new streamers for the latest edition of PogChamps.
PogChamps veterans face off against new faces
Those who have watched previous editions of PogChamps will recognize players like MrBeast, Rubius, Ludwig, Boxbox, QTCinderella, and ConnorEatsPants. Boxbox and Ludwig both reached the semifinals of PogChamps in earlier efforts.
A slew of PogChamps first-timers will join the veterans for the upcoming tournament. Some of the biggest names include Spanish streamer IamCristinini, Magic: The Gathering streamer Crokeyz, and freestyle rapper Harry Mack.
---
PogChamps 4 Groups
Group A
Group B
Group C
Group D
Ludwig
Boxbox
Fundy
Crokeyz
5uppp
Sapnap
QTCinderella
Rubius
JakenbakeLIVE
JustaMinx
ConnorEatsPants
Punz
MrBeast
Harry Mack
Tectone
IamCristinini
---
PogChamps 4 begins with a group stage round, in which players will compete in pools of four. Each match consists of two games. If a player wins the match outright, they earn three points, while the loser earns zero. If a match ends in a 1-1 tie, the players compete in a sudden death tiebreaker, with the winner taking two points and the loser settling for one.
After round-robin play concludes, the top two players in each pool will advance to the Championship bracket, while the other two players move to the Consolation bracket. From that point on, players compete in knockout matches in the hopes of winning a PogChamps title.
Amateur play leads to exciting action
The overall champion will win $20,000, while the Consolation champion earns $7,000. While players will be competing for prize money, the tournament will also raise funds for Rise Above the Disorder, an organization dedicated to affordable and accessible mental health care.
If you've never watched PogChamps before, don't go in expecting chess like you've seen on the Champions Chess Tour or at other professional events. Many players are brand new to chess, while others have only limited backgrounds in the game, making this a low-level amateur event.
But one of the joys of PogChamps is watching players improve over the course of the two-week event. Grandmasters and other strong players will coach many of the participants, and every tournament produces at least one or two players who quickly become formidable by spending hours working on their games each day.
PogChamps 4 begins on Aug. 29 and will wrap up with both finals on Sept. 12.