Todd Pletcher didn't know what was more satisfying to him as a trainer: winning the Belmont Stakes with Mo Donegal for one of his top clients, Mike Repole, or winning the Belmont for the fourth time to tie fellow Hall of Famer D. Wayne Lukas.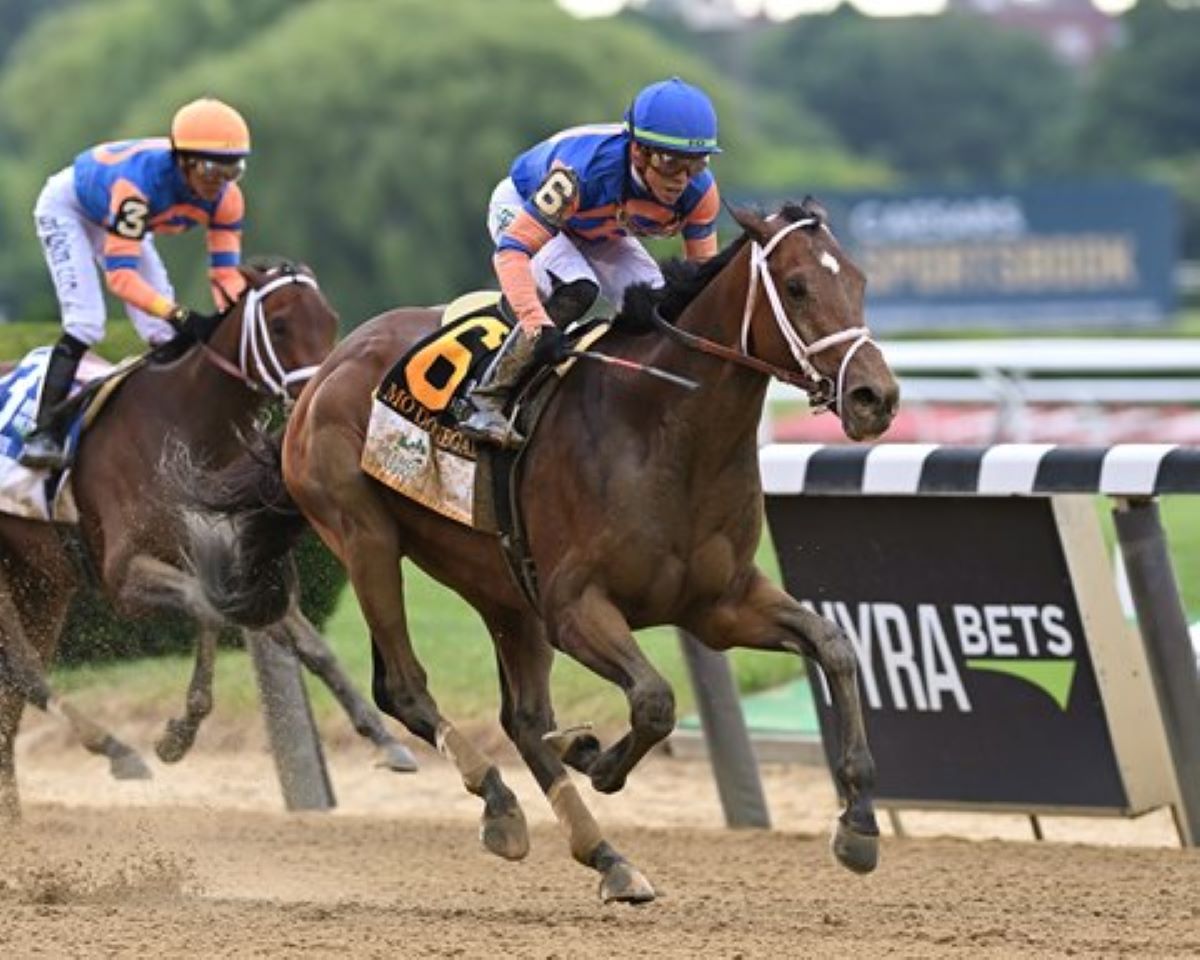 "Yesterday was why you do this," Pletcher told the New York Racing Association on Sunday. "To win a race like that for the ownership group with all the Donegal team, Repole family, it's a dream race for Mike and his family, being a native New Yorker. It was a dream race for him. He had told me that this was the race he had dreamed of winning the most. That's the most gratifying part of my job, to win races like that and see the enjoyment and excitement people get from it."
Mo Donegal's three-length victory over stablemate and fellow Repole barn-mate Nest gave Pletcher his third Belmont since 2013 (Palace Malice). He won his first in 2007 with filly Rags to Riches, and added one 10 years later with Tapwrit.
Mo Donegal's victory tied Pletcher with Lukas, his former boss, before he broke out on his own Hall of Fame career.
"That's an honor. I consider him to be the best of all time, so that's pretty cool," he said.
A Pletcher Belmont exacta
So was the fact Pletcher had the Belmont exacta with Mo Donegal and Nest. Mo Donegal's Belmont trip was as good as his Kentucky Derby trip wasn't. He made up 17 lengths and 14 places during that troubled trek around Churchill Downs, finishing a respectable fifth despite a bad start and a wide trip.
"I got the feeling Mo Donegal had a little something in the tank if he was challenged," Pletcher said. "If you watch the two trips, she had a tougher go of it. She stumbled at the start and kind of had to force her way inside to get position. And then, Jose had horse at the five-sixteenths pole, but he couldn't go anywhere because Mo Donegal got the jump on him, so he had to wait until he cleared to get her out. She surged when he did. With a little different trip, it would've been closer."
Pletcher said both Mo Donegal and Nest came out of the 1 ½-mile trek well. For Mo Donegal, he may be the clubhouse leader for an Eclipse Award as the top 3-year-old male. His victories in the Grade 2 Wood Memorial and the final jewel to the 2022 Triple Crown make a rather convincing case, at least right now.
Pletcher preaching patience
"Like always, there's no need to rank anybody yet, because what happens in the summer and fall always seems to carry a little more weight in terms of divisional championships," Pletcher said. "I think with his Wood and the Belmont, the fact that he beat the Preakness winner (Early Voting) in the Wood, that puts him right at the top of the list."
As for what's next, expect Mo Donegal to join what is already a crowded field of contenders in the Aug. 27 Grade 1 Travers at Saratoga. The natural warm-up for that would be the Grade 2 Jim Dandy a month earlier at the Spa. This is the same path Pletcher's two previous Travers winners, Flower Alley (2005) and Stay Thirsty (2011) took.
No distance too long for Nest to navigate
As for Nest, she clearly illustrated she loves distance, distance, and more distance. That's why Pletcher has the Aug. 20, 1 ¼-mile Grade 1 Alabama in her sights. She could dive into the Grade 1 American Oaks a month earlier at Saratoga.
"I thought she ran great. We'll target the Alabama and decide if we want to target the Coaching Club (American Oaks) before that or not," Pletcher said. "I think she solidified what we already felt going into the Kentucky Oaks. Everyone talked about it being one of the deeper Oaks in a while. I think that Nest showed that to be the case yesterday."
In that Kentucky Oaks, Nest finished second as the 5/2 favorite to Lukas' Secret Oath, who finished a game, but troubled, fourth in the Preakness Stakes three weeks ago.
Meanwhile, several other members of Pletcher's deep barn enjoyed Belmont Stakes Day. Repole's Fearless won the Grade 2 Brooklyn Stakes. Pletcher's Happy Saver finished second in the Grade 1 Metropolitan Handicap to superhorse Flightline. Malathaat, the Champion 3-Year-Old Filly, finished second to her rival Clairiere in the Grade 1 Ogden Phipps.