This time, courtesy of a slow break, Flightline managed "only" a six-length victory in the Grade 1 Metropolitan Handicap. But his reputation as a superhorse is alive and quite well.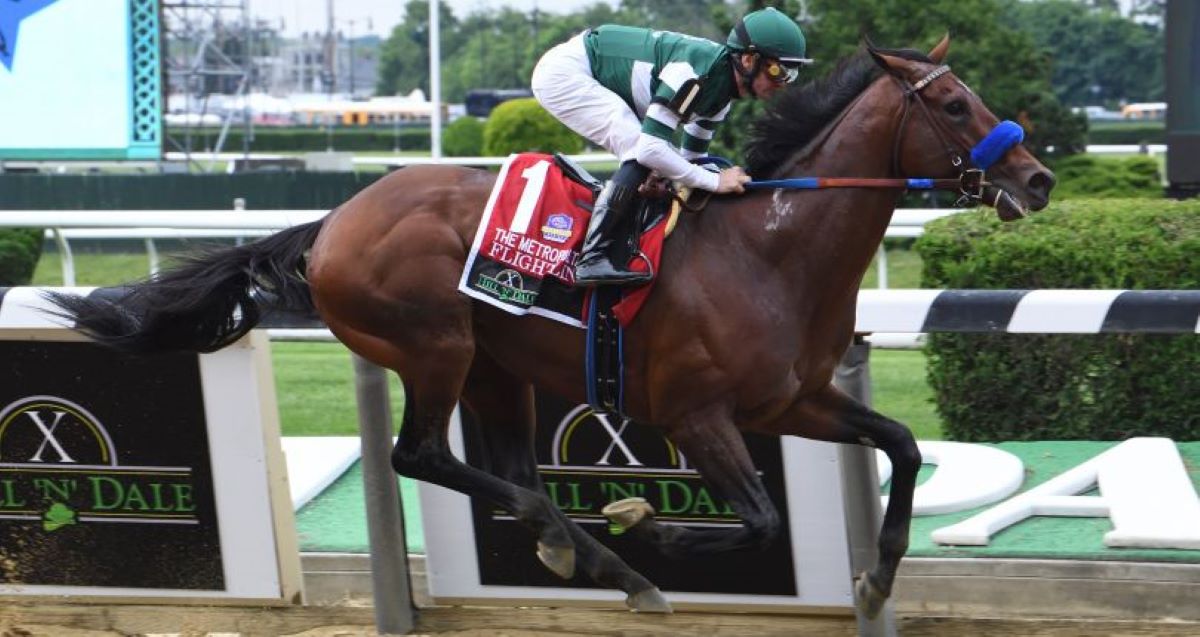 The latest convert? Jockey Junior Alvarado, who rode 2.75/1 second choice Speaker's Corner to third in the Met Mile, one of the eight Grade 1 races on Belmont Park's Belmont Stakes Saturday card.
"I Knew Flightline is always on the lead, but he's not that quick out of gate. I tried to keep him right there for a long as I could," Alvarado told the New York Racing Association. "In the half-mile, he got out to the outside and after that, the race was over. He was putting pressure on my horse. I had to let my horse go from the half-mile pole. I just couldn't keep up with him."
When it comes to not keeping up with Flightline, Speaker's Corner has plenty of company. En route to his fourth victory in as many races, Flightline extended his combined margin of victory to 43 ½ lengths. He clocked that mile in 1:33.59, paying $2.90 to win as the 2/5 favorite.
Happy Saver finished second at 6/1. Speaker's Corner finished nearly nine lengths back in third.
Prat got Flightline back on course
"We're just thrilled to have an undefeated horse who won easy again today," trainer John Sadler said. "Things didn't really go well for him early in the race. He suffered from a slow start because of the one post. Then he got cut off a little bit going down the backside. With a young horse who's not that well-seasoned, he just overcame the adversity and proved himself best."
Things didn't go well because of that troublesome start. But Flavien Prat quickly righted the ship, putting Flightline behind pace-setting Speaker's Corner through a 22.78 quarter-mile and 45.01 half-mile. By the three-quarters post, Flightline took command. He swept around the turn in front by 1 ½ lengths and that was that. He drew clear by 4 ½ lengths in the stretch and Prat geared him down in the final 70 yards.
"He overcame trouble. That's the storyline," Sadler said. "He had a rough trip and took up a couple times, but still circled around and proved much the best. When I saw him behind early, I wanted to throw up on myself. But you've got to watch and see what happens. I thought when he (Prat) got him going clear in the turn when he went up in that horse, I thought we'd be in good shape."
'He's the whole package'
This was Flightline's first start of 2022, one Sadler had on the itinerary for the Tapit colt since last year. He planned on running Flightline in February's Grade 2 San Carlos at Santa Anita Park, but a hock injury forced Sadler to audible.
The victory gave Flightline a "Win and You're In" berth in the Breeders' Cup Dirt Mile. But Sadler has the Breeders' Cup Classic on the itinerary.
"Flavien says distance is no issue and we want to try two turns. That's in the plans," Sadler said. "But we go one step at a time. He's lightly raced. … It's really gratifying to get here after the hiccup we had with him. We weren't rushed. We had plenty of time to train him for this. To his credit, he's a very good trainer. He's such an athlete. Winning the Met Mile is so gratifying. It's such a historic race and a stallion-making race and he's all of those things. He's the whole package."