When Flavien Prat hopped off Flightline last December, after he had just dismantled the Grade 1 Malibu Stakes by 11 1/2 lengths, the veteran jockey had what could be described as a religious experience. As any jockey can tell you when they've ridden a superhorse, the words sometimes don't come easy.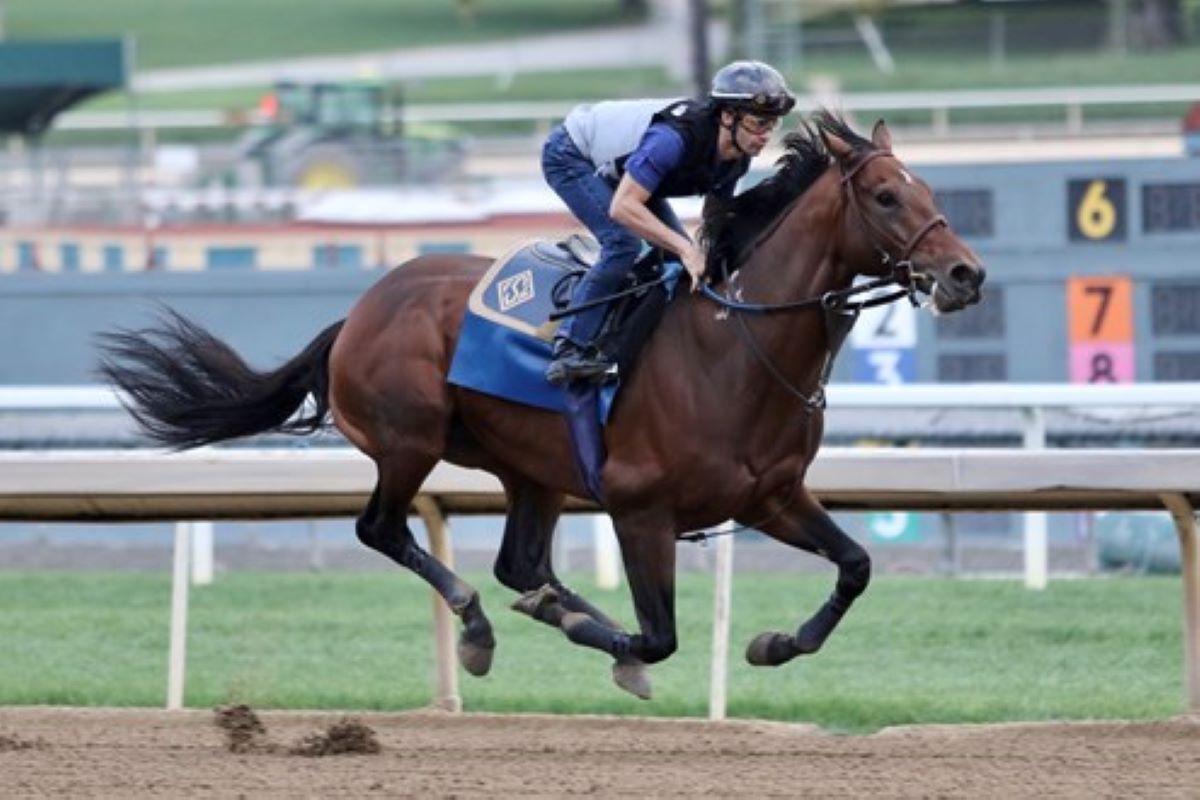 And it's not like an A-level jockey like Prat doesn't get his share of A-level equine talent. But winning a Grade 1 in his stakes debut by daylight was something else.
"Flavien got off him and just said, 'That was exciting.' You could just tell he had huge chills," said Stephanie Hronis, a member of Flightline's majority owner family. "It was a special moment for him, also. He's on a lot of really nice horses, so it was cool to see. In each of the races, it's been like that. Flavien just holds on and goes. He navigates him well."
This explains why Saturday's Grade 1 Metropolitan Handicap, known as the Met Mile, is on par with the Belmont Stakes in the anticipation department. Horseplayers and fans who have seen Flightline's previous work can't wait to hold on and go see the 4-year-old make his 2022 debut in one of Saturday's eight Grade 1 races at Belmont Park.
Met Mile deserves headline status
The Met Mile is always a race that could stand on its own without a Triple Crown race serving as an umbrella. A winner's roll that includes Mitole, Shackleford, Quality Road, Divine Park, Ghostzapper, Honour and Glory, Holy Bull, Buckpasser, Sword Dancer, and Native Dancer illustrates that nicely.
But when you add one of the fastest horses in the world — one who won his three races by a combined 37 1/2 lengths — the feeding frenzy ratchets up accordingly. Last year, Flightline recorded the fastest Beyer Speed Figure of any North American horse with a 118.
"You really do get a feeling that you're in the presence of something great when you're around him," said Terry Finley of West Point Thoroughbreds, one of Flightline's owners. "It just looks like he's settled in really well. He's a true professional. He looks confident and settled. It looks like he still has his swagger."
Flightline stretches out, steps out
And why shouldn't he? This is Flightline's first race outside California. It's his first race in 5 1/2 months, since that Malibu victory. And it's his first race beyond seven furlongs. But trainer John Sadler had added distance in general, and the Met Mile in particular, on Flightline's itinerary since late last year.
That itinerary endured a longer break than usual after Flightline suffered an injury that put him on the shelf coming into 2022.
"I always thought he would be better as he goes further," Sadler said. "He has a high cruising speed and when you look at some horses that have fast times, you wonder how that will project out. But if you watch his races, it projects out quite well. Since it's a longer than usual gap between races, we've made sure that he has a lot of good training in him. When you see a steady series of good works, it's to make sure he's ready to go."
Two of Flightline's last three works were bullets, including his most recent. That was a 46.80-second four-furlong work last Sunday at Santa Anita Park, that was first of 79 at that distance. Two works before that, on May 23, there was a 59.40 five-furlong work that was the first of 30.
Flightline gets a local rival
And yet, Flightline is expected to have company in the Met Mile from another seriously fast 4-year-old, Speaker's Corner. He owns the fastest Beyer of 2022: a 114 recorded when he romped to a 4 1/2 length victory in the April 9 Grade 1 Carter.
Speaker's Corner is unbeaten in one-turn miles and unbeaten in three 2022 starts. He's 4-for-his-last-5 with a runner-up since trainer Bill Mott turned the one-time router into a miler. That runner-up came in the 1 1/8-mile Discovery Stakes last December.
Speaker's Corner has led at the half-mile call in each of his last five races. A victory here would make him the 13th horse to sweep the Carter-Met Mile in the same year.
---
Grade 1 Metropolitan Handicap/Belmont Park
Morning Line (Jockey/Trainer)
Flightline, 3/5 (Flavien Prat/John Sadler)
Speaker's Corner, 8/5 (Junior Alvarado/Bill Mott)
Aloha West, 6/1 (Jose Ortiz/Wayne Catalano)
Happy Saver, 8/1 (Irad Ortiz Jr./Todd Pletcher)
Informative, 50/1 (Dexter Haddock/Uriah St. Lewis)
---
In the chorus here is Aloha West. All he did was win the Breeders' Cup Sprint last fall at Del Mar. Also in the field is Happy Saver who beat Mystic Guide and Tacitus in the 2020 Grade 1 Jockey Club Gold Cup.
Yes, this is a Met Mile worthy of its own undercard.
"As far as I'm concerned, the Met Mile is a heavyweight championship type bout," Mott said. "It should be a good race. If our hose shows up and the other horse shows up, it should be interesting."