It speaks volumes about Flightline's frightening speed and fearsome reputation that Dr. Schivel, his erstwhile rival in Sunday's Grade 1 Malibu Stakes at Santa Anita Park, won't be the morning-line favorite.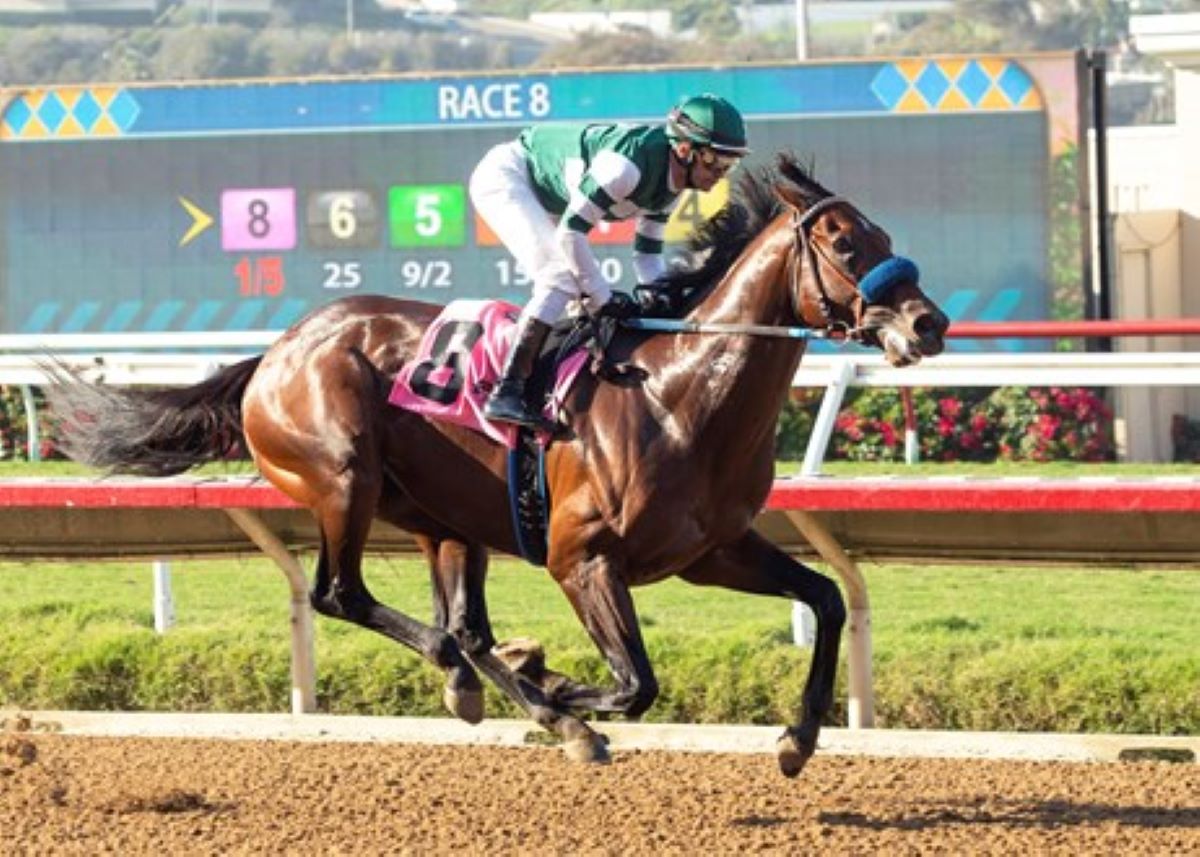 The runner-up in the Breeders' Cup Sprint and the favorite in four of his eight career starts will be the likely second choice when author Jon White writes the morning line on Wednesday.
Need more proof of Flightline's soaring reputation? Flavien Prat, Santa Anita's leading jockey, rode Dr. Schivel in his last five starts and Flightline in both of his. He'll ride Flightline in Sunday's seven-furlong test for 3-year-olds.
"That's a definite," trainer John Sadler told Santa Anita's Ed Golden.
Flightline odds-on in his first two races
And why not? Flightline comes into the Malibu with two career starts. The first – a six-furlong sprint at Santa Anita on April 24 — produced a 13 ¼-length demolition at 9/10. The second resulted in a 12 ¾-length romp at 1/5. That came Sept. 5 at Del Mar.
That's two victories by a combined 26 lengths. No wonder Prat can't wait to get aboard Flightline again. No wonder bettors flung money at Flightline like drunken sailors on shore leave. And no wonder Sadler can't wait for the Malibu, one of three Grade 1s on the six-stakes opening-day card.
"I'm feeling very good about his chances," Sadler said. "We're hoping it's Christmas on the 26th. He's trained up to the race super; we've had our eye on the Malibu for a couple of months. It's the right conditions: 3-year-olds, a Grade 1 at seven-eighths, which we think is going to be a good distance for him."
The workouts are nearly as frightening as the races
Why shouldn't Sadler feel good? Flightline, a $1 million purchase at the 2019 Fasig-Tipton New York Saratoga Select Yearlings Sale by Hronis Racing and West Point Thoroughbreds, just clocked a 1:00.20 five-furlong workout on Sunday. That was 12th of 101 working that distance that day. It broke a string of three bullet workouts: all sub-1-minute works for five furlongs.
"He just cruised around there in his last work before the race," Sadler said. "… It will be his first time against better, horses, but we're excited about the challenge."
One of those better horses is the aforementioned Dr. Schivel. All he's done was win five consecutive races before that nose defeat to Aloha West in the Breeders' Cup Sprint. Two of those, last September's Del Mar Futurity and the July 31 Bing Crosby Stakes at Del Mar were Grade 1s.
As for Dr. Schivel's work tab, he clocked a 48.20-second half-mile for trainer Mark Glatt Monday morning. That was 10th of 58 at that distance on Monday.