Dr. Schivel gets his name from the alias of iconic Batman villain Mr. Freeze, a touch and an half of irony, considering the deep freeze Mark Glatt put the 3-year-old on when he inherited him last fall.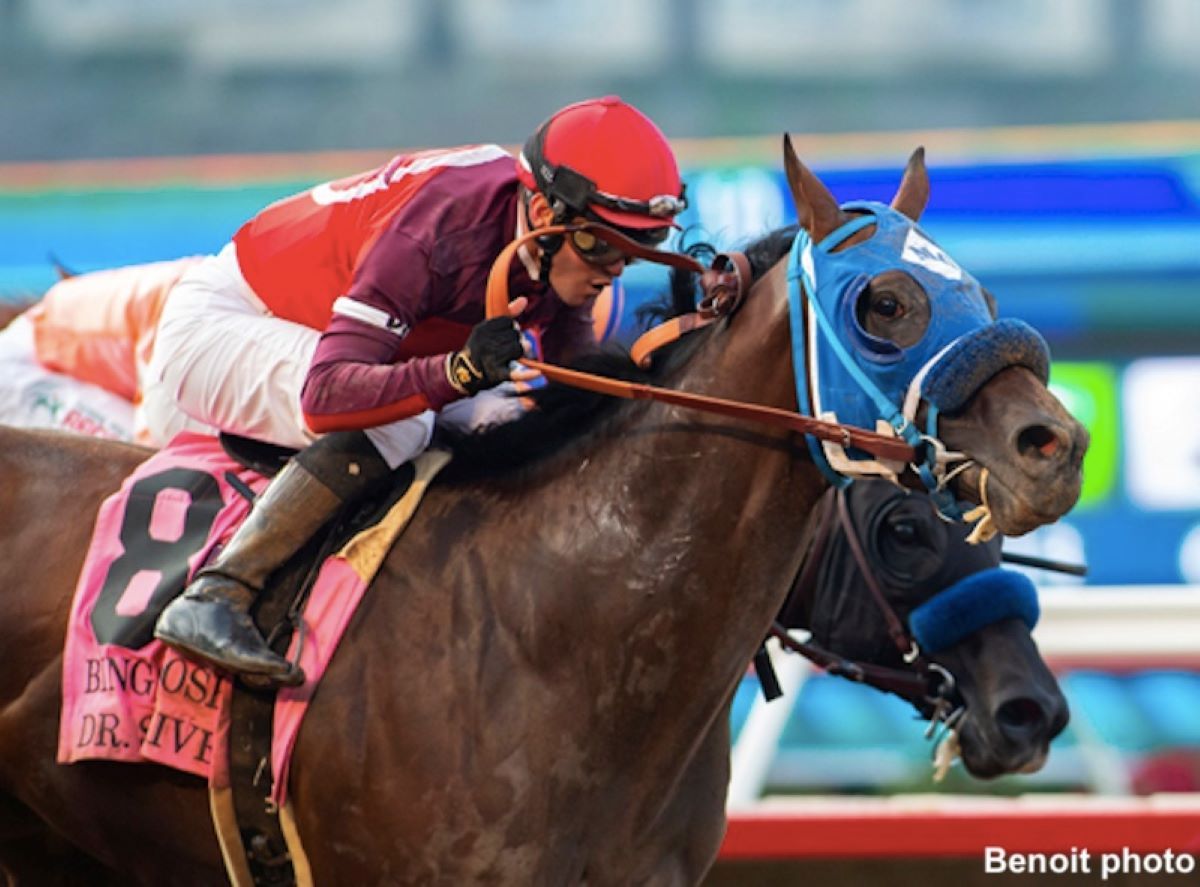 Dr. Schivel had just captured the Grade 1 Del Mar Futurity. That put him on the radar of value-hungry Kentucky Derby future bettors, who bet him onto the front row of Derby prospects. At one time, he was the 8/1 second-favorite to win the Breeders' Cup Juvenile.
But Glatt was having none of it. When an ownership change moved Dr. Schivel to his barn from Luis Mendez's, Glatt wasted little time pulling his new charge off not only the Derby trail, but every trail.
"It's difficult to get a Grade 1 winner, then inform the owners we should stop on him," Glatt told the Breeders' Cup notes team. "But I felt it was in the horse's best interest to give him plenty of time to develop and to get over some minor things. So far, that decision has seemed like the right one."
Dr. Schivel goes from on ice to red hot
Indeed it has. Dr. Schivel may be named after a cold villain, but he rides into Del Mar for the Breeders' Cup Sprint as one of the hottest horses in any field. Dr. Schivel came out of his trainer's 9 ½-month deep freeze sizzling. The son of Violence (appropriate, with that name) comes into the Breeders' Cup on a three-race winning streak. Two of those wins came in graded stakes: August's Grade 1 Bing Crosby Stakes at Del Mar and the Oct. 2 Santa Anita Sprint Championship.
In both those races, Dr. Schivel beat fellow Sprint competitor C Z Rocket by a neck in the Crosby as the 2.40/1 second choice, and by 3 ¼ lengths at Santa Anita as the 1.80/1 favorite. In the Crosby, Dr. Schivel conquered a field featuring not only C Z Rocket, but Eight Rings and Brickyard Ride. Older horses with graded-stakes wins on the resume.
"This is a real racehorse," Glatt said after the Crosby. "He beat the olders today and hopefully in November, he'll be able to do it again."
Beating a fellow 3-year-old may be more problematic
It's not an "older" who is Dr. Schivel's likely rival. It's one of his fellow sophomores: 6/5 favorite Jackie's Warrior. The Steve Asmussen shipper from the East has frozen out much of the attention on everyone else in the Sprint field. Including Dr. Schivel, who carries 4/1 second-choice odds – along with what is a five-race winning streak, counting his two triumphs before coming to Glatt.
Both came at Del Mar: in an August 2020 maiden special weight and last September's Del Mar Futurity, before Glatt sent him on his 9 ½ month hiatus. Part of that time was spent at co-owner Tim Cohen's Rancho Temescal farm up the road from Del Mar.
"He's very classy," Cohen said. "We turned him out at the farm. He let down easily. A good horse will take care of himself like that. He was fun to have at the farm. He has a little character."
Dr. Schivel likes running where the turf meets the surf
Add all of that up and Dr. Schivel is unbeaten in three Del Mar races. He's 5-1-1 in seven career races, never missing the board and never turning in a clinker. He's averaged a 108 Equibase Speed Figure in his last three races, with a career-best 112 coming in the Santa Anita Sprint Championship.
Glatt revels in what his once-frozen-out charge did, burning up the two biggest West Coast tracks.
"His last race was his best race yet and I'm hoping he's got an even better one in him for Saturday," Glatt said. "I know he likes this track, which would possibly be to our advantage. Jackie's Warrior is the one to beat, but they're all runners in this race. I wouldn't change places with anyone."