There was Dr Schivel returning on one side of the country, Enforceable, Finnick the Fierce, Core Beliefs and Sonneman tangling on the other. This eclectic group of familiar names made up for a weekend devoid of Grade 1 races in North America with two intriguing allowance races on both sides of the country.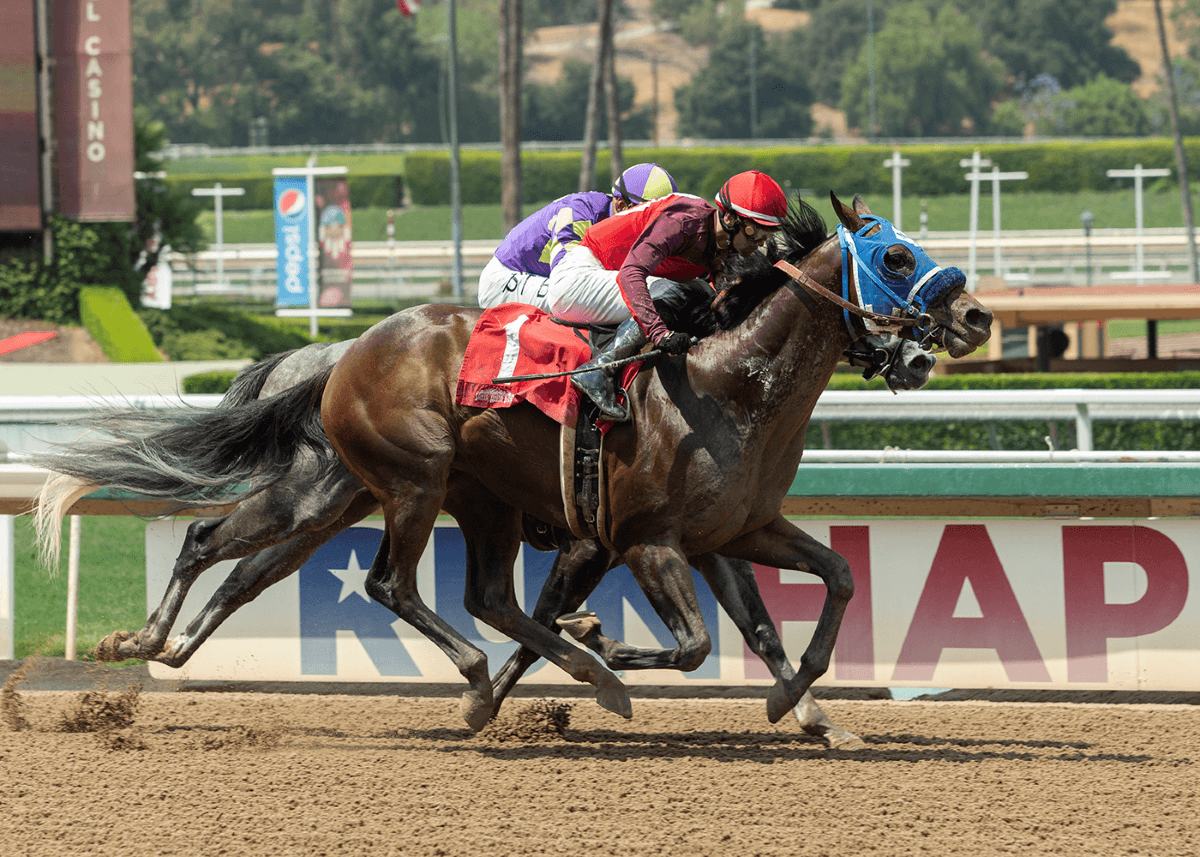 At Santa Anita, 6/5 favorite Dr Schivel returned for the first time in 9 ½ months, capturing the track's Friday allowance feature by a neck. Meanwhile, at Churchill Downs, 5/2 second-favorite Mailman Money beat nine other contenders – including a Kentucky Derby alum – in an allowance optional claiming race.
Dr Schivel's victory in the six-furlong allowance came in his first race since he won the Grade 1 Del Mar Futurity last Sept. 7 at Del Mar. It also came in his first race for new trainer Mark Glatt, who took over for Luis Mendez after Dr Schivel was sold after the Futurity.
That race, meanwhile, put the son of Violence on numerous Kentucky Derby radars, one being the Derby futures radar. There, he opened at 50/1 last October.
Dr Schivel was never Derby-bound
This, despite Glatt saying he planned shutting down the colt for the duration of 2020. Dr Schivel never sniffed the Derby trail, staying out for much of 2021 with various issues that Glatt declined to identify to Thoroughbred Daily News. Glatt did say the colt did not require surgery and he resumed training in February.
Dr Schivel put in eight workouts since April 24, including a 48.6-second hand workout June 12. That final tune-up set him up for a strong ride by Flavien Prat, who piloted the colt to a come-from-behind victory Friday. Prat brought Dr Schivel from third to first inside of three furlongs, beating Canadian Pride by a neck.
"Those other horses pretty much had him down in a spot there, where he was in a lot of trouble," Glatt told Santa Anita's Mike Willman. "But the most impressive thing was, when Flavien did get him off the inside, and in a place where he could let him run, he said, 'You're not beating me.' He came and got that horse. A lot of horses at that point might of said, 'Hey, Uncle for today,' but he just pinned his ears and came after that horse and got him. We've actually been hoping he'd come back and run a race like that in his comeback race."
Dr Schivel improved to 3-1-1 in five races. Glatt said he's looking for Grade 1 races later this summer as his next challenge.
Mailman Money delivered a clutch victory
Not long before that, on the other end of the country, Mailman Money survived a challenge from a plethora of stakes contenders in that 1 1/16-mile allowance optional claiming race. That included 2020 Kentucky Derby alum Enforceable, Finnick the Fierce, who scratched the week of that Derby, 2018 Ohio Derby and 2019 New Orleans Handicap winner Core Beliefs and the 2/1 race favorite: Sonneman.
Of that group, only Core Beliefs (7/1) hit the board. He finished third, 4 ½ lengths behind Mailman Money and runner-up My Sixth Sense, who nearly went gate-to-wire before Mailman Money passed him with a sixteenth to go.
As for favorite Sonneman, he wound up seventh, eight lengths behind. One-eyed gelding Finnick the Fierce? He and his 26/1 odds faded in the stretch, finishing eighth. And 4/1 Enforceable? A dismal ninth in the 10-runner field, 9 ¼ lengths back.
What happened to Enforceable?
That came one race after Enforceable finished a more dismal ninth – by 22 lengths — in the Pimlico Special on the Preakness Stakes undercard. Since finishing seventh in the 2020 Derby, Enforceable has one victory in seven races. That came in a January allowance race at Fair Grounds. He did finish third in March's New Orleans Classic Stakes.
Into this, rode Mailman Money, who ran a career-best 107 Equibase Speed Figure for his fourth career victory in 11 races. None of those, however, are stakes races. The 4-year-old Goldencents colt hasn't finished better than fourth in his three stakes races.