Say "hello" to Jackie's Warrior, Dr. Schivel, Freedom Fighter, and Sittin on Go. You may not know much about them right now, but you'll be hearing a lot more about these four — and other 2-year-olds — over the next seven months.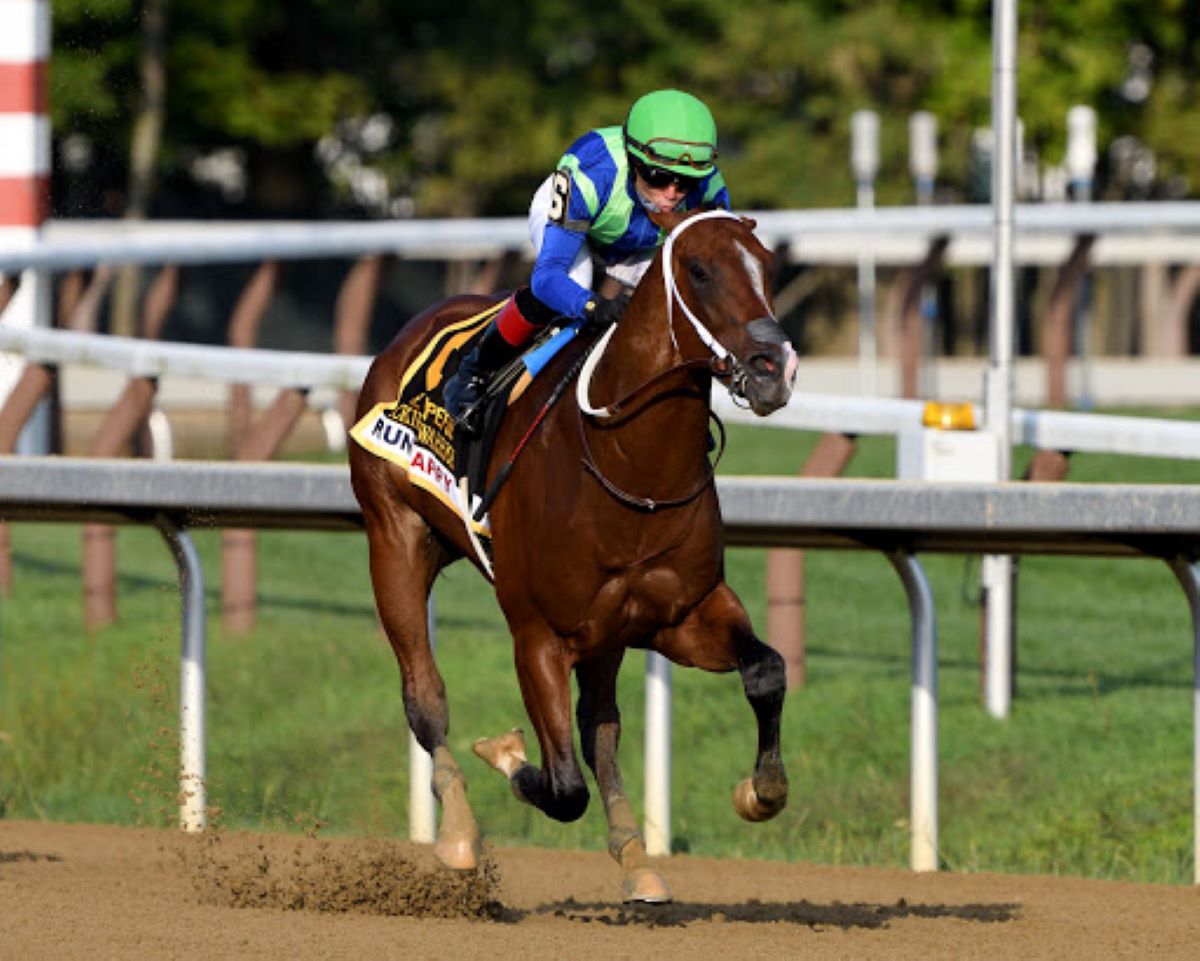 Ignore for the moment the 2020 Kentucky Derby was just last week, because it's never too soon to look at the early contenders for the 2021 Derby. Especially now, when the new crop of 2-year-olds hit their stride as racehorses.
Think of Jackie's Warrior, Dr. Schivel, Freedom Fighter, and Sittin on Go as the Tiz the Law, Authentic, Honor A.P., and Art Collector of 2021. These four 2-year-olds, along with Reinvestment Risk and Team Merchants, bear watching through the fall, starting with the Breeders' Cup Juvenile at Keeneland on Nov. 6.
The watch list starts with Jackie's Warrior, your early favorite to win the Juvenile. He already has a 95 Beyer Speed Figure on his resume, earned when he captured the Grade 1 Hopeful Stakes at Saratoga. That's one of his three victories in as many starts, and the Maclean's Music progeny already beat several of his rivals in either the Hopeful or the Grade 2 Saratoga Special.
Not Much Risk with This 2-Year-Old
One of those he beat in the Hopeful was Reinvestment Risk, who clocked a solid 90 Beyer for his runner-up finish. The son of Upstart went off as the Hopeful favorite after dissecting a good field in his Aug. 1 debut by nearly eight lengths.
Cross the country and you find Dr. Schivel, who apparently needed the turf meeting the surf to find his verve. An uninspiring third in his maiden special weight June debut at Santa Anita, and a nondescript second in another maiden special weight at Los Alamitos on July 4, Dr. Schivel turned it around at Del Mar. He beat trainer Bob Baffert's heralded Spielberg in an Aug. 8 maiden special weight, then turned around and did it again in last weekend's Grade 1 Del Mar Futurity.
That, in itself, bears notice. The Del Mar Futurity is one of the West Coast's prime stepping stones for Derby contenders. It's winner's roll contains Derby winners American Pharoah (2014), Nyquist (2015), and Silver Charm (1996), along with 2010 Preakness champion Lookin At Lucky (2009).
You Knew Baffert Would Figure Somewhere Here
Speaking of Baffert, he trains Freedom Fighter. A son of Violence, like Dr. Schivel, Freedom Fighter has only one race under his belt, but his grinding victory in an Aug. 1 maiden special weight race looks better every day. Wyfire, who finished a well-beaten fourth, won his next race convincingly. Expect Baffert to stretch Freedom Fighter out past that initial 5 ½-furlong jaunt.
Then, there's Sittin on Go, who burst into the front-row of 2-year-olds with his strong win at last weekend's Grade 3 Iroquois Stakes on the Derby undercard. The Brody's Cause progeny outran his 24/1 odds, beating highly touted Midnight Bourbon and Therideofalifetime, en route to his second victory in as many starts. He took 10 Derby qualifying points and a spot in the Breeders' Cup Juvenile along the way.
"This horse reminds us a lot of his father. We were pretty confident he'd be able to stretch out from his training, and this race set up perfectly for us. We're off to the Breeders' Cup," trainer Dale Romans told Churchill Downs after the race.
Don't Ignore These Juvenile Derby Unlikelies
There are other non-Derby Trail 2-year-olds worth following, starting with the heiress apparent to Gamine in Baffert's barn – Princess Noor. She is 2-for-2 after ridiculously easy victories in an Aug. 22 maiden race and last week's Grade 1 Del Mar Debutante. Put her down as the early Breeders' Cup Juvenile Fillies favorite and watch her progress toward next spring's Kentucky Oaks.
And put Golden Pal and Big Fish on your turf lists. Golden Pal already drew notice for nearly stealing the Norfolk Stakes at Royal Ascot in his second start. Going off at 3/5, the Wesley Ward charge did steal the Skidmore Stakes at Saratoga in his last start, clocking a 92 Beyer along the way. This Uncle Mo offspring could be the best sprinter of his generation. It's just a matter of where Ward turns him loose — on dirt or turf.
Big Fish is bred for turf, which he displayed winning the Del Mar Juvenile Turf Monday for underrated trainer David Hofmans. His consistent Equibase Speed Figures in the mid-80s illustrate a gelding who should improve with every start. He already has a high floor, with two wins, a second, and a third in his four starts.