Philadelphia 76ers reserve guard, Shake Milton, scored a career-high 39 points against the Los Angeles Clippers on 14-for-20 shooting while both Ben Simmons and Josh Richardson were sidelined with injuries. During a span of three games, Milton filled in for the banged-up 76ers and tied an NBA record for most consecutive 3-pointers with a 13-for-13 clip.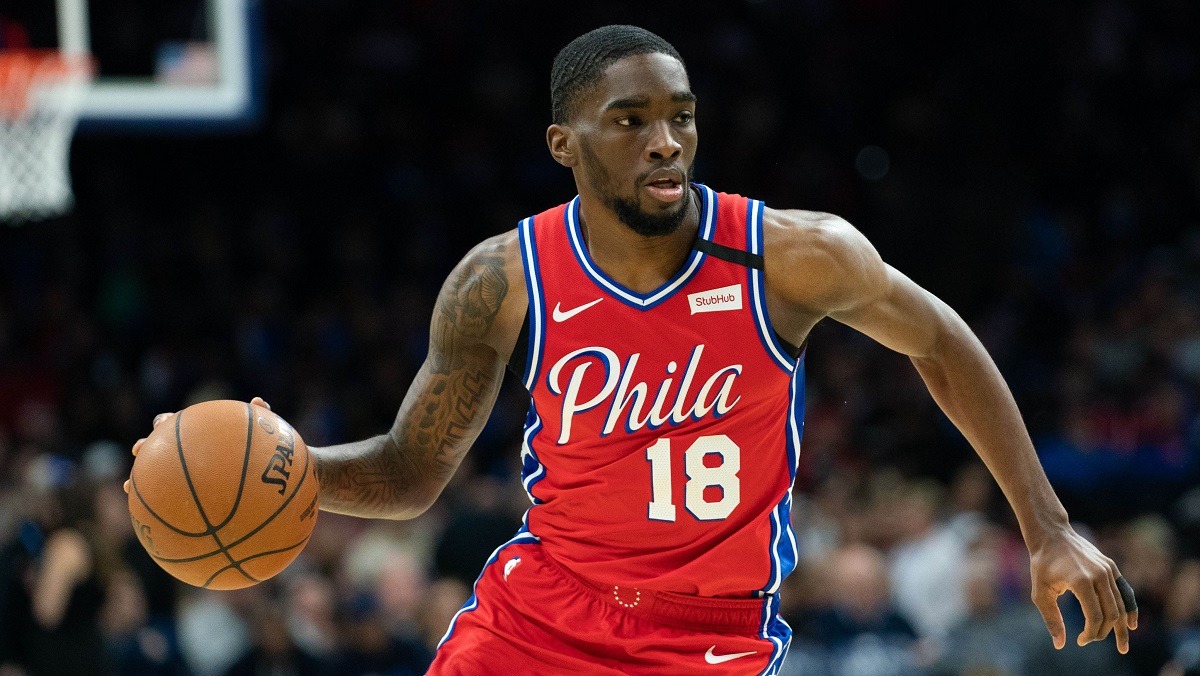 "Once the first couple ones knocked down, I felt pretty good," said the humble Milton.
Milton added 19 points the previous game against New York Knicks and 20 points against the Cleveland Cavaliers last Wednesday. His 3-point streak began against the Cavs when he knocked down his last three treys of the game. His hot streak continued against the Knicks with a perfect 5-for-5 night from beyond the arc. Milton hit his first five 3-pointers against the Clippers to tie the NBA mark.
Overall, Milton finished the night with 7-for-9 shooting from downtown. Over his last three games, Milton hit 16-for-20 from 3-point land. During his current torrid streak, Milton averaged 26 points.
"He was amazing out there," said teammate Tobias Harris. "It was cool. We all know he can play."
"I'm just glad he's getting an opportunity," added teammate Al Horford. "He's showing that he can be legitimate and play, even when we're back at full strength."
Who Is Shake Milton?
During his junior season at SMU, Milton averaged 18.1 points per game and knocked down over 43.4 percent of his 3-pointers.
In two NBA seasons, Milton appeared in 48 games and started 12 of them this season. He played in 20 games last season as a rookie averaging 4.4 ppg. After his recent scoring boost, his scoring average this season jumped to 8.8 ppg.
WHO IS SHAKE MILTON?
Age: 23
Hometown: Owasso, Oklahoma
Position: Guard
Height: 6-foot-5
College: SMU
Draft: 2nd Round, #54 Pick 2018 NBA Draft
The Dallas Mavericks drafted Shake Milton out of SMU with a late pick in the second round of the 2018 NBA Draft. The Mavs traded Milton to the Philadelphia 76ers for two players, including the Greek Freak's brother Kostas Antetokounmpo.
Milton signed a two-way deal with the Sixers and the Delaware Blue Coats (Philly's G-League developmental team).
Despite being told he'd see zero playing time in the second half of the season, Milton stayed mentally prepared. Once Ben Simmons went down with an injury, Milton moved into the rotation. With Joel Embiid and Josh Richardson also down, Milton cracked the starting lineup.
Shake Milton His Real Name?
"Shake" is a nickname, which is a play off "Milk", which is his father's nickname. A family friend made a joke when his mother was still pregnant, "How is Little Shake was doing?" And the nickname stuck. His birth name is Malik, but Shake Milton sounds so much cooler.
"Shake Milton" has one of those names that you're compelled to say both his first and surname at the same time. "Shake Milton" is also an old-timey name. He could have played baseball at the turn of the 20th Century or sounds like a character out of a William Faulkner novel.
Denizens of Philadelphia have been aware of Shake Milton, but after his explosive 39-point performance against the Clippers, the whole world now knows he exists. Heck, he even went viral. For a hot minute last night. the hashtag #ShakeMilton trended for several hours. Good ole Shake Milton trended with US Presidential politics and the coronavirus.