There wasn't much suspense to it, but Phil Mickelson provided plenty of flair in his first victory on the PGA Tour Champions, Wednesday. Mickelson made his debut on the senior circuit and won the Charles Schwab Series at Ozarks National wire-to-wire, finishing four shots better than Tim Petrovic.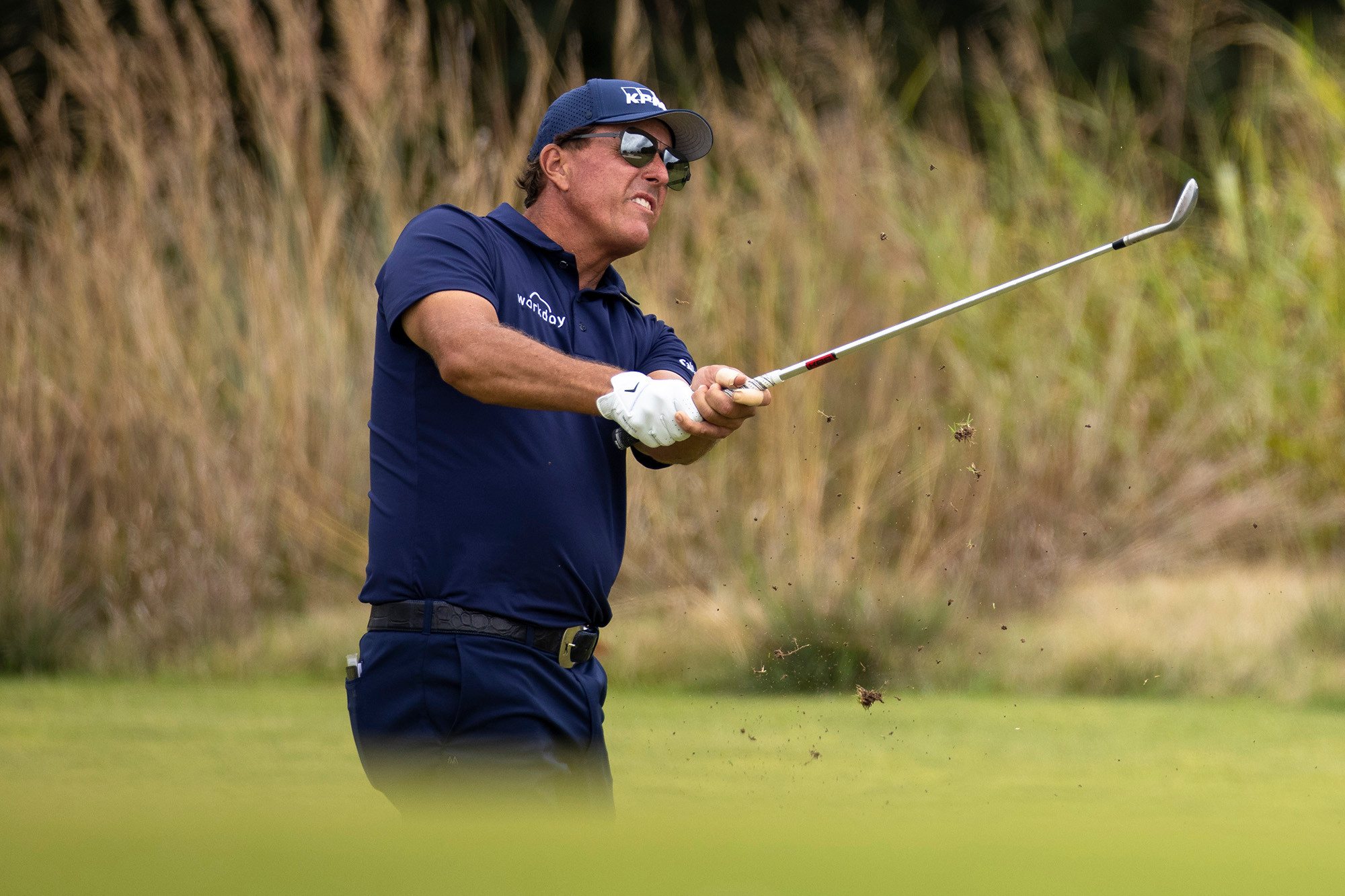 Mickelson becomes the second golfer to win in his first start on the PGA Tour Champions this year, and the 20th overall. Jim Furyk won the Ally Challenge three weeks ago in his debut. Before that, the last golfer to accomplish the feat was Miguel Angel Jimenez in 2014.
Mickelson was the 3/1 favorite before the start of his first PGA Tour Champions tournament. Those odds only got lower after the first round 61, which opened a three-shot lead on the field. He went into the second round with adjusted odds of -300. When he posted a 64 to increase his lead to four shots, Bovada listed his odds at -900. As the final round progressed, those live odds dropped all the way to -5000.
Rocco Mediate, who finished tied for fifth could do little but admire Mickelson's game.
"This isn't surprising whatsoever, anything he does," Mediate said. "Him and Tiger (Woods), the same thing: Nothing they do surprises you. And you're seeing it here."
Mickelson Uses Length for Victory
One advantage Mickelson used to dominate the field was his length off the tee. For the three rounds, Lefty averaged 313 yards in driving distance. He also had one par 4 where he drove the green and sank the putt for an eagle.
John Daly leads the PGA Tour in driving distance with a 302-yard average. Just three other PGA Tour Champion golfers (Retief Goosen, John Huston, and Vijay Singh) average more than 300 yards.
Tiger Woods, who is six years away from being able to join Mickelson, raved about him on Wednesday at the BMW Championship.
"He was already one of the longest hitters out here, and now he goes to where he's going to pick up a huge advantage off the tee," Woods said. "There's no reason why he can't win every event he plays out there. He's got such a big advantage over the rest of the field just with sheer length."
Will Victory Translate to More Events?
The only reason Mickelson played this week was because he missed qualifying for the next round of the PGA Tour's FedEx Cup Playoffs. Back in January, Mickelson said he would prefer to play on the regular tour.
After his victory, Mickelson was non-committal about his schedule, but did say it was nice to win again. His last PGA Tour victory was at the 2019 Pebble Beach Pro-Am.
"I really enjoyed playing here, enjoyed seeing the guys again, and they were so accommodating and fun, and it was just fun for me to compete," Mickelson said. "I got to shoot scores and compete. The competition here was really strong. It was good for me to get off to a good start and compete."