King Guillermo is back for the Cigar Mile, seven months after he last entered a starting gate. You've also got sprinting standout Firenze Fire stretching out to a mile. And your Cigar Mile favorite – Performer – makes only his second start in 11-½ months.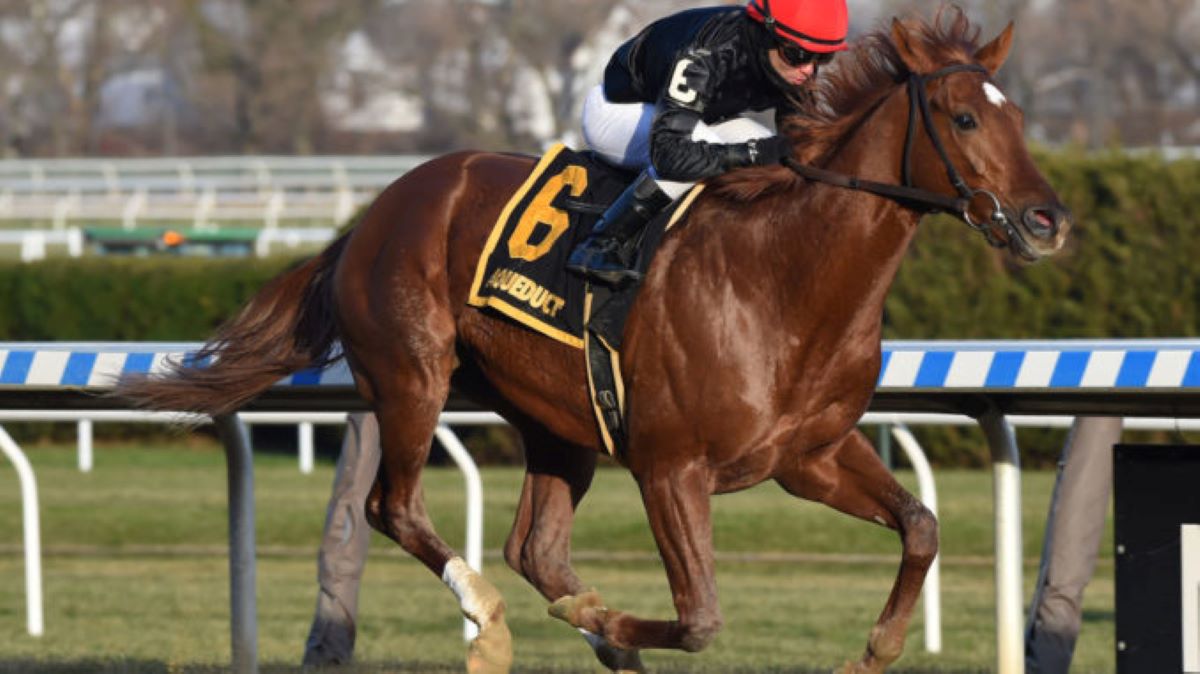 When it comes to betting options and intriguing storylines, the Cigar Mile wafts over you like a fine Cuban. Just like it wafts over a strong Saturday of stakes races at Aqueduct. New York's last Grade 1 race of 2020, the Cigar Mile headlines a $1.25 million, seven-stakes weekend at the Big A.
Also on Saturday's slate are two key juvenile races — the Grade 2 Remsen for the boys and the Grade 2 Demoiselle for the girls — along with the Grade 3 Go For Wand Stakes for older fillies and mares.
As for the Cigar Mile, it draws its name from the iconic gelding who won the 1994 edition of his now-namesake race. That's when it was the NYRA Mile.
Smoke the Field and Honors Possibly Await
Over the years, the Cigar Mile became one of the final tests for horses of various divisions, seeking one last claim for Champion status. Just like it did for Maximum Security last year, when he rode his career-best 123 Equibase Speed Figure into a 3 ½-length victory and status as the Champion 3-Year-Old of 2019.
Check the winner's list for the Cigar Mile and you find such standouts as two-time winner Congaree (2002, 2003), Discreet Cat (who holds the event record of 1:32.46 when he won in 2006), Stay Thirsty (2012), 2014 Belmont Stakes winner Tonalist (2015), and the aforementioned Maximum Security.
Check the field for this year and you find eight of the nine runners have a stakes victory on their resumes. Five of the nine are millionaires and two – Mind Control and Firenze Fire – own Grade 1 wins. It speaks to the depth of this field that Mind Control, who owns seven wins (four at Aqueduct), 12 in-the-money finishes in 17 races, and more than $1.047 million in earnings, is 20/1.
---
Cigar Mile
Here is the field heading into today's Cigar Mile at Aqueduct.
Morning Line (Jockey)
Performer, 7/5 (Joel Rosario)
Mind Control, 20/1 (John Velazquez)
Snapper Sinclair, 20/1 (Manny Franco)
Firenze Fire, 5/2 (Jose Lezcano)
Mr. Buff, 6/1 (Junior Alvarado)
King Guillermo, 9/2 (Jose Ortiz)
Majestic Dunhill, 20/1 (Dylan Davis)
True Timber, 15/1 (Kendrick Carmouche)
Bon Raison, 20/1 (Jorge Vargas Jr.)
---
That's because of two factors: his woeful form of late, and the presence of Performer and King Guillermo. Mind Control won his first two races of 2020, both at Aqueduct, but he's 0-for-5 since, hitting the board in only the Vanderbilt at Saratoga in July.
Performer Ready for his Close-Up
Which brings us to the intriguing storyline tandem of Performer (7/5) and King Guillermo (9/2). It's a testament to both Performer's talent, and his Hall of Fame trainer Shug McGaughey, that this 4-year-old can race once in nearly a year and be favored in this caliber a race. The son of Speightstown finished third in his Nov. 2018 debut at Aqueduct and hasn't lost since.
He won all four of his 3-year-old races last year, with triple-digit Equibases each time. Three of those were allowances and the fourth was the Grade 3 Discovery Stakes, so this is a class leap. It's also only Performer's second racing performance this year. He won an October allowance at Belmont Park in October and has six workouts in the can since that victory.
"He's training well. It has been a while since he ran, but he'll be fit enough," McGaughey told NYRA. "He's been over that track before. He seems to be doing as well now as he's ever done."
King Guillermo Mixes with the Older Crowd
Speaking of other horses coming off extended vacations, say hello again to King Guillermo. The lone 3-year-old in the field returns to the fray after a seven-month layoff of his own. And he returns against older horses for the first time.
When last we saw King Guillermo run, he finished second to Nadal in the tougher of the two Arkansas Derby divisions on May 2. When we saw him again after that, he was a Derby week casualty after spiking a fever. The upshot being, this is only King Guillermo's sixth career start. He too has worked out throughout November, firing two bullet drills on Nov. 1 and 20.
He has the speed to contend in this field, but questions abound on how King Guillermo will do against older horses of this caliber after his long layoff.
Firenze Fire Can Come Out Hot
If you want a horse who hasn't been on a sabbatical, there's Firenze Fire (5/2), who makes his eighth start of 2020. That's nearly twice as many as Performer (this is his second) and King Guillermo (this is his third) combined. Known primarily as a sprinter, Firenze Fire is 3-for-6 lifetime at a mile, and he did win the Grade 1 Champagne at Belmont three years ago – a one-turn mile like the Cigar.
Don't be surprised if Firenze Fire goes off as the favorite. He's one of the fastest horses in the field and, generally, a consistent threat. That said, his record also demands further examination. While Firenze Fire is 3-for-7 this year, he's 0-for-4 in Grade 1s, with only a third in the Breeders' Cup Sprint sending backers to the window.
In addition, Firenze Fire notoriously doesn't fire in wet weather. He lost his last three races in the slop by double-digit lengths, prompting trainer Kelly Breen to warn he will scratch the 12-time winner if the weather outside is frightful. So consult your weatherman before lining up behind what probably will be an underlay odds-wise.
The Pick: Performer. He has the tactical speed and the versatility to navigate either dry tracks or sloppy ones, and if he can handle eight rivals being on the rail, you're looking at the likely winner. Plus, Firenze Fire will draw plenty of public money. So as you line these two up on tickets, keep in mind favorites have won the Cigar Mile three of the last four years.