A packed Parc des Princes stadium welcomed PSG's super arrivals this summer before PSG vs Strasboug in Ligue 1.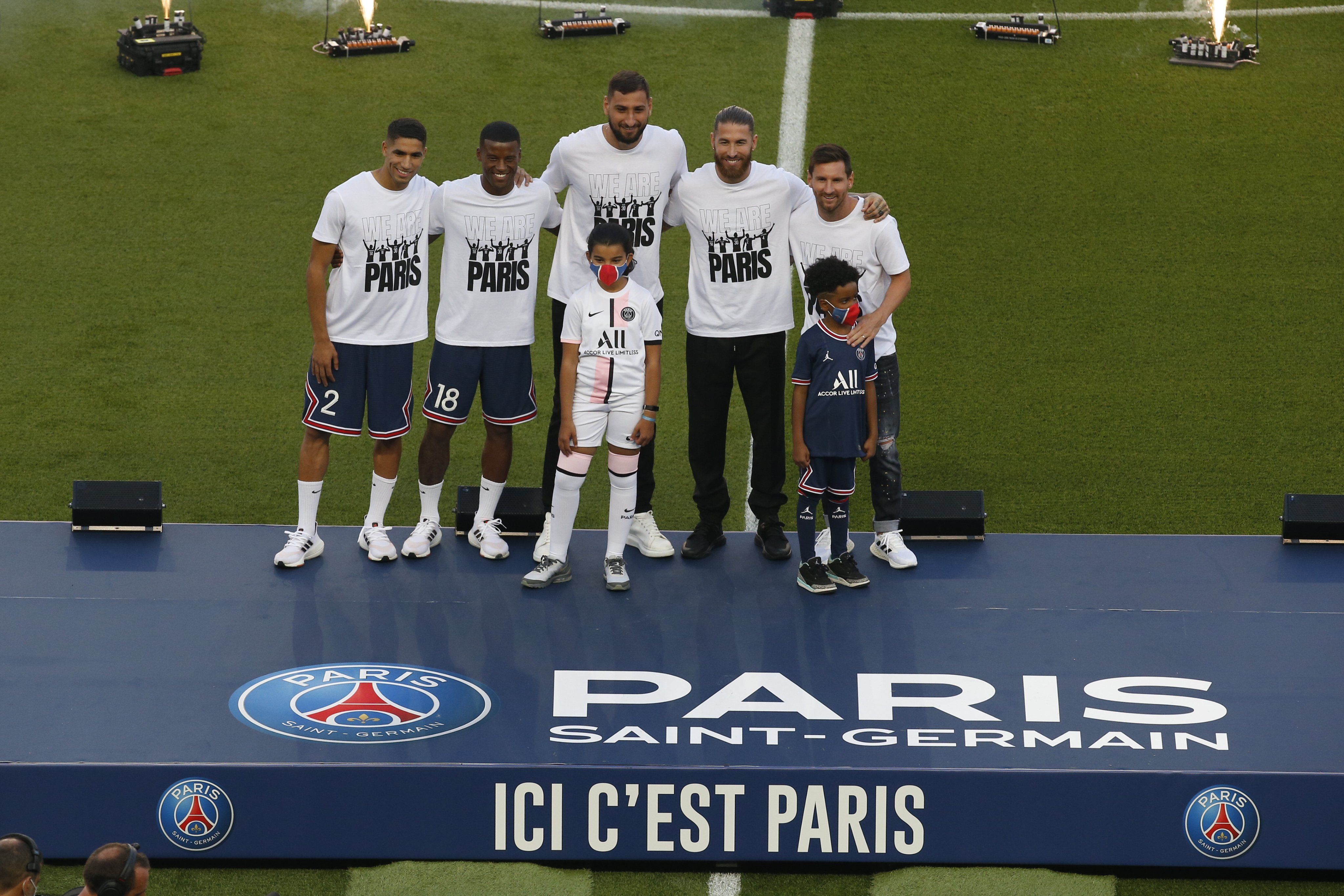 Almost 48,000 fans turned up two hours before the game to make sure they don't miss the fantastic show. PSG unveiled newly arrived Leo Messi, Sergio Ramos, Achraf Hakimi, Gianluigi Donnarumma, and Gini Wijnaldum to the Paris faithful in a glamorous show before the teams came out to warm-up. Achraf and Wijnaldum were involved in the match, with Messi, Ramos, and Donnarumma still waiting for their debuts. Messi enjoyed the warmest of welcomes. The ultras starting a chant dedicated to him and had several banners in his honor. Soon, the entire stadium followed, roaring for the 34-year-old Argentinean as he waived to the stands.
🆕🎥

Revivez la présentation de nos 5⃣ recrues dans une ambiance incroyable 👏❤️💙

💎 #NewDiamondsInParis pic.twitter.com/N9x3eufimB

— Paris Saint-Germain (@PSG_inside) August 14, 2021
It wasn't just the newly arrived who had a special reception.
When teams for the game vs Strasbourg were announced on the stadium, Kylian Mbappe was heavily booed by none other than the PSG supporters. The fans were unhappy with the forward's decision not to renew his contract and made no secret about it. As rumors linking Mbappe with a transfer to Real Madrid mount, the PSG board's message to his suitors was firm: not available. The transfer window doesn't close until early September, though, so Madrid hope a financial package of $180 million could finally lure him away.
[Images @CanalSupporters 🔴🔵] Grosse bronca à l'annonce du nom de Kylian Mbappé 🇫🇷

On rappelle que le joueur n'a toujours pas prolongé au PSG ❌#PSG #TeamPSG #MessiPSG #PSGRCSA pic.twitter.com/KFxmxLXEdx

— Canal Supporters (@CanalSupporters) August 14, 2021
Mbappe unbothered: Man of the Match vs Strasbourg
Kylian still has a year left in his contract. If PSG don't sell him now or in the January transfer window at the latest, Mbappe will be able to sign with any interested club as a free agent. PSG paid $210 million to buy him from Monaco. Now 22, Mbappe played 172 games for PSG, scoring 133 goals and assisting another 62 in his four years at Parc des Princes.
Against Strasbourg, Mbappe put up a 'Man of the Match' performance, as PSG won the game 4-2. Mbappe terrorized the opposite defense, scoring Paris' second goal after 25 minutes, then assisting Sarabia for the goal which closed the scoreboard at 4-2.
"I think we have the most competitive team. Now there is no choice for Kylian but to stay here in Paris," PSG president Al Khelaifi told the media on Messi's official presentation.
PSG won both their games since the beginning of the campaign, beating Troyes 2-1 last week, then Strasbourg 4-2 in their first outing on a full stadium since the start of the pandemic.
Apart from the new star recruits Messi, Ramos, and Donnarumma, PSG also missed Neymar and Di Maria. All of them will be integrated soon into the PSG first team.
Welcome to Paris, Léo. 🔴🔵 pic.twitter.com/ZDO11HSVOw

— Kylian Mbappé (@KMbappe) August 12, 2021