Lionel Messi was officially unveiled as a Paris Saint Germain player on Wednesday. Messi took questions from the press and waved to the fans who came in the thousands to greet him following his move from FC Barcelona.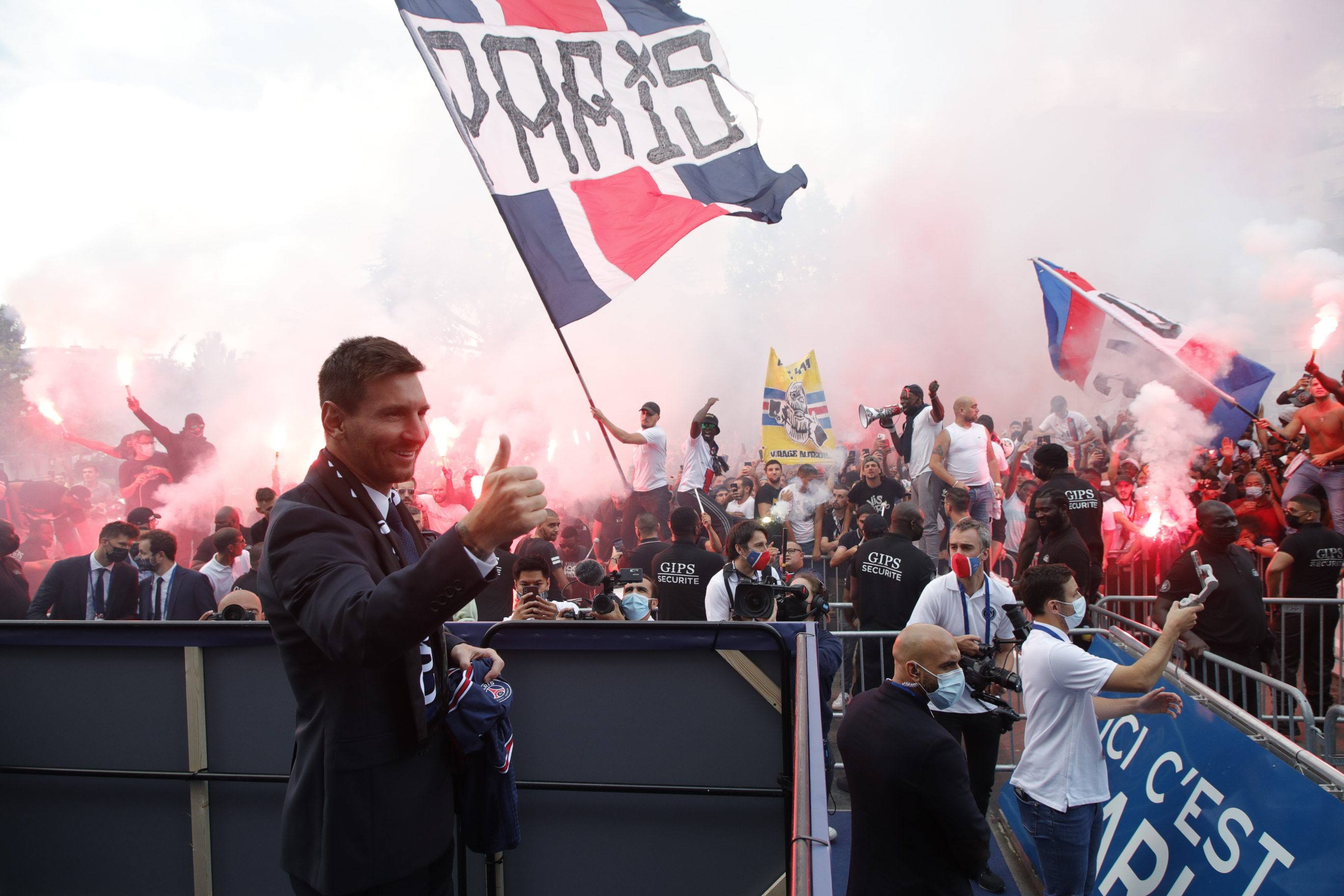 The Argentinean offered his number 30 shirt to one of the supporters and made a small tour around the square in front of the Parc des Princes stadium. Messi will earn $70 million in wages in his two years at PSG, and will receive another $35 million as a signing bonus.
Messi was accompanied by his wife and kids. The six-time Ballon d'Or winner said his relationship with Neymar, Di Maria, and Paredes helped him make his decision to join PSG. Messi was also impressed with the welcome he received from the fans. The forward is eager to start playing and is looking to lift a fifth Champions League trophy at the end of the season.
A new dawn. A new day. A new life. 🔵🔴#MessiPSG #Messi #PSG #PSGxMESSI pic.twitter.com/RLlYyaF93U

— OGCOM (@OGambling) August 11, 2021
"I just came here to help. I'll give my best," Messi said. "My goal and my dream are to win the Champions League again and I think that Paris is the best place to have a chance to win it again … It's very difficult to win it. The Champions League is a very special competition and that's why it's so beautiful and so important. We all want to win this competition," Messi added.
Messi last won the Champions League in 2015 after Barcelona beat Juventus in Berlin.
Paris Saint Germain boss Nasser Al-Khelaifi was asked if Messi's arrival will interfere with the club's Financial Fair-Play alignment. The Qatari businessman said Messi's presence in the press conference room confirms that PSG can comply with all the rules.
😍 Qᴜᴇʟ ᴀᴄᴄᴜᴇɪʟ 😍#PSGxMESSI pic.twitter.com/kro3JECc4H

— Paris Saint-Germain (@PSG_inside) August 11, 2021
"We followed the financial fair play regulations since day one when we started, and until the end, we're going to always fulfill the regulations," Al-Khelaifi said. "Before doing anything, we look with our commercial people, our financial people, legal people. So if you see that we're signing Leo, that's when you know we have the capacity to sign him. If not, we're not going to sign him. We're not going to promise something we couldn't," Al-Kehlaifi explained.
PSG signed a number of other players aside from Messi this summer, including Sergio Ramos, Achraf Hakimi, Gigi Donnarumma, and Gini Wijnaldum.
Al Khelaifi is firm when it comes to star striker Kylian Mbappe staying at PSG beyond this transfer window. Mbappe is out of contract in 2022 and Real Madrid is hoping to sign him by the beginning of September. PSG risk losing their jewel on a free transfer if they don't agree to sell now or in January, at the latest.
"He's really a competitive player and wants to win trophies. He wants a competitive team and I think we've got the most competitive team in the world, so there is no excuse for him now," Al-Khelaifi said. "He can't do anything else but stay," the PSG president vowed.
Following Messi's transfer, PSG became the favorites to win the Champions League in the 2021 -2022 campaign.
🎙 La première intervention de Lionel Messi sur #𝗣𝗦𝗚𝗧𝗩#PSGxMESSI pic.twitter.com/MdbHf4mzK1

— Paris Saint-Germain (@PSG_inside) August 11, 2021