Philadelphia 76ers center Joel Embiid will likely miss two to four weeks after suffering an orbital fracture in his left eye.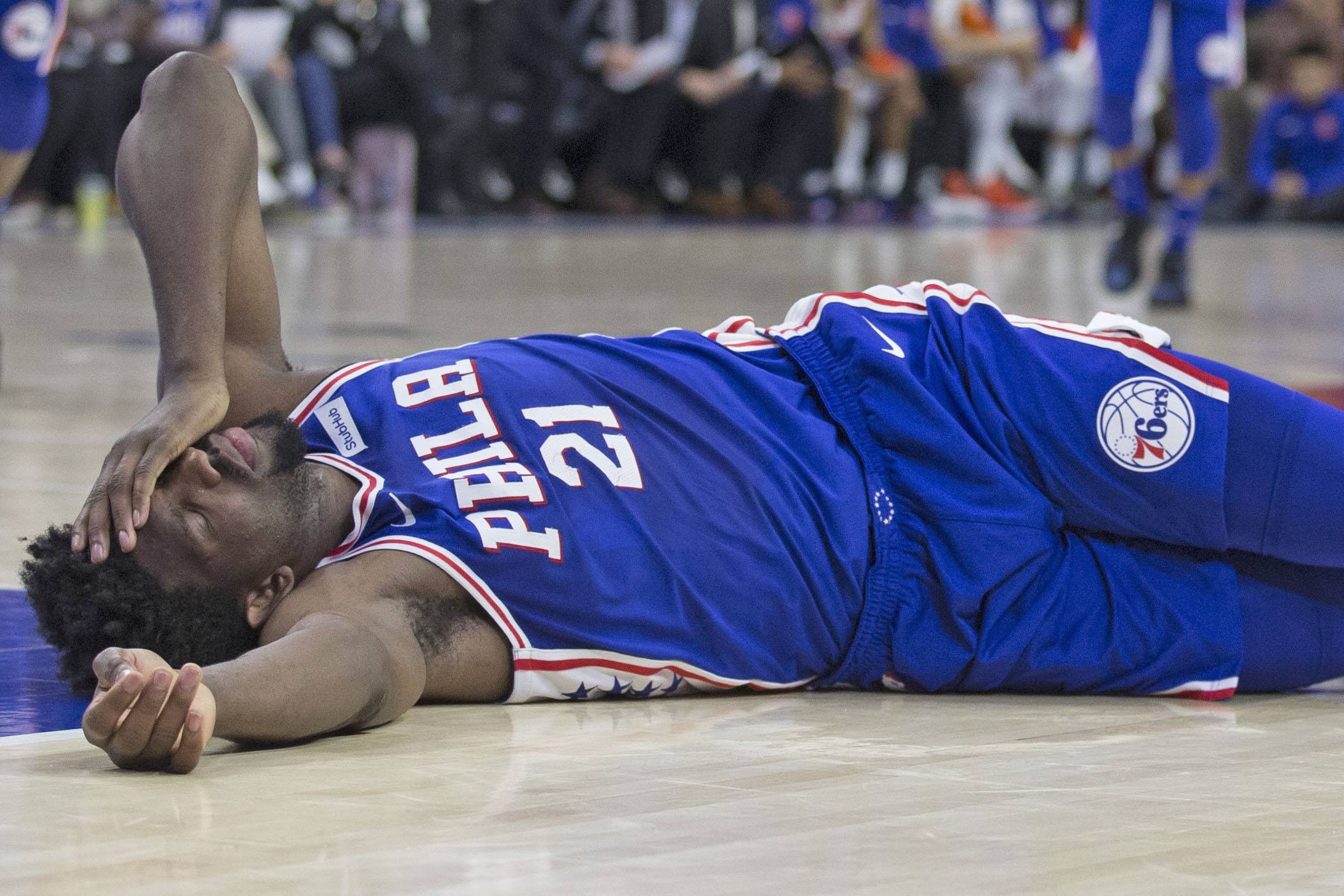 In addition to the orbital fracture, Embiid also sustained a concussion. The injuries occurred when he collided with teammate Markelle Fultz during the 76ers' 118-101 win over the New York Knicks on Wednesday night.
Uncertain Return
ESPN's Zach Lowe reported the two-to-four week timeframe, with the exact length of Embiid's absence dependant on how surgery for the fracture went. Philadelphia coach Brett Brown told reporters on Friday that he did not want to speculate on when he might get his center back.
"After the swelling goes down and whenever the operation happens, we'll all have a better feeling of accurate news," Brown said. "Right now we don't have any information."
Without more information and a little luck, it's likely Embiid will miss at least some of the playoffs. The first round of the NBA postseason begins on April 14.
In the run-up to the playoffs, the Sixers might be able to survive Embiid's absence. The team has already clinched their playoff spot, and currently stands at 44-30, good for fourth place in Eastern Conference. With a relatively easy schedule over their final eight games, it's unlikely that Philadelphia will slip below the No. 5 seed in the East.
Critical to Philly Playoff Potential
But Embiid will be critical to the team when the playoffs begin, and a four-week absence would mean he would almost certainly miss the entire first round. The date on which the 24-year-old Cameroonian star can make it back onto the court could be the difference between a deep playoff run and a first-round exit for Philadelphia.
Embiid is only in his second season in the NBA, but has already established himself as one of the best big men in the league. Last season, he scored 20.2 points and 7.8 rebounds per game despite playing only about 25 minutes a game, an effort that earned him a spot on the All-Rookie Team.
This year saw "The Process" step up his game even further. Embiid was averaging 22.9 points and 11 boards per game before the injury, and was named to the All-Star Game for the first time this season.
With Embiid out of the lineup, it's likely the Sixers will rely more on a smaller lineup, playing without a traditional center at least some of the time. According to Brown, it might also give Philadelphia the chance to try some new things to see what their players are capable of without their big man on the floor.
"We are excited to feel like something will uncover, something will unfold that we might not have seen otherwise," Brown said, according to Keith Pompey of the Philadelphia Inquirer. "Just buy some time, continue to win games and try to get a home-court advantage."
While the 76ers are definitely a team on the rise, they were only a fringe contender for an NBA championship this season, and an injury to one of their stars hasn't helped their odds. At Ladbrokes, Philadelphia is now a 66/1 choice to win a title this year.