Offense, offense, and more offense should be prevalent in Monday's College Football National Championship game, as both Alabama and Ohio State love to score. This contest between the Crimson Tide and the Buckeyes has all the makings of a shootout.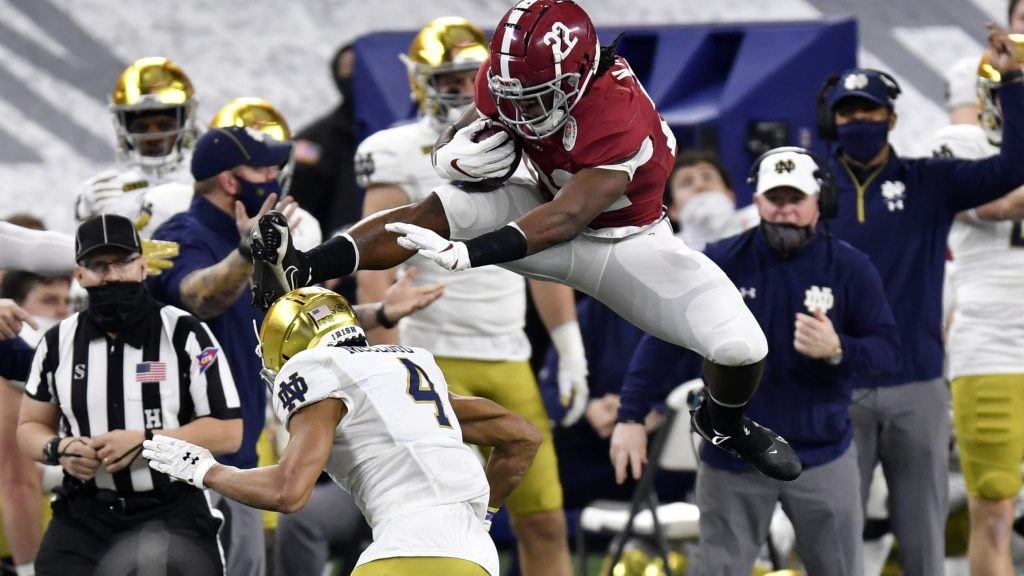 That's why, with this week's One Bet, $100, I'm taking the over of 75 points. That number would usually make me cringe, but I really believe the two teams have the firepower to each score 40 or more points.
I've been high on Alabama all season, though they burned me on my last One Bet, $100. I picked them to cover 17 points against Florida in the SEC Championship game and they barely won, 52-46.
---
One Bet, $100
| | | |
| --- | --- | --- |
| This Week  | Last Bet  | Season Total  |
| Alabama/OSU Over 75 | Lost: Alabama | 3-4, Down $130 |
---
If I have to pick a winner in the National Championship game, I would probably go with Alabama, but I certainly wouldn't feel good about giving away 8.5 points.
I feel more confident in the over. It opened at 76.5 and was immediately bet down to 75.5. I managed to find it at 75 at William Hill.
National Championship Game Features Potent Offenses
Both teams have shown they can score, and not just against patsies. Alabama averaged 48.2 points a game and scored 50 or more points in six games, including the SEC Championship, where they hung 52 on Florida.
There were concerns Ohio State wouldn't be able to generate offense against quality teams because they only played six games. But in those six games, the lowest point total the Buckeyes had was 22 in the Big 10 Championship game against Northwestern.
When they faced Clemson in the semifinal game of the College Football Playoff, they destroyed the No. 2 Tigers, 49-28. They enter this game against the Crimson Tide averaging 43.4 points in seven games.
Ohio State head coach Ryan Day said the team's offensive philosophy has been constant, but this year, it's been taking off.
"Each year it's changed, tweaked here and there, but at the end of the day, I think the basis of (the offense) has pretty much stayed the same," Day said.
Ohio State did get a scare in the Clemson game when quarterback Justin Fields suffered a brutal hit. He was seen grimacing on the sidelines, but Day said he should be ready to go on Monday.
Both Defenses Might Struggle
While the offenses for both Ohio State and Alabama have been spectacular, the defenses aren't as solid as they have been in previous years. Alabama is allowing an average of 353.2 yards a game, which is almost double what they allowed last year.
Crimson Tide head coach Nick Saban told reporters this week the game has definitely become more offense-oriented.
"I don't think there's any question about the fact that college football has changed dramatically in the last 10, 12 years," Saban said. "I think the advent of the spread, RPOs, blocking downfield when passes are caught behind the line of scrimmage, all those things have dramatically changed the style of play offensively, and that affects every part of the game."
Why the Over Will Hit
With both teams putting more emphasis on scoring, the final result could easily be over 75 points. Defenses for both Alabama and Ohio State are down from previous years, and that could definitely lead to more points than expected being scored.
This game should go over, not just because of the defenses, but because of the potency of the offenses. They seem to be able to score at will, no matter who they are facing.