The Netherlands reached its fifth straight gold medal game in women's Olympic field hockey on Wednesday, dispatching Great Britain 5-1 to set up a confrontation with Argentina on Saturday.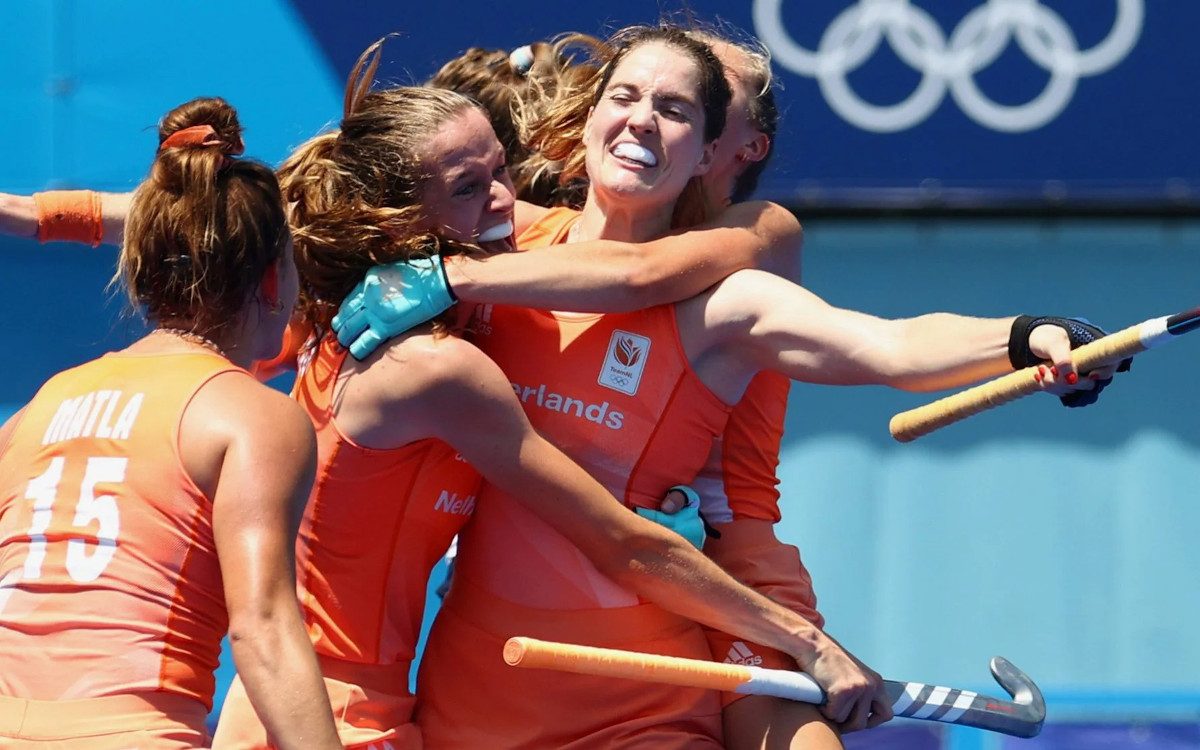 The Argentinians eliminated India 2-1 to book their place in the final, where they'll seek the nation's first gold medal in women's field hockey after twice coming away with silver since 2000.
Netherlands gets sweet revenge against Great Britain
The Netherlands has simply overpowered teams throughout the tournament, and that was no different on Wednesday. Great Britain did well to keep the Dutch off the scoreboard for 18 minutes, but two quick goals gave the Netherlands what proved to be an insurmountable lead. Giselle Ansley scored a consolation goal for Great Britain, but it was far too little to impact the result.
For the Netherlands, the win also avenged a penalty shootout loss to Great Britain in the 2016 gold medal match. Several Dutch players appeared to revel in their win.
"I think everyone had their own personal reason why we wanted to beat them so badly," Dutch captain Eva de Goede told reporters. "We have the feeling that those girls always have a lot of bravado, almost arrogant. We really wanted to show today that they certainly don't come near us. I'm glad we were able to play our own game and knock them all out."
The Netherlands has now outscored its opponents 26-3, winning all seven games so far in the tournament. Great Britain came the closest to dinging the Dutch, losing just 1-0 in their group stage encounter.
Meanwhile, Argentina has played well in the women's field hockey tournament, but certainly not to the Dutch standard. The Argentinians went 3-2 in pool play, then beat Germany 3-0 in their quarterfinal matchup. They then edged the surprising Indian side to find their way into the final.
Argentina features a balanced attack, with four players scoring multiple goals in the tournament. Meanwhile, Frederique Matla leads the Netherlands – and the entire tournament – with nine goals, while teammate Felice Albers is second in both regards with six.
India chases first women's field hockey medal
On paper, the women's field hockey final looks like a mismatch. Sportsbooks seem to agree with that assessment. BetMGM rates the Netherlands as a -350 favorite over Argentina (+550) in the gold medal match.
---
Women's Olympic Field Hockey Odds – Gold Medal Match (via BetMGM)
Netherlands: -350
Draw: +575
Argentina: +550
Bronze Medal Match
Great Britain: -400
Draw: +550
India: +600
---
There could be more drama in the bronze medal encounter. While Great Britain suffered a resounding loss at the hands of the Netherlands, players say they are still motivated to fight for a place on the podium.
"We haven't become a bad team after one game and we are still going to fight for this bronze medal, which we would be incredibly proud of if we come away with it," British goalkeeper Maddie Hinch told reporters.
India has never won a medal in women's field hockey, a surprising fact for a country that once dominated the men's game. Vandana Katariya leads India with three goals in the tournament. Still, Great Britain (-400) enters as a substantial favorite over India (+600) in the bronze medal match.