The Colorado Avalanche will host the Edmonton Oilers for Game 2 of the Western Conference final on Thursday, with both teams hoping they can do something to slow down their opponent's scoring barrage.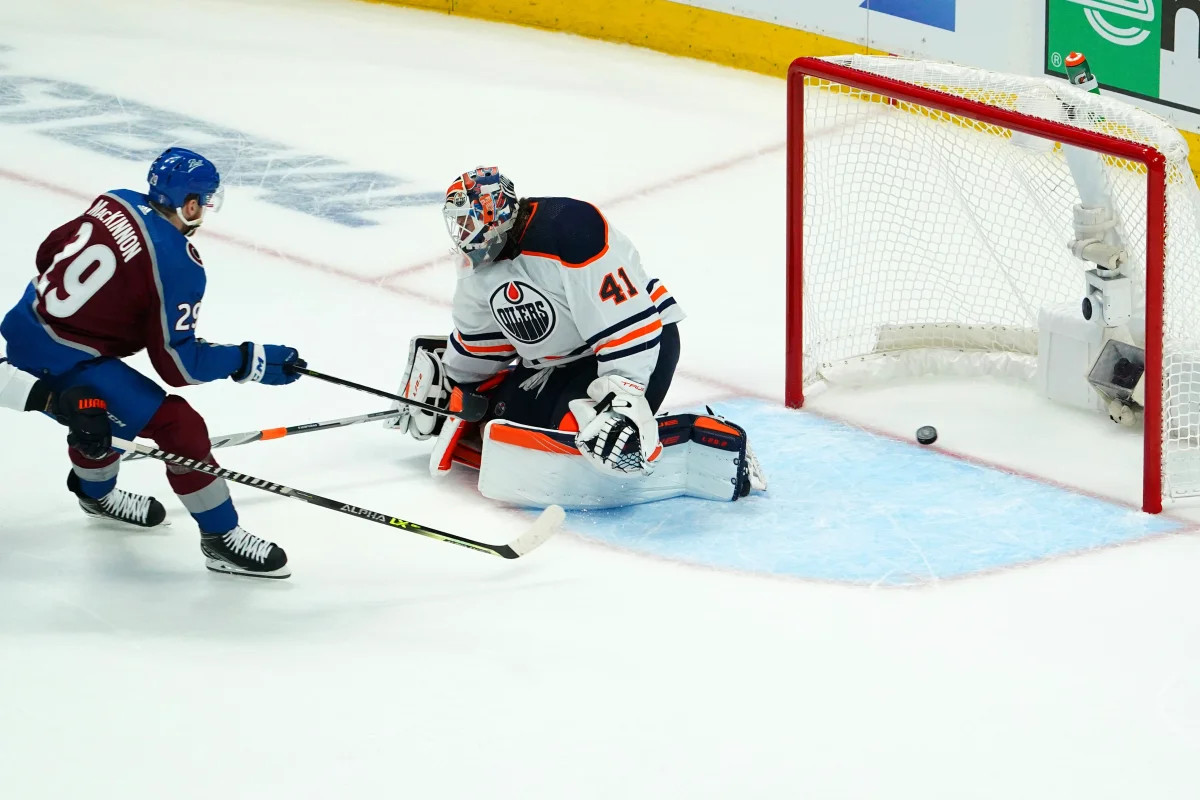 Colorado rates as the -172 favorite over Edmonton (+142) in Game 2, according to FanDuel Sportsbook.
Avalanche outscore Oilers in wild Game 1
The Avalanche won Game 1 by an 8-6 score. Somehow, the game appeared even wilder than that score suggests.
On three different occasions, two coals were scored in under a minute. By 6:20 into the second period, Colorado held a 6-3 lead. Yet when Ryan Nugent-Hopkins scored on a power play at 12:36 in the third, the Oilers had clawed back to within one goal at 7-6. Gabriel Landeskog finally put the game away with an empty-netter in the final minute.
Edmonton has been in this situation before. In their second-round series, they lost Game 1 by a score of 9-6 to the Calgary Flames. The Oilers also dropped Game 1 of their opening series to the Los Angeles Kings by a 4-3 score.
Oilers coach Jay Woodcroft says the way his team bounced back before means they can do it again against Colorado.
"In all three of those games, they were tied or within one goal," Woodcroft told reporters. "We didn't play perfectly. We know we can be better just like we could be better after Game 1 versus LA, just like we could be better after Game 1 versus Calgary."
Whenever there's so much scoring, attention inevitably turns to the goalies. Both teams say they don't blame their netminders for the high score, but it's still an open question as to whether anyone can put in the kind of performance that might frustrate one of these high-powered offenses.
Francouz replaces injured Kuemper in net
Pavel Francouz will start in net for Colorado in Game 2. He took over for Darcy Kuemper midway through the second period of Game 1 after Kuemper suffered an upper-body injury.
Francouz has already amassed plenty of playing time this postseason. He took over for an injured Kuemper during Colorado's first-round series against the Nashville Predators, and has gone 3-0 with a 3.59 goals-against average during the playoffs.
"He's been outstanding for us all year," Colorado forward Logan O'Connor told reporters. "We have the utmost confidence in him. He's a great team player, always trying to learn, always working hard on the details. We don't have to change much in front of him."
Woodcroft waited to announce his starter for Game 2, but ultimately went with usual Oilers starter Mike Smith. While Smith has gone 8-3 with a 3.12 GAA in the playoffs, Woodcroft pulled him from Game 1 after he allowed six goals on 25 shots. Mikko Koskinen then stopped 20 of 21 shots for the remainder of the game. However, Woodcroft is showing faith in his starter.
"When you're on the bench halfway through the game, it's not a good sign," Smith said of his Game 1 performance. "In saying that, it's one game and I've been in this position before, so you park it. It's a long series."