The Colorado Avalanche can advance to the second round of the Stanley Cup Playoffs tonight with a win in Nashville, but they'll have to beat the Predators without starting goaltender Darcy Kuemper.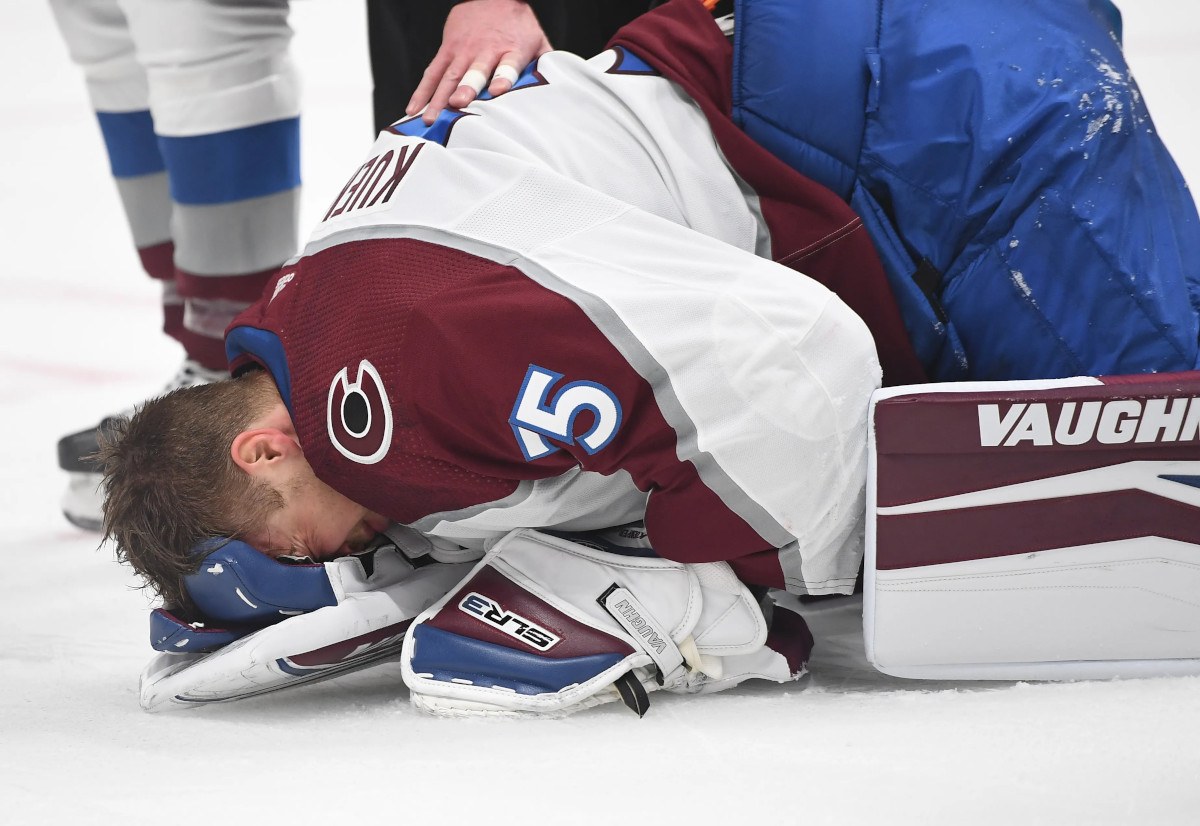 FanDuel Sportsbook lists Colorado as a -255 favorite to close out the series against Nashville (+205) tonight.
Francouz in goal for Colorado on Monday
Kuemper suffered a swollen right eye after Predators center Ryan Johansen poked him with a stick through his mask during Saturday's Game 3. Pavel Francouz came off the bench to play over two periods in relief of Kuemper, and will start on Monday night.
AHL goaltender Justus Annunen will serve as Francouz's backup. Annunen recently played in the Calder Cup Playoffs.
"He's sharp and has been in the net recently, so in case something happens tonight, we want Annunen here to back up," Avalanche coach Jared Bednar told reporters.
The loss of Kuemper didn't slow down the Avalanche on Saturday. Colorado pulled away to beat the Predators 7-3 and take a commanding 3-0 lead in the series.
Colorado rates as the +220 favorite to win the Stanley Cup this year, and an astronomical -50000 pick to get past the Predators, whether that happens tonight or further down the line. However, Nashville is trying to take the series one game at a time, beginning with Monday night.
"The mindset for us hasn't changed at all," Filip Forsberg, who may leave Nashville after this season, told reporters. "We just take one game at a time. Obviously we're aware of the situation that we're in. But at the same time we've just got to win, keep this series alive, and that's really all we're focusing on."
Predators seek first lead vs. Avalanche in series
Nashville's task may be even more monumental than it looks on paper. Not only have the Predators failed to win a game so far in this series, they haven't even held a lead at any point. Predators coach John Hynes says that will have to change early for his team to get back in this series.
"To get a lead and get a goal, I think, obviously ignites the building and settles guys down, lets guys settle in," Hynes told reporters. "If we get to the game that we feel gives us the best chance to win, that's the first step."
On the other hand, the Avalanche want the series to continue exactly as it has played out in the first three games. Colorado will do everything it can to avoid a letdown on Monday night.
"We got to continue to play the same way we have in the first three games in the series," Bednar said. "I've liked all three games from our group. Just stay resilient."