Matteo Berrettini put up a fight in the Wimbledon men's final on Sunday but, ultimately, couldn't stop Novak Djokovic from winning his 20th Grand Slam to tie Roger Federer and Rafael Nadal for the most all-time major wins in tennis.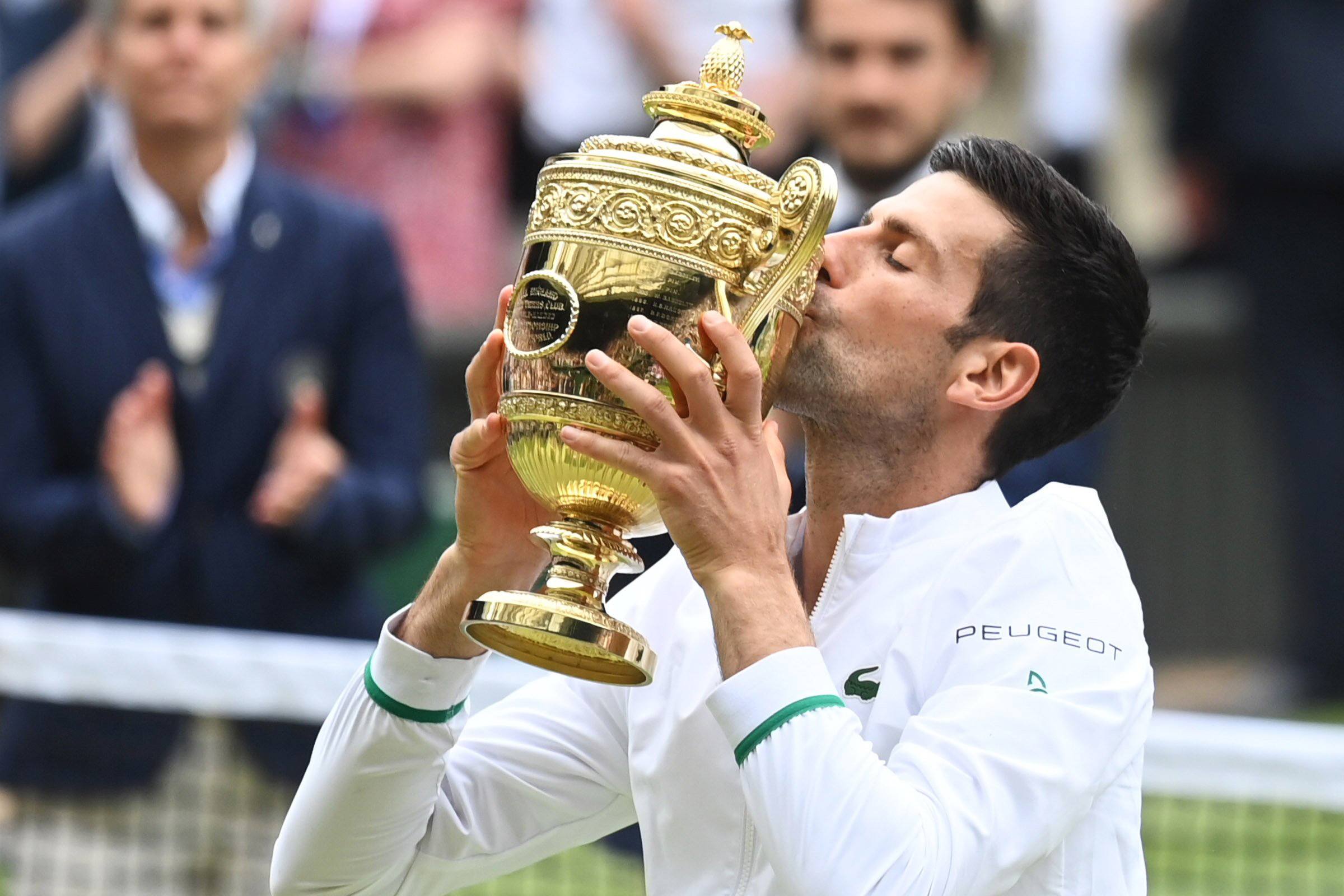 Djokovic came back from a set down to beat Berrettini 6-7 (7-4), 6-4, 6-4, 6-3 in the Wimbledon final.
Djokovic thrusts himself into the GOAT conversation
While the conversation around the tennis GOAT has often pitted Federer vs. Nadal, Djokovic – at just 34 years old – could force pundits to put him at the top of the list if he keeps winning in the near future.
"I have to pay a great tribute to Rafa and Roger," Djokovic said after his historic win. "They are legends of our sport and they are the two most important players that I've ever faced in my career. They are I think the reason that I am where I am today."
Djokovic could potentially take the all-time men's Grand Slam lead as early as September at the US Open. The world's No. 1 player will come into New York as the clear favorite to win and complete a calendar-year Grand Slam, something that no man has done since Rod Laver accomplished that feat in 1969.
FanDuel Sportsbook currently rates Novak Djokovic as the -115 favorite over the entire field at the 2021 US Open. Daniil Medvedev (+550), Dominic Thiem (+600), and Nadal (+650) are among those who could challenge Djokovic in the final rounds, with Federer (+1400) still a dark horse even as he turns 40 years of age.
"I could definitely envision that happening," Djokovic said of the calendar-year Grand Slam. "I'm going to definitely give it a shot. I'm in a great form and obviously playing well."
Barty cements No. 1 ranking heading into US Open
Meanwhile, Ashleigh Barty is just beginning to build her career legacy. The Australian defeated Karolina Pliskova 6-3, 6-7 (7-4), 6-3 at Wimbledon on Saturday to win her second career Grand Slam title.
Barty won the 2019 French Open and came into Wimbledon as the favorite after Naomi Osaka dropped out prior to the event. She has solidified her hold on the No. 1 ranking, and at 25 years of age, isn't much older than other young stars like Osaka (23), Aryna Sabalenka (23), Sofia Kenin (22), or Bianca Andreescu (21).
"I wouldn't change a thing," Barty said after her win, speaking of her journey to becoming a Wimbledon champion. "I've learned so much throughout my life and throughout my career, I certainly wouldn't change. I have no regrets. I wouldn't change any experience that I've had."
Unlike Djokovic, Barty ranks among a group of women who are nearly co-favorites at the US Open later this summer. FanDuel lists Osaka as the +410 pick to win the tournament, just ahead of Barty and Andreescu. Serena Williams and Simona Halep are both lurking at +1000 picks as well.