Cleveland Browns linebacker B.J. Goodson learned Saturday he tested positive for COVID-19, and the NFL discovered evidence of those who came into his orbit not wearing masks or social distancing.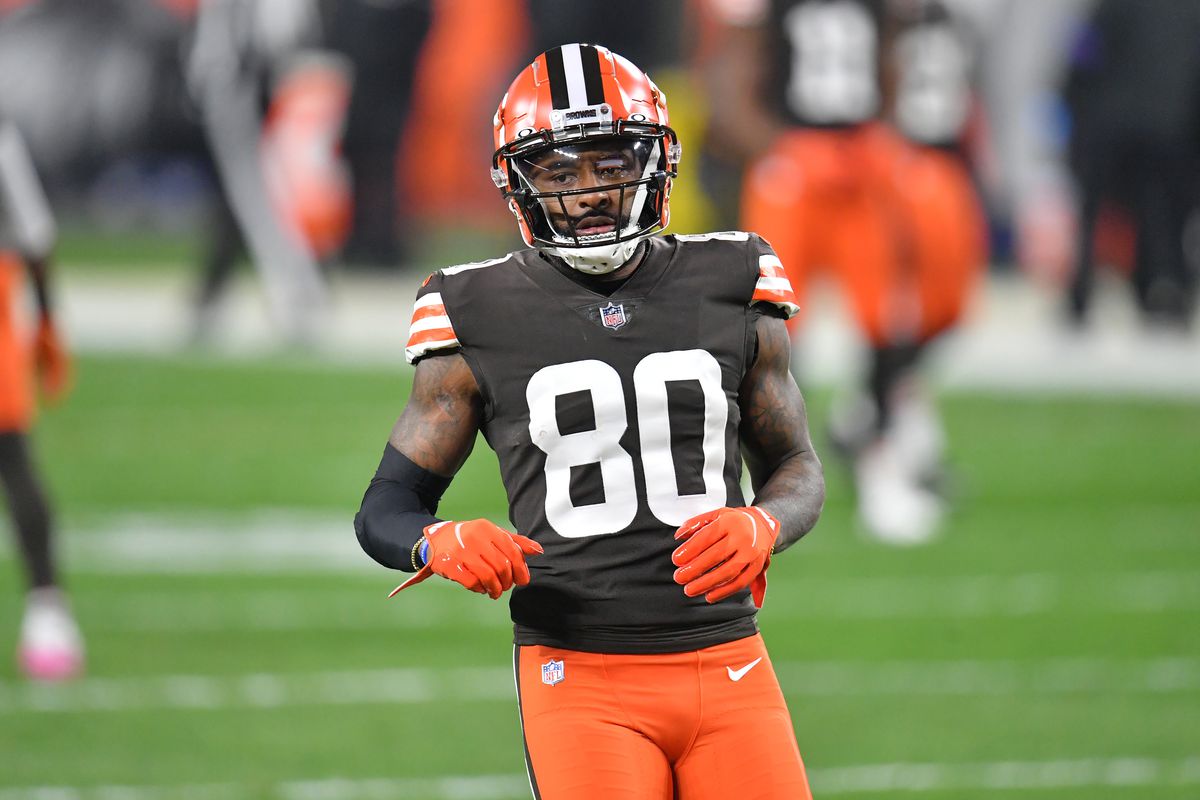 As a result, the NFL put several Browns players, including four of Cleveland's (10-4) top five receivers, on the reserve/COVID-19 list for Sunday's contest vs. the 1-13 Jets.
The league's medical experts analyze video of team activities and scrutinize it for distance, use of masks, and ventilation (whether they're indoors or outdoors) to determine whether an individual is high-risk.
#Browns players who were identified as high-risk close contacts of linebacker B.J. Goodson were in the team's recovery pool area with him, source confirmed

— Nate Ulrich (@ByNateUlrich) December 27, 2020
As a result of this determination the quartet of starting pass-catchers, Jarvis Landry, Rashard Higgins, Donovan Peoples-Jones, and KhaDarel Hodge landed on the list late Saturday in addition to Goodson and fellow linebacker Jacob Phillips.
Marvin Hall, the only receiver left on the active roster, hasn't played a snap for the Browns since he was claimed off waivers earlier this month. The Browns also elevated receivers Ja'Marcus Bradley and Derrick Willies and linebacker Montrel Meander from the practice squad.
No other Browns tested positive Saturday and Cleveland's game against New York is scheduled to start as expected at 1 p.m. EST at MetLife Stadium.
Short-Staffed Teams Haven't Done So Hot on the Field This Season
If we've learned anything this season, it's that teams playing with large swaths of position players or coaches out due to COVID-19 usually do not fare well. We discovered it on Nov. 29 when Denver, missing all four of its quarterbacks, lost badly to the Saints. And we saw it again yesterday, when the Detroit Lions, 10.5 underdogs to the Tampa Bay Buccaneers, were without a single qualified coach or experienced play-caller. Tampa won 47-7.
The Browns-Jets line shrunk to Cleveland +10 early Sunday in the wake of the news. The Jets, coming off their first victory of the season last week, may be able to exploit Browns' quarterback Baker Mayfield's lack of options.
The NFL said the Browns reportedly learned of Goodson's positive test Saturday morning. They started to work with NFL medical officials on contact tracing, including analysis of video, interviews, and data from tracking devices. This resulted in the postponement of the team flight to New Jersey. The team plane finally left Cleveland at 7 p.m. ET.
As with the Detroit-Tampa Bay game Saturday, Cleveland was not granted a postponement despite their personnel deficiencies.