The Denver Broncos confirmed Saturday night that they were out of quarterbacks and yet, the show goes on vs. the Saints on Sunday as the COVID-era NFL reached its most farcical, and perhaps dangerous, stage in Week 12.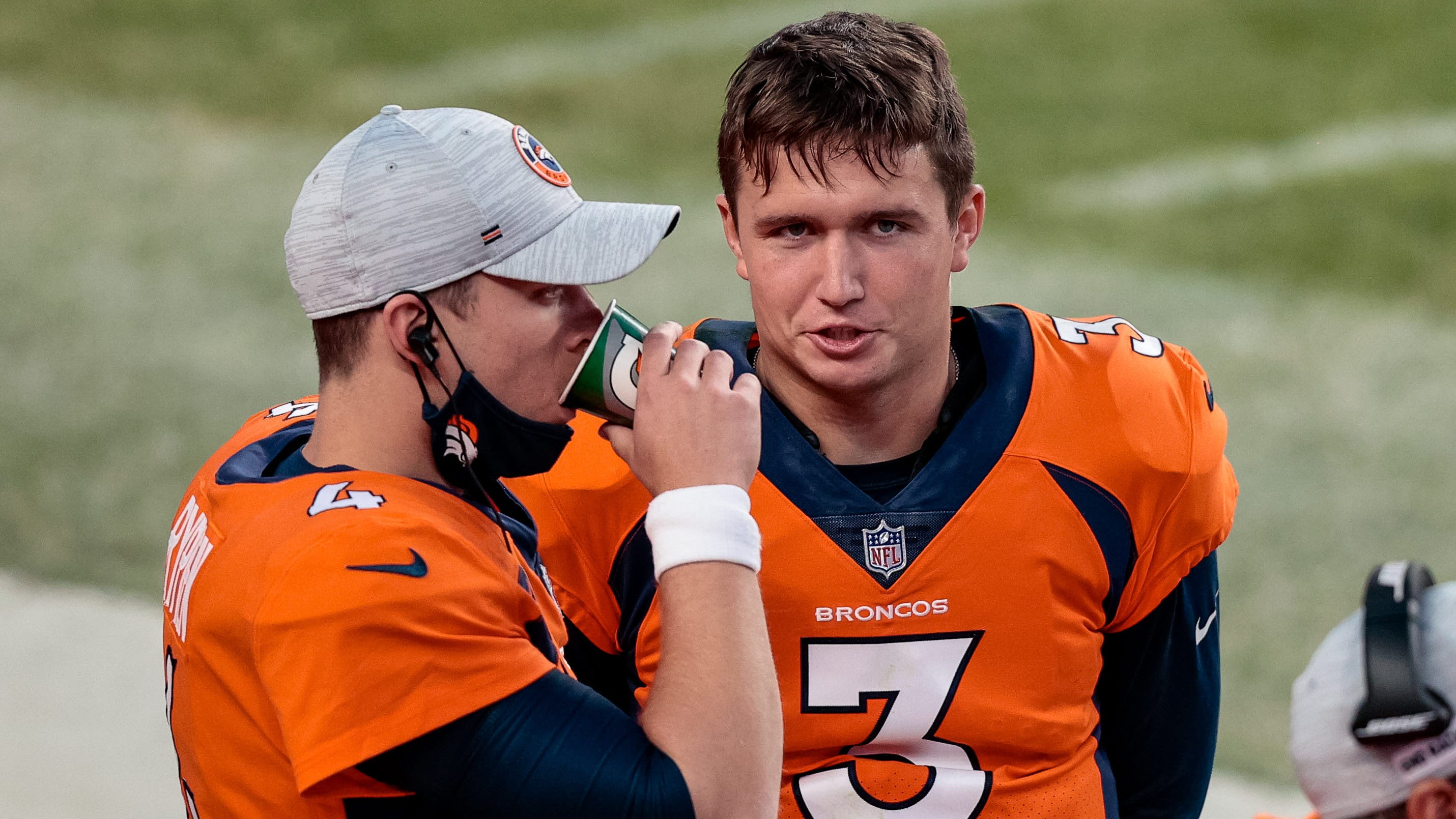 It started when backup QB Jeff Driskel tested positive for COVID-19 on Thursday. By Saturday morning, starter Drew Lock and backups Brett Rypien and Blake Bortles had been sent home as news broke that they'd all been in a meeting room together this week.
Broncos Ask League if Assistant Coach Could Play
While Lock, Rypien, and Bortles took rapid tests and initially came up negative, they're defined as high-risk and have entered the league's mandatory five-day quarantine.
The Broncos tried everything, including asking the league if Rob Calabrese, a former college quarterback and their offensive quality control coach for the past two years, could start.
Even though undrafted rookie practice squad WR Kendall Hinton is expected to start at QB today vs. the Saints, the Broncos wanted their starting QB to be Rob Calabrese, their offensive quality control coach for the past two years, per sources.https://t.co/w51G6rvIr6

— Adam Schefter (@AdamSchefter) November 29, 2020
The league said no.
That left Denver with undrafted rookie practice squad wide receiver Kendall Hinton as the starter on Sunday. This will be the first NFL start for Hinton, who used to take snaps at Wake Forest.
The Line Goes Crazy
Before the Bronco's announcement on Saturday afternoon, the Saints were favored by 6.5 points and the over-under was 43.
The quarterback news sent the line skyrocketing. New Orleans blew up to a 15.5-point favorite as the over-under crept down to a 2020 season-low of 36 points.
The Broncos are 4-6 overall and 2-3 at home, while New Orleans is 8-2 overall and 3-1 on the road.
Twitter, of course, did it's thing in response to the news.
Of course you want Kendall Hinton to do well but let's be clear: what's happening in Denver is not a feel good story. It's a total disaster and no way in hell should this game be played today.

— mike freeman (@mikefreemanNFL) November 29, 2020
Since Peyton Manning's retirement, Broncos have fallen out of the national spotlight with mediocre quarterbacks.

All it took was no QBs for Denver to get back into the national conversation. pic.twitter.com/1WcEK70MHc

— Jon Heath (@ByJonHeath) November 29, 2020
The QB matchup in Saints/Broncos is Taysom Hill vs Kendall Hinton.

NEITHER has thrown a single career Pass TD. pic.twitter.com/tv4BJBfnan

— CBS Sports (@CBSSports) November 29, 2020
One month ago, he worked in sales.
One day ago, he woke up a practice squad player with no idea he was about to play in his first #NFL game.
Today, @Kendall_Hinton2 woke up as a @Broncos starting quarterback.

— Rich Eisen (@richeisen) November 29, 2020
The more I think about it, the more I just hope nobody gets hurt for the Broncos today.

It's not right that a player who hasn't even taken one practice snap at QB has to go out there and play in the best league in the world.

Player safety was certainly not prioritized here.

— RK (@RyanKoenigsberg) November 29, 2020