Plans for horse racing's newest female star – you know her as Letruska – remain fluid entering the week, less than 48 hours after the 5-year-old mare's stirring Apple Blossom Handicap victory.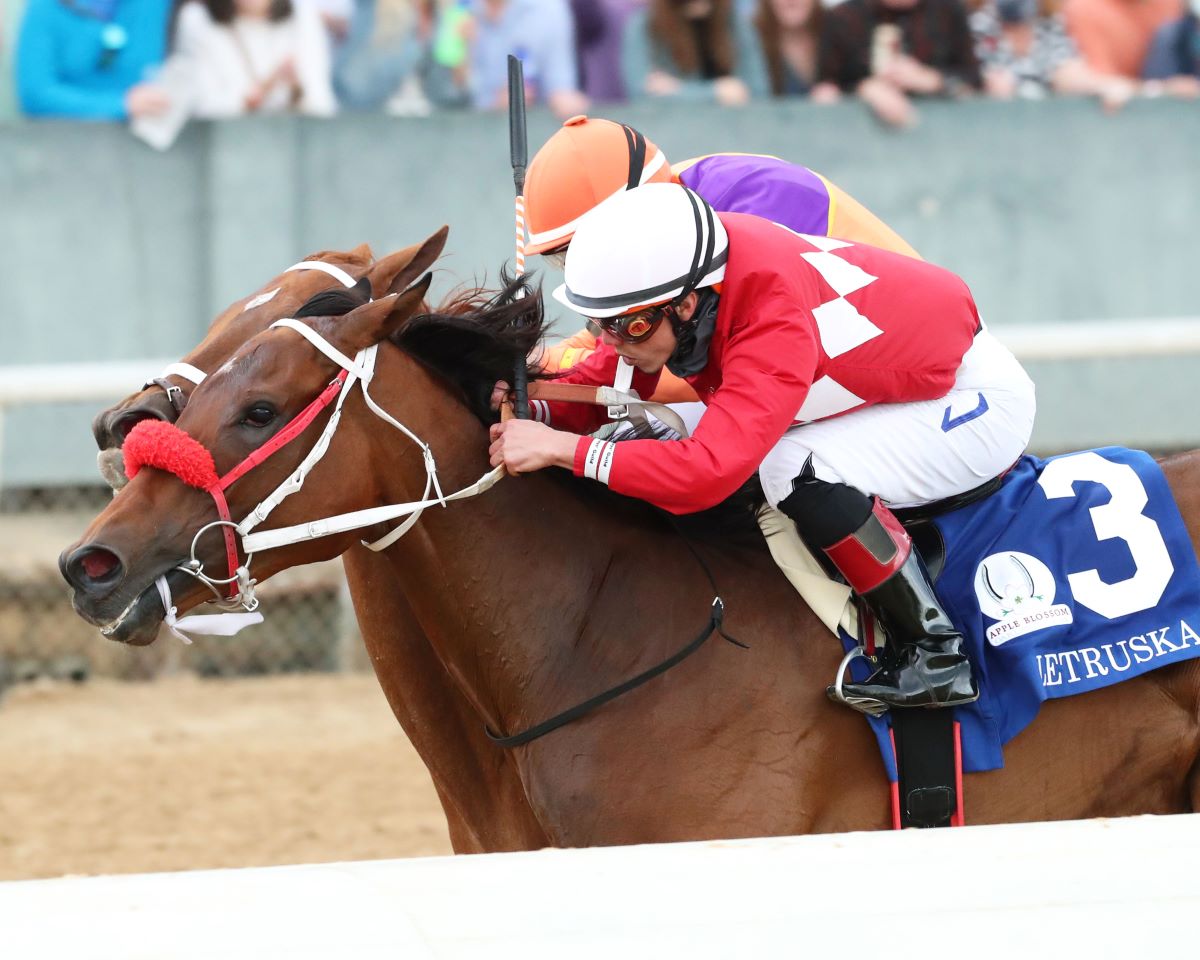 'I think we're going to take a little bit more time with her," trainer Fausto Gutierrez told Oaklawn Park's Jennifer Hoyt. "The plan is to go to the Breeders' Cup. We need to check in the middle, which races we can go to."
This is good news for racing, no matter how you parse it. It means we're in for more stirring stretch duels like the one Letruska and Monomoy Girl turned in on Saturday. The two mares dueled all the way down the stretch, with Letruska sticking her nose in front at the wire.
The ending was apt. In the Grade 2 Azeri at Oaklawn a month earlier, Shedaresthedevil nosed out Letruska at the wire.
"We lost in the Azeri by a head. Here, we win by a nose," Gutierrez said. This nose made a big difference."
A head here, a nose there
So did Letruska's dependence on her early speed. She didn't break clean, but she took command by the first turn of the 1 1/16-mile race. Monomoy Girl took up residence on the outside, perched off Letruska's shoulder in her customary stalking spot. Meanwhile, Swiss Skydiver – who did break cleanly – hung a length back.
On the backstretch, Letruska left Swiss Skydiver an opening on the rail. For whatever reason, Robby Albarado, aboard the Champion 3-Year-Old Filly, elected not to take it. That essentially ended Swiss Skydiver's race. She hung around until mid-stretch – with another rail opening – but had nothing left but a third-place finish, 6 ½ lengths back.
So, the stretch duel everyone anticipated played out. It just didn't play out with the expected duo. Monomoy Girl made her move at the top of the stretch, taking a brief lead midstretch. But when Irad Ortiz Jr. tapped Letruska with the whip, she responded, drawing even with Monomoy Girl. The two rolled down deep stretch inseparable until Letruska stuck her nose in at the wire.
Letruska paid $8.80 for her 4/1 upset win. Monomoy GIrl went off at 3/5, Swiss Skydiver 9/5.
Letruska got the perfect trip with the perfect rider
"I got the right trip. She likes to be on the lead. I let her go, let her make the lead. She relaxed and I was able to save something for the end. She responded really well," Ortiz said after the race.
"She's a horse with a lot (of) character," Gutierrez said.
It's not like Letruska and her character came out of nowhere. She won three graded stakes at three different tracks between her Aug. 30 Shuvee Stakes win at Saratoga and her January 31 Houston Ladies Classic triumph at Sam Houston Park. In between, the daughter of 2010 Kentucky Derby winner Super Saver stopped off at Gulfstream Park in mid-December and captured the Rampart Stakes.
All three of those were Grade 3s. Gutierrez said the Apple Blossom victory made Letruska the first horse – male or female – to win a US Grade 1 after beginning their career in Mexico. Three weeks before that Shuvee Stakes win, Letruska made her US Grade 1 debut finishing fifth in the Ballerina Stakes at Saratoga.
Letruska brought speed — if you paid attention
And it's not like Letruska didn't bring tactical speed to her various stops. Counting the Apple Blossom, which brought her a career-best 102 Beyer Speed Figure, Letruska's last four Equibase Speed Figures were 112 (Apple Blossom), 111 (Azeri), 108 (Houston), and 109 (Rampart).
By comparison, Monomoy Girl's last four were 112 (Apple Blossom), 108 (Bayakoa), 113 (Breeders' Cup Distaff), and 107 (La Troienne). Not a lot to parse there.
And now, like Monomoy Girl and Swiss Skydiver, Letruska is a millionaire. The $600,000 first prize out of the $1 million purse pushed her career earnings north of $1.15 million. The victory, meanwhile, pushed Letruska's career record to 13-1-1 in 18 starts.
"For me, this is incredible because I come from a small racetrack in Mexico City," Gutierrez said. "This horse started her career there. We had the confidence to send her here (US) and she started to improve, improve and improve. She's run at different tracks. She's run at Houston, Saratoga, Gulfstream. She's a very tough horse, but this is the best result she's had in her career."