Again, when you're handicapping a Monomoy Girl race, like Sunday's Grade 3 Bayakoa Stakes at Oaklawn Park, it's best to put the pen down. Instead, pick up your attention and simply watch.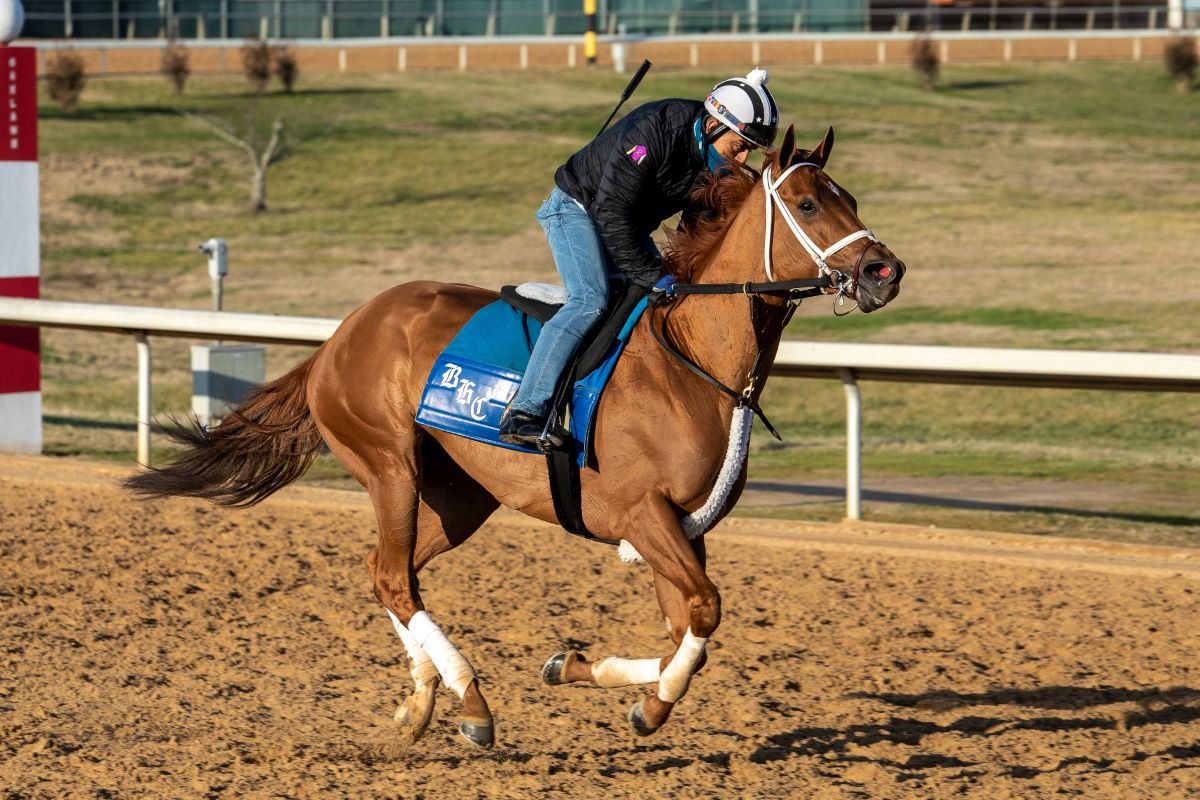 Betting on Monomoy Girl, especially in a race like this, lacks value. For horse racing fans, however, it lacks nothing else. Especially wonder.
Wonder at how a $100,000 yearling purchase from a second-string sire (Tapizar) who started on the grass at Indiana Grand became one of the best mares this century.
So watching even-money Monomoy Girl open her 6-year-old campaign in the 1 1/16-mile Bayakoa won't give you I-cashed-a-big ticket bragging rights. But it gives you I-saw-her-when bragging rights.
Monomoy Girl Brings Special Nature to Bayakoa
"There's not another one like her, as far as how she came up and transferred to the dirt," trainer Brad Cox told Oaklawn's Jennifer Hoyt. "She's a special horse."
How special? You're watching a two-time Eclipse Award-winning mare and the current Champion Older Dirt Female of 2020. You're watching a mare who is 13-for-15 with more than $4.42 million in career earnings – and that's without her 4-year-old season, when Monomoy Girl was out with various injuries.
Of that 13-2-0 record, Monomoy Girl lost one race via disqualification – when she was flagged for stretch interference in the 2018 Cotillion Stakes. Seven of those 13 victories came in Grade 1s, including the 2018 and 2020 Breeders' Cup Distaffs. Coming out of that 18-month layoff, Monomoy Girl won all four of her 2020 races.
'One of the Best Fillies That's Ever Lived'
"To me, she's one of the best fillies that's ever lived," bloodstock agent Liz Crow said. "I know that maybe sounds a little aggressive, but she did win the Breeders' Cup twice and she's one of only three fillies or four fillies to ever do that. She's the only filly in history to win the five Grade 1s she won as a 3-year-old: the Oaks, the Ashland, the Acorn, the Coaching Club and the Breeders' Cup. To me, she's done it all. She's really answered all the questions, and she deserves to be a Hall of Famer, I think, one day."
Monomoy Girl's Hall credentials are beyond reproach. For that matter, so is Crow's opinion. Known as one of the top bloodstock agents in North America, she was the agent who identified, selected and purchased Monomoy Girl for her original owner, Sol Kumin.
And now, Monomoy Girl makes her Oaklawn debut. Cox said he's using the Bayakoa as a steppingstone for the April 17 Grade 1 Apple Blossom Handicap. That $1 million race is one of the top route races for older fillies and mares – the perfect place for Monomoy Girl to find her 2021 stride.
Spending an Easy Winter in the Big Easy
She spent the winter back at Cox's Fair Grounds barn after the Eclipse-winning trainer took her back from Spendthrift Farm. The powerhouse farm bought Monomoy Girl for $9.5 million the day after her Breeders' Cup victory, then gave her back to Cox. He kept her on a light training schedule through November and December, dialing her in for her 2021 farewell tour.
"She takes her track with her. It's not like she's only good at Churchill or Keeneland," said jockey Florent Geroux, who rode Monomoy Girl in her last 14 starts. "She goes anywhere: East Coast, Midwest, and does great everywhere she goes. I think that's one of the main assets for her."
Monomoy Girl owns victories at Churchill Downs, Keeneland, Belmont Park, Saratoga, Fair Grounds and that maiden-breaking debut at Indiana Grand. Oaklawn would be her seventh winner's circle should she capture the Bayakoa.
If You Must Bet the Bayakoa, Go Exotic
The six-horse Bayakoa field is light on serious threats. The only other horse in the picture is Finite (9/5), who owns six victories in 12 races and $775,869 in career earnings. But while Finite has three graded-stakes wins, the Steve Asmussen charge doesn't own a Grade 1 victory. She also owns only two triple-digit Equibase Speed Figures.
The pick: Monomoy Girl. Again, after the money cascades in, you won't get her at even-money. But you will get a Hall-of-Famer opening her farewell season. Savor it.