You could make a credible case the Grade 1 Apple Blossom Handicap at Oaklawn Park is the clubhouse leader for the best race of 2021. The reason you can make that case leads you to make cases for the two principals in Saturday's Oaklawn headliner.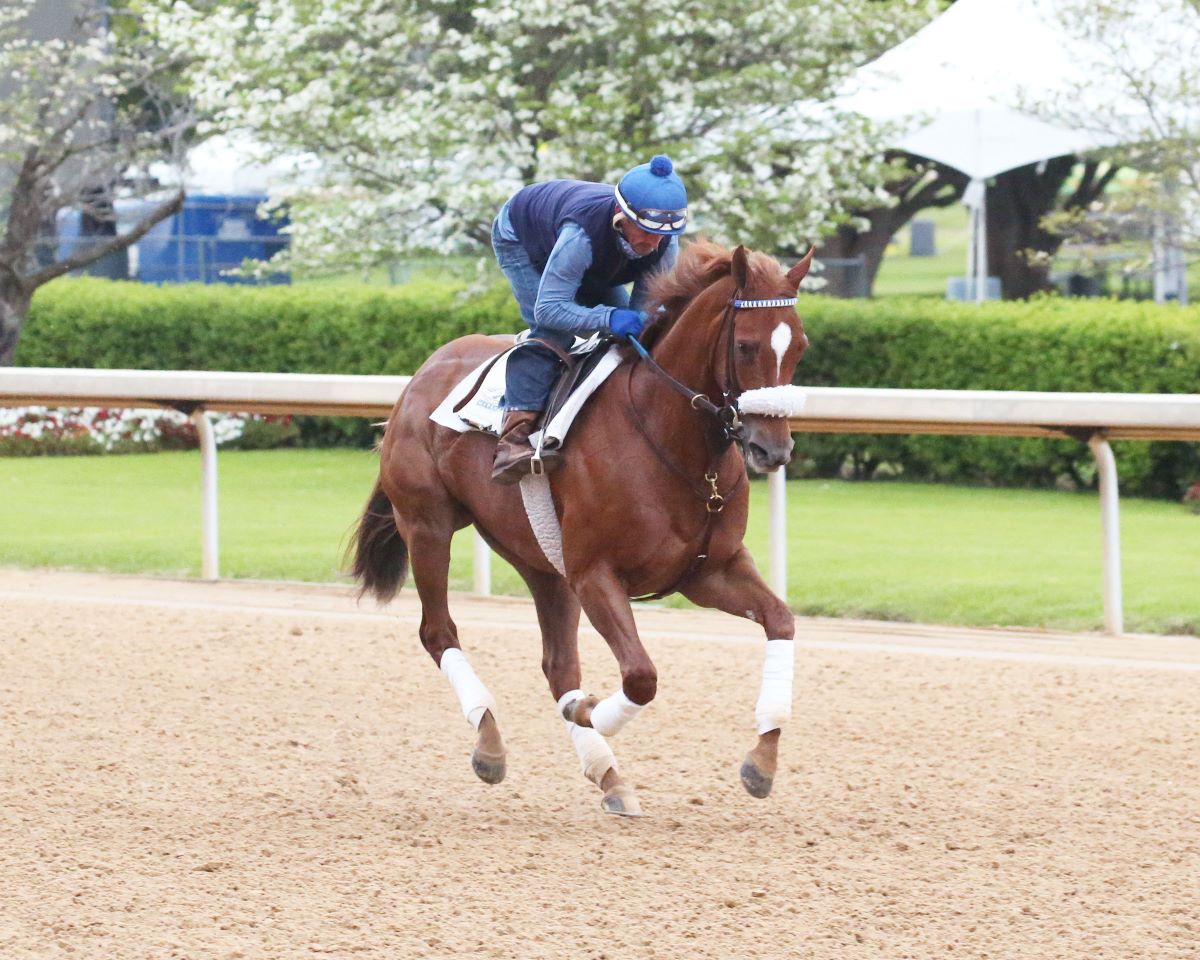 Even-money favorite Monomoy Girl vs. Swiss Skydiver (2/1). The Sequel.
And in case you held any illusions about what awaits race fans here, let Monomoy Girl's trainer, Brad Cox, illuminate you about what this means.
"It's great for racing," Cox told Oaklawn's Jennifer Hoyt. "I'm sure it will be the most watched race up to this point this year. I thought Charlatan-Knicks Go ($20 million Saudi Cup) was a big matchup. Didn't work out on our end. I think from a national standpoint, aside from the Derby preps, it's definitely the biggest race we're probably going to watch for the first quarter of the year, first third of the year."
Apple Blossom is the apple of race fan's eyes
Let's break this down further. The Apple Blossom Handicap, one of the top older female races in the country, pits two of the dominant distaff runners of their era against each other for the second time. They tangled at last November's Breeders' Cup Distaff, when Monomoy Girl stalked her way to her second Distaff victory in three years.
Swiss Skydiver, meanwhile, came off a scintillating Preakness victory over eventual Horse of the Year Authentic, into a bad start. She finished seventh.
No matter. Both took home well-deserved Eclipse Awards in their respective divisions. Monomoy Girl earned her second Eclipse, this one for Best Older Dirt Female. Swiss Skydiver earned votes for Horse of the Year, before "settling" for Champion 3-Year-Old Filly.
So yeah. The Apple Blossom isn't just another 1 1/16-mile swing around Oaklawn. This is one of the most anticipated races of the 2021 campaign to date. You're talking about two horses with a combined 21 wins in 29 starts and more than $6.5 million in combined career earnings.
A filly and a mare at the top of their games
"It's good for racing, I believe," Swiss Skydiver's jockey Robby Albarado told Oaklawn's Robert Yates. "You see on social media, everybody's talking about it. This is what people want to see in racing. It's exciting to have two queens meeting this early in the year."
And why not? You're talking about two queens at the top of their reigns. Monomoy Girl is 14-for-16. She's been beaten across the finish line once in 16 starts. She was disqualified in the Cotillion Stakes as a 3-year-old. Only once in those 14 victories has a pursuer gotten inside of a length of her at the wire.
Last year, Monomoy Girl went 4-for-4, capping that comeback season from injury with that deceptively easy Breeders' Cup Distaff win. She opened her 2021 campaign with essentially a paid workout: dismissing a Grade 3 field in the Bayakoa Stakes at Oaklawn Feb. 28.
Monomoy Girl's routine is predictable — and effective
Half of Monomoy Girl's 14 victories came in Grade 1s. Half. The 6-year-old mare's MO is as predictable as it is ruthless. She relentlessly stalks pacesetters, never letting them get comfortable. Then, when jockey Florent Geroux asks for more – usually around the top of the stretch – Monomoy Girl delivers more. That's usually a gear none of her competitors have.
Except one.
Grade 1 Apple Blossom Handicap/Oaklawn Park
Morning Line (Jockey/Trainer)
Another Broad, 10/1 (Ricardo Santana Jr./Steve Asmussen)
Swiss Skydiver, 2/1 (Robby Albarado/Kenny McPeek)
Letruska, 4/1 (Irad Ortiz Jr./Fausto Gutierrez)
Chance to Shine, 20/1 (Ken Tohill/Chris Hartman)
Getridofwhatailsyou, 6/1 (Francisco Arrieta/Brad Cox)
Monomoy Girl, 1/1 (Florent Geroux/Brad Cox)
Swiss Skydiver won races in three time zones and five tracks last year: Pimlico (Preakness), Saratoga (Alabama Stakes), Gulfstream Park (Gulfstream Oaks), Santa Anita Park (Santa Anita Oaks) and Oaklawn (Fantasy Stakes). Trainer Kenny McPeek ran her 10 times last year. Two of those came against the boys: her Preakness win over Authentic and a Blue Grass Stakes runner up to Art Collector at Keeneland.
She came out of her winter hiatus fresh enough to win the Grade 1 Beholder Mile at Santa Anita March 13. And that 2 ½-length victory – with a 110 Equibase Speed Figure — has Swiss Skydiver's trainer, Kenny McPeek, feeling his oats.
'We're coming with a beast'
"It's going to be interesting. I don't know what else you can say," McPeek said earlier this week. "I know a lot of people are excited about it. I know we are. We're coming with a beast."
This "beast" also brings a stalking style into the fray, with more tactical speed than her counterpart does. Swiss Skydiver brings a more forward running style. Her gutsy Preakness victory over Authentic showed she can sustain it over distance.
"It's scary," Albarado said. "She might be better than last year. She's doing so good right now."
A South of the Border entry could upset the apple cart
Even with these two, there is another credible option that some handicappers prefer to the Big Two. That would be Letruska (4/1), a multiple Grade 1 winner in Mexico. She's coming off a runner-up in the Grade 2 Azeri Stakes at Oaklawn, nipped at the wire by Shedaresthedevil. The daughter of 2010 Kentucky Derby winner Super Saver will be the front-running speed here and if she's left alone, can go gate-to-wire.
Along with that, she carries six fewer pounds than Monomoy Girl (124) and four fewer than Swiss Skydiver's 122.
The pick: Monomoy Girl. Until someone beats the champion, easy rests the crown on this wonder mare's head. Either Swiss Skydiver or Letruska will lead coming into the far turn. If Swiss Skydiver runs the same refuse-to-lose race she ran in the Preakness, she'll take that crown. If not, Monomoy Girl will reel her in. Regardless, you're watching two future Hall of Famers in an April race. Enjoy it.