Bring the jury in on Swiss Skydiver. Throw out whatever doubts you may have held on the Champion 3-Year-Old Filly impressing as a 4-year-old.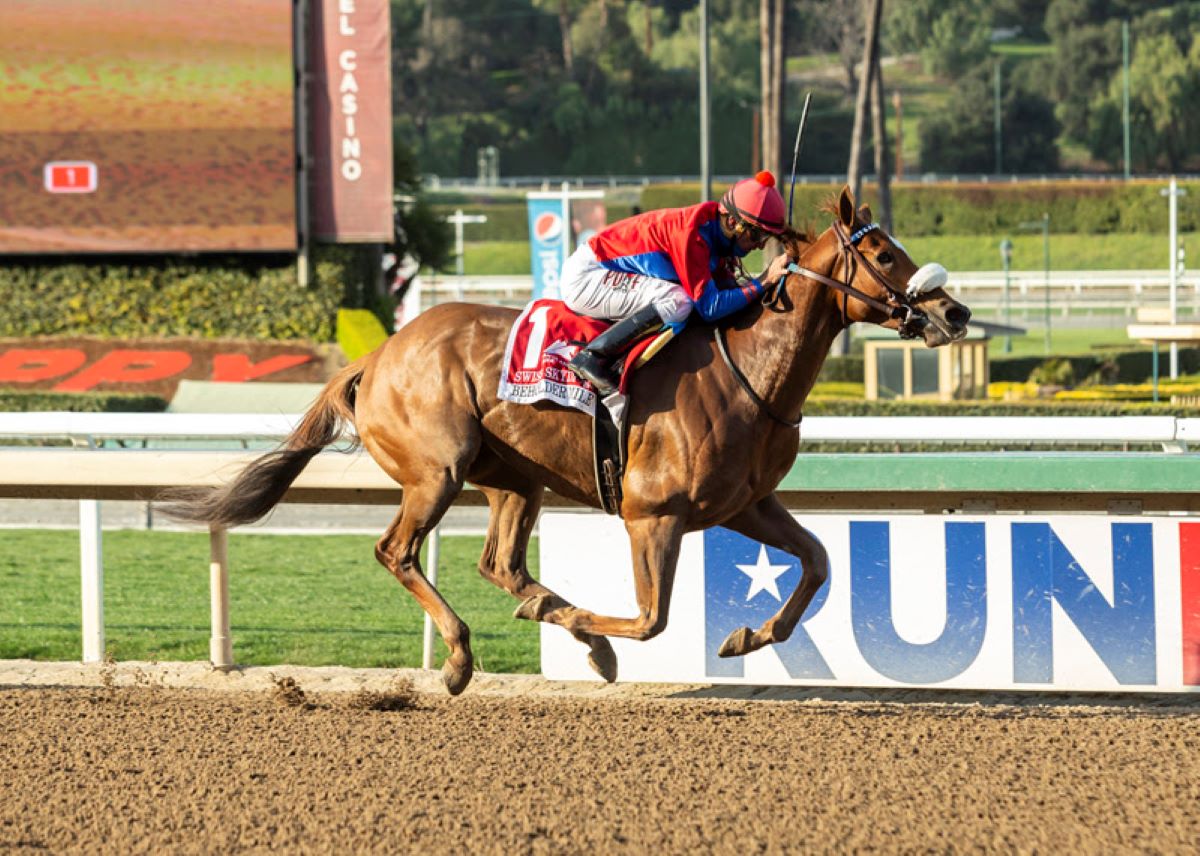 Swiss Skydiver didn't exactly pick up in 2021 where she left off in 2020 after stumbling out of the gate at the Breeders' Cup Distaff. Her connections had no problem with that, however; not after Swiss Skydiver pulled off a strong, 2 ¾-length victory in Saturday's Grade 1 Beholder Mile at Santa Anita Park.
This was Swiss Skydiver's first outing since that awful start in the Distaff last November. She pushed into contention in that race while hitting the far turn, but faded in the stretch, finishing seventh. Trainer Kenny McPeek gave her the rest of 2020 off, which wasn't a bad idea, given the Distaff was her 10th race of the year.
Even so, Swiss Skydiver won five of the 10 – all graded stakes — she entered. Two of those, the Alabama at Saratoga and the Preakness, were Grade 1s. All told, Swiss Skydiver ran at nine different tracks in those 10 starts. She finished second twice and third once.
Comebacks are in the eye of this Beholder
One of those tracks was Santa Anita, where Swiss Skydiver won the Santa Anita Oaks by four lengths last June 6 at 3/5. After putting her back to work with four workouts in February, McPeek looked at the stakes schedules and decided to take Swiss Skydiver back west for her 2021 debut.
"There were limited options where we are," McPeek told Santa Anita's Ed Golden. "There really wasn't an older filly and mare stake in Florida and I've got my other filly, Envoutante, at Oaklawn (for the Grade 2 Azeri Stakes). I didn't want to run against each other."
Instead, McPeek used the Beholder Mile, named for the famous filly who won 18 of 26 starts and more than $6.1 million, as Swiss Skydiver's 4-year-old plunge.
Swiss Skydiver took matters as they came
The daughter of Daredevil delivered. Going off as the 7/5 favorite, she handled the mile in a tidy 1:36.18, her ears pricked as she crossed the wire, seemingly in search of more distance.
"Yes, she met expectations, but you never know," McPeek told Santa Anita's Mike Willman after the race. "The distance was a bit of a worry because of the run into the first turn … You can't force anything with her and if you go too fast early, she will wilt a little bit."
There was no wilting here. Sprinting out from the rail, Swiss Skydiver sat 2 ½ lengths off the lead around the Club House turn. Letting Bob Baffert's Golden Principal set the pace, Swiss Skydiver angled into third coming around the far turn. Then, Robby Albarado pulled her three-wide entering the stretch. She pulled ahead for good with an eighth-of-a-mile to go.
Who's next for Swiss Skydiver? A familiar foe?
"Being on the inside, circumstances dictate that you need to get away clean to get some kind of forward position," Albarado said after the race. "I knew we had speed in the race, but if I could get her in position, get her to clip off twelves every eighth (of a mile), she comes home pretty fast. Pretty much up the backside, every point, I felt like she was right there with me the whole way. She was taking deep breaths around there. When I finally gave her some room there, she took off. It was all her. I was just a passenger … I look forward to the rest of the year with her."
McPeek said the next stop on that rest of the year tour will either be the Grade 1 Apple Blossom at Oaklawn on April 17 or the Grade 1 La Troienne on April 30 on the Kentucky Oaks undercard at Churchill Downs. Both races are 1 1/16 miles.
And one of those may have a familiar face awaiting her.
"She's just really good. Maybe we'll go hunt Monomoy Girl (the 2020 Eclipse Champion Older Dirt Female) now. We'll see," McPeek said.