NBA Top Shot leads the world of sports NFTs in 2021, due in large part to its highly polished product that offers collectors more than just static cards. Now, there's another use for those moments: playing daily fantasy sports with them.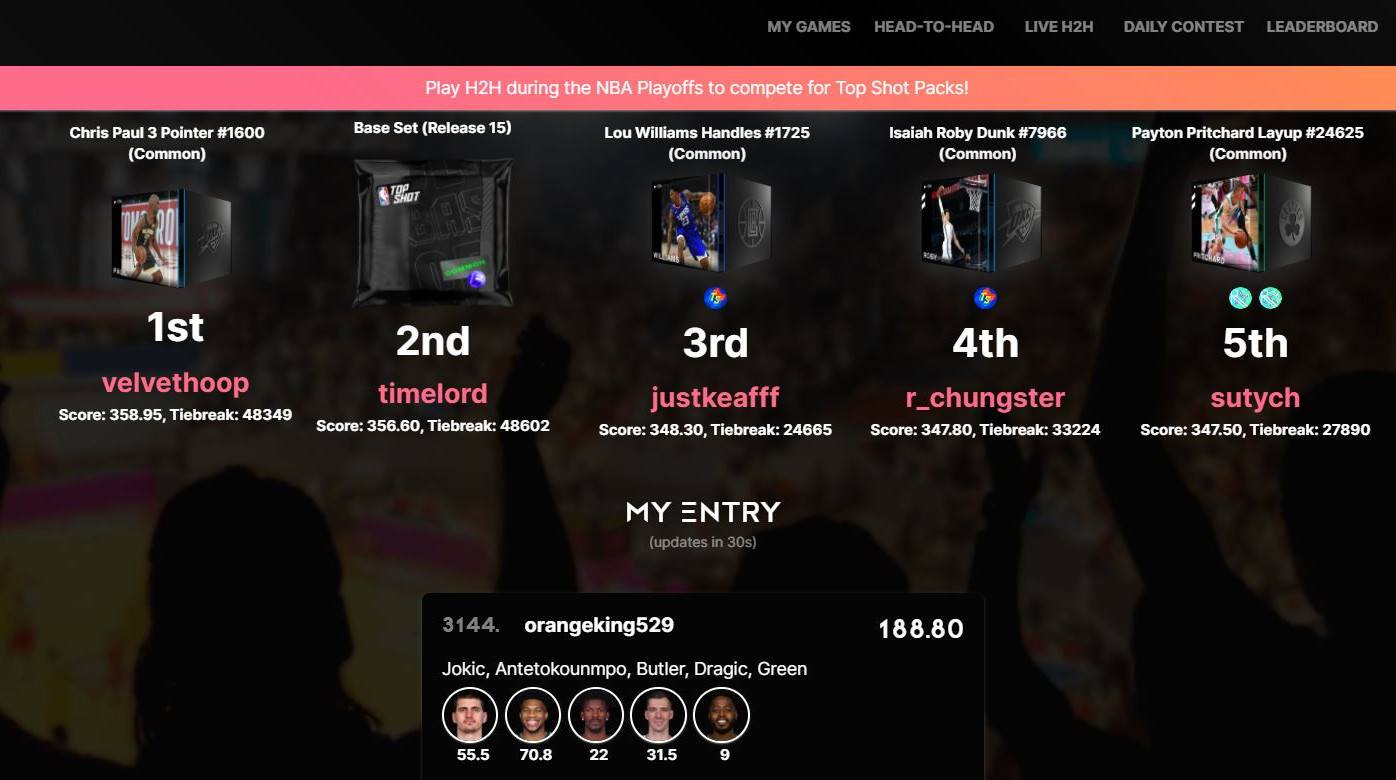 The MomentRanks.com website has launched a DFS game in which players must use their NBA Top Shot moments to create lineups to compete for prizes.
MomentRanks Play integrates NBA Top Shot collections
MomentRanks is a website offering sales and valuation data for NBA Top Shot. Users can link their Top Shot accounts to MomentRanks to get data on their collections, or to browse recent or all-time sales data and glean market information.
The site recently added a new feature: MomentRanks Play, a DFS game that allows NBA Top Shot users to turn their collection into the basis for their lineups. By linking their Top Shot accounts, players can choose from their moments each day in order to set lineups for head-to-head and large-scale daily tournaments.
🏀 MomentRanks Play is LIVE! 🏀

Play daily fantasy sports with the Top Shot Moments you own.

Set your lineups, play against friends, and compete for daily prizes. 🎉

Here's how to Play ⬇️https://t.co/u6jexalgEo pic.twitter.com/BGNX8oKUm2

— MomentRanks (@MomentRanks) May 18, 2021
The game works similarly to other DFS contests, though with simplified scoring and an NBA Top Shot twist. Each player in a user's lineup earns points via statistics accumulated in real-world games that day, including points, assists, steals, blocks, and rebounds.
The twist comes from "moment boosts." If a player exceeds their 10-game rolling average in a category associated with the moment in a user's lineup, they earn bonus points. For instance, if you use a Joel Embiid block moment, and he blocks several shots on the night, you'll receive a significant boost. That boost is even bigger for rare or legendary moments, meaning competitors with more difficult to acquire (and more expensive) collections have an edge.
The top finishers in daily contests can earn base set packs or moments. MomentRanks has also set up a head-to-head contest for the NBA Playoffs with additional prizes.
Exploring the potential of NFTs
Whether or not MomentRanks Play takes off among NBA Top Shot collectors, the game shows one way in which NFTs can be more than just standard digital collectibles. Soccer platform Sorare works in a similar fashion, with cards of various rarities representing real-world players who earn points for collectors, with rarer versions of each player boosting scores.
Dapper Labs CEO Roham Ghareozlou opined that NFTs should take advantage of the "infinite potential" of the digital world. He made that point when evaluating the Topps MLB NFTs, saying he was "deeply disappointed" and that they were "low quality."
MomentRanks also offers the MR 100 Index – an attempt to provide an overall evaluation of the NBA Top Shot market by tracking a handpicked collection of 100 moments. As of Tuesday afternoon, the MR100 had fallen approximately 10% over the previous 24 hours, and was down about 36% from the index's launch on May 8.